The Avatar The Last Airbender Connection In Raya And The Last Dragon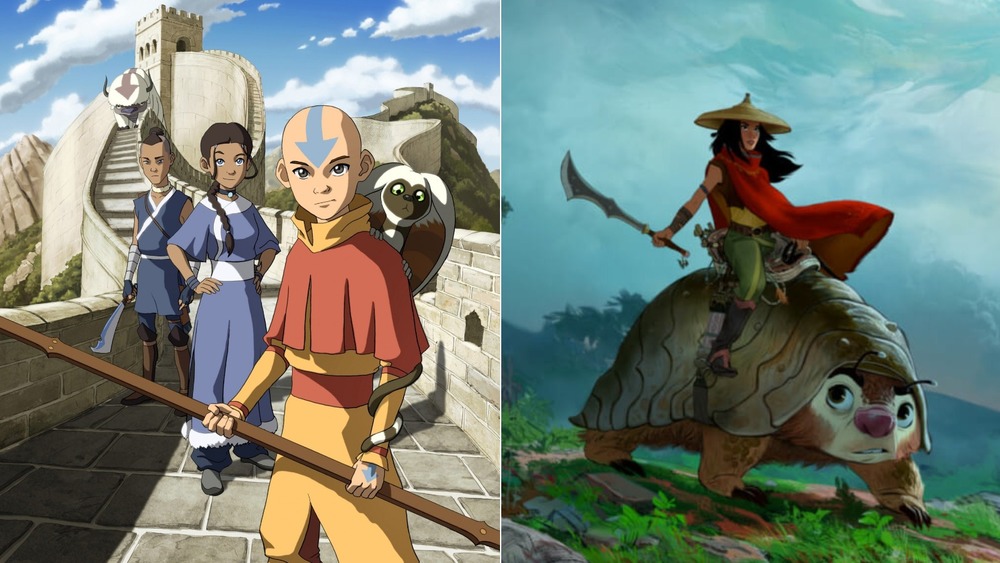 Nickelodeon/Disney Animation
Disney's Raya and the Last Dragon is almost upon us, and the trailer has everyone really buzzing. The movie follows Raya (voiced by Kelly Marie Tran), a determined young woman on a journey to find the titular last dragon — Sisu (Awkwafina) — and restore peace to the world of Kumandra, which is plagued by both the return of an ancient evil known as the Drunn and endless conflict between its five clans. 
Intense research went into making Raya and the Last Dragon. The film draws much inspiration from Southeast Asian culture, from mythology to traditional martial arts. Unsurprisingly, the upcoming film is being compared to Avatar: The Last Airbender, which is basically the best animated show ever. Though Avatar is primarily inspired by East Asian culture rather than Southeast Asian culture, both it and Raya feature nations long at war in a magical world populated by weird crossover animals (Avatar's got platypus bears, Raya's got armadillo bears). The parallels are interesting, to be sure, but there's also a more direct connection between the two stories: voice actor Daniel Dae Kim.
Minor spoilers for Avatar: The Last Airbender ahead!
One voice actor, two (very) different characters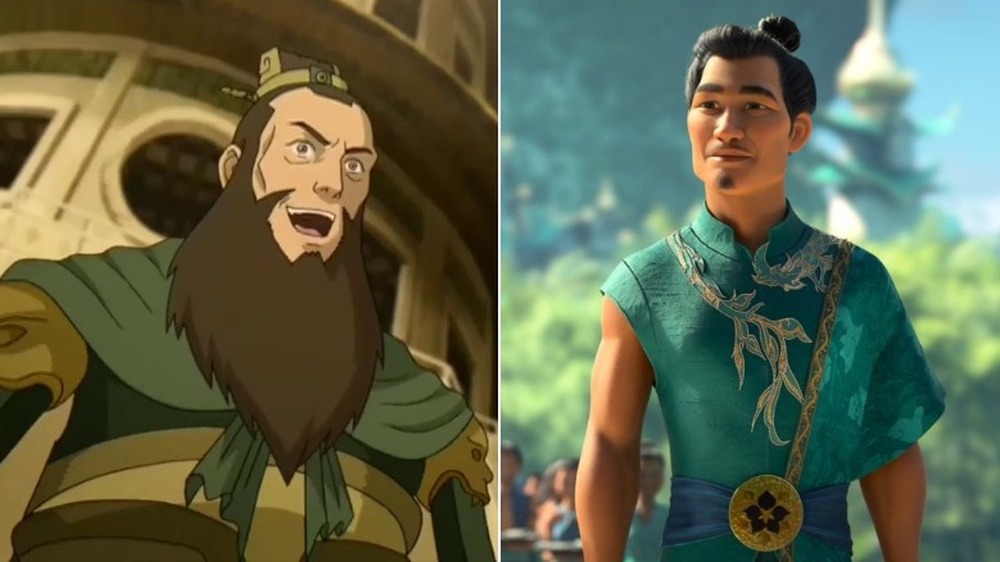 Nickelodeon/Disney Animation
Avatar's two-parter season 1 finale,"The Siege of the North," sees Aang (Zach Tyler Eisen) enter the ultra-powerful Avatar State in order to push back the Fire Nation from the Northern Water Tribe. The magical tactic proves a rousing success, but at the time, it left fans wondering: Will Aang always be able to enter the Avatar State and solve all his problems just like that? If so, much of the show's tension would have been unequivocally quashed, and things would have become ... well, boring.
The aptly titled season 2 premiere "The Avatar State" addresses the issue immediately. Team Avatar shows up at an Earth Kingdom outpost under the care of General Fong, the character voiced by Kim. He seems amicable enough at first, but his obsession with the Avatar State quickly comes to light. He believes that Aang should harness its power to end the war swiftly and surely, and is willing to do anything — anything — to trigger it. Kim's performance brilliantly captures Fong's downward spiral into progress-driven madness, establishing him as one of Avatar's finest one-off characters.
In Raya, Kim lends his considerable voice talents to Chief Benja, the titular character's father. It's hard to say what kind of man he'll be based on the trailers alone, but a quote of his is as good a hint as any: "My daughter, I believe our people can come together again — but someone has to take the first step." So, despite being in a position of power in a land ravaged by war, it appears that Benja values kindness and compassion above all else, and would rather not resort to violence unless absolutely necessary. Quite the opposite of General Fong, to say the least.
Raya co-writer Adele Lim only seemed to confirm the "warmth," "compassion," and "authority" of Benja's character and Kim's performance in a recent virtual press junket that Looper attended: "Kim, within our community of Asian Americans in the United States, has done so much in terms of really promoting visibility for people who are underrepresented. Just him as a human being with so much warmth — but, again, you feel that strife — it was just such a great piece of casting for us." There's little doubt that Benja will have profound effects on Raya's upbringing, and just as little doubt that Kim's performance will be spectacular.
Raya and the Last Dragon will be available on Disney+ and at select theaters on March 5, 2021.