The Raya And The Last Dragon Trailer Has Everyone Totally Buzzing
The upcoming film Raya and the Last Dragon is poised to make Disney history as the studio's first movie animated from home, thanks to the coronavirus pandemic, and the first inspired by Southeast Asia. History-making status aside, Raya's success will be judged just like every other Disney Animation movie in recent memory: on the number of kids who ask their parents for Raya toys, and how well it lives up to the expectations of now grown-up Disney fans from previous decades. It's still too early to call the former, but with the drop of a new trailer today, Raya and the Last Dragon is impressing the Disney fans old enough to take their opinions to social media.
While Raya's first teaser trailer emphasized an Indiana-Jones-like sequence from the titular Raya's (voiced by Kelly Marie Tran) childhood, this new, full-length one reveals more details of the heroine's central quest. On a mission to bring peace to Kumandra's warring people, Raya assembles her team — coined "the Fellowship of Butt-Kickery" by one of the members — and seeks out the last dragon, Sisu (voiced by Awkwafina). The problem? Someone else is after Sisu, too. 
As far as this new trailer shows, Raya finds a rival in the warrior Namaari (voiced by Gemma Chan), and they have an epic face off ... or two. There are whip swords, flaming crossbows, martial arts fights, a chase through the desert, and a crumbling temple. With so much going on, fans are plenty excited for the newest Disney princess' debut.
Fans are dazzled by Raya and the Last Dragon's action, animation, and Southeast Asian representation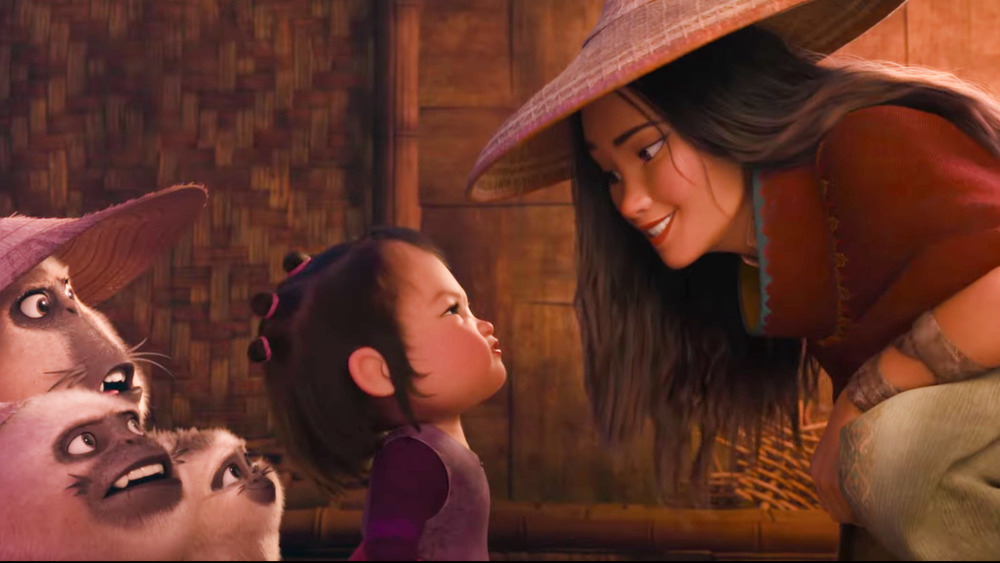 Walt Disney Animation Studios
Across Twitter and YouTube, fans are exclaiming their excitement for Raya and the Last Dragon in all-caps comments and tweets, in video clips lovingly dedicated to Raya voice actress Kelly Marie Tran, and in GIFs of dancing kids and happy cast members. As Twitter user @supermangeek101 wrote, "This looks phenomenal! The animation style is so stunning & the action sequences are so epic! Raya is such a badass & I love Sisu's design! I got major Kung Fu Panda, animated Mulan & Avatar: The Last Airbender vibes! Raya and the Last Dragon will bring me back to movie theaters!"
There isn't just one, singular element of the trailer that stands out, though, since many people are commenting on how exciting it is that Raya is a huge step forward for Southeast Asian representation in film. Similarly, tons of viewers have mentioned how stunning the animation is. Fans like the lighting of the film in particular; one YouTube user commented, "Even the darkest scenes look so damn colorful i love it with a passion!!"
People are also already latching onto Awkwafina's Sisu and her vaguely anachronistic but relatable humor. Sisu's line, "Have you ever done like a group project but there's, like, that one kid who didn't pitch in much but still ended up with the same grade?" especially sticks out to fans. YouTube user Gabbs Pitargue quoted it, commenting on the trailer, "As always a leader in multiple groupworks who had to cover up for the irresponsible teammates, I felt that."
Beyond that, just about everyone is fawning over the action sequences and the fact that Raya is an original story, as opposed to a sequel or remake. Still, it's being compared to everything from Mulan to Tomb Raider to, as mentioned, Avatar: The Last Airbender — in a good way, of course. As far as fans are concerned, this film just might be the one to get them back in theaters. For those sticking to staying inside for a while longer, Raya and the Last Dragon will be released on Disney+ (via Premier Access) on the same day it heads to the big screen: March 5.