How Raya And The Last Dragon Will Make Disney Animation History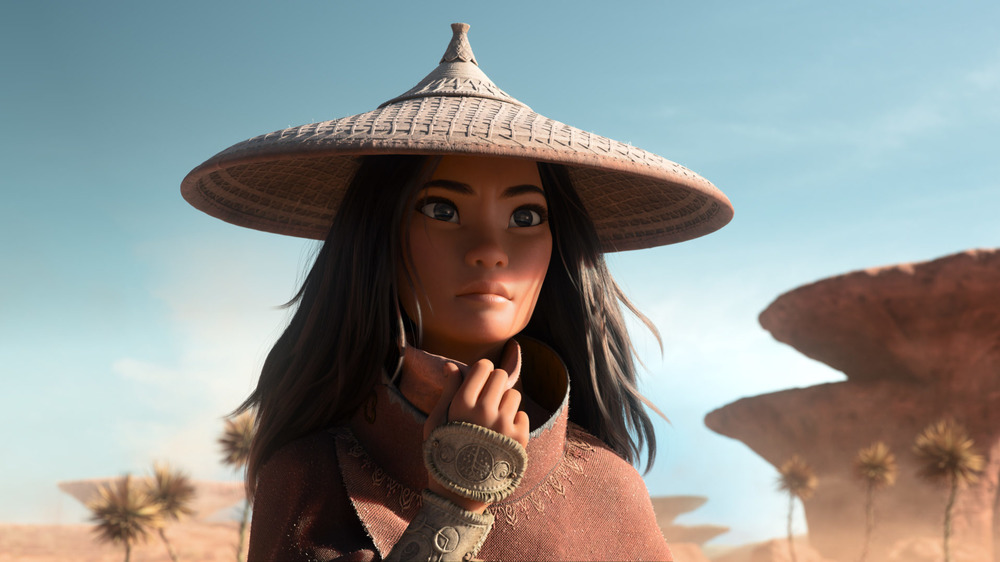 Walt Disney Animation Studios
Raya and the Last Dragon is helping mark a historic new era for Disney animation. 
Directed by Don Hall and Carlos López Estrada, and co-directed by Paul Briggs and John Ripa, Raya will be the 59th feature film from Walt Disney Animation Studios and the first original animated film from the legendary animation studio since the 2016 release of Moana. Co-written by Crazy Rich Asians writer Adele Lim and Dispatches from Nowhere writer Qui Nguyen, the film features Star Wars actress Kelly Marie Tran as the voice of the titular character Raya, and Crazy Rich Asians actress Awkwafina as Sisu, a dragon who needs help reclaiming her power and returning to her true dragon form. 
Before production started in March, the film was already slated to make history as the studio's first movie inspired by Southeast Asia, with Tran appearing as the first Southeast Asian actress to lead a film from Disney Animation. But Raya and the Last Dragon is no longer just the latest entry in the studio's diversifying animated portfolio. Due to the pandemic and resulting industry shutdown, the film was perhaps one of Disney Animation Studio's most challenging to make yet. During Disney's Investor Day presentation, the company confirmed that Raya is one of its first animated features developed and finished remotely. More specifically, it was completed from 400 remote locations — the homes of the film's entire animation team. Throughout the creation of the film, the production crew worked independently with their equipment while meeting and communicating through Zoom (via Entertainment Weekly). 
Disney has announced plans to release Raya and the Last Dargon on Disney+ and in theaters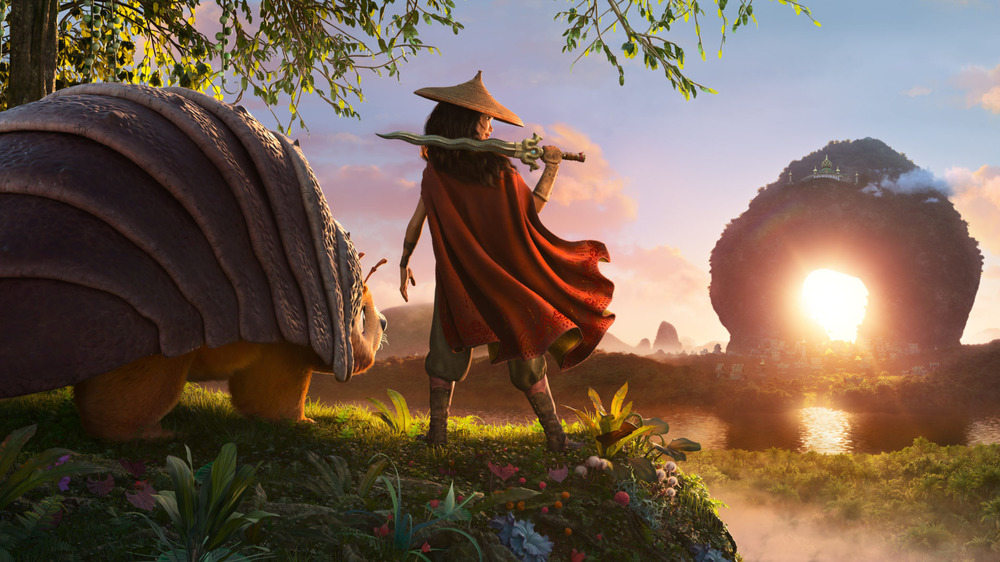 Walt Disney Animation Studios
Raya and the Last Dragon's historic significance for the studio wasn't the only thing the company confirmed during its investor presentation. Disney also announced its release plans for the feature, detailing its dual approach and confirming a release date.
It appears Disney is following in the footsteps of both its Mulan rollout and HBO Max's game-changing strategy. Alongside a host of other Disney 2021 releases, viewers can expect to see Raya and the Last Dragon launch on streaming and in theaters on the very same date of March 5, 2021. The film's Disney+ debut will be of the Premiere Access variety, which means that unlike the studio's other latest direct-to-Disney+ release Soul, it will likely require subscribers to pay an additional price beyond the monthly subscription (via CNET).
Details around Raya and the Last Dragon's premiere came as the company announced it's overall streaming strategy for the next several years across all Disney-owned platforms, including Hulu, ESPN Plus, and its international streaming services. And as it stands, Raya looks to be the first of many Disney-owned films that will be embracing the streaming debut model.