The First Trailer For Raya And The Last Dragon Has Everyone Talking
The new trailer for Disney's new original film Raya and the Last Dragon teases a fantasy world rich with Southeast Asian inspiration.
Raya and the Last Dragon follows the titular Raya (Star Wars: The Last Jedi's Kelly Marie Tran) as she searches for the last dragon of her world in an attempt to restore peace. At the end of the trailer, there's a brief glimpse of the swimming water dragon, voiced by Awkwafina, who takes human form for part of the movie. Don Hall (Big Hero 6, Moana) and Carlos López Estrada are co-directing the film, while Adele Lim (Crazy Rich Asians) and Qui Nguyen teamed up to write the script.
In the trailer, we meet Raya's creature companion (a staple for Disney princesses), the armadillo-like animal Tuk Tuk. At first, we see Tuk Tuk rolling through an ancient tunnel, disabling Indiana Jones-style traps ahead of Raya's advance. Later, we see an older Raya riding it through a desert.
The name "Tuk Tuk" is probably an homage to the little taxis in Thailand of the same name, a detail likely picked up by Disney's Southeast Asian research team. Raya and the Last Dragon is Disney's first Southeast Asian-led film, and fans are excited for the representation.
Raya and the Last Dragon has fans excited, intrigued, and cautiously optimistic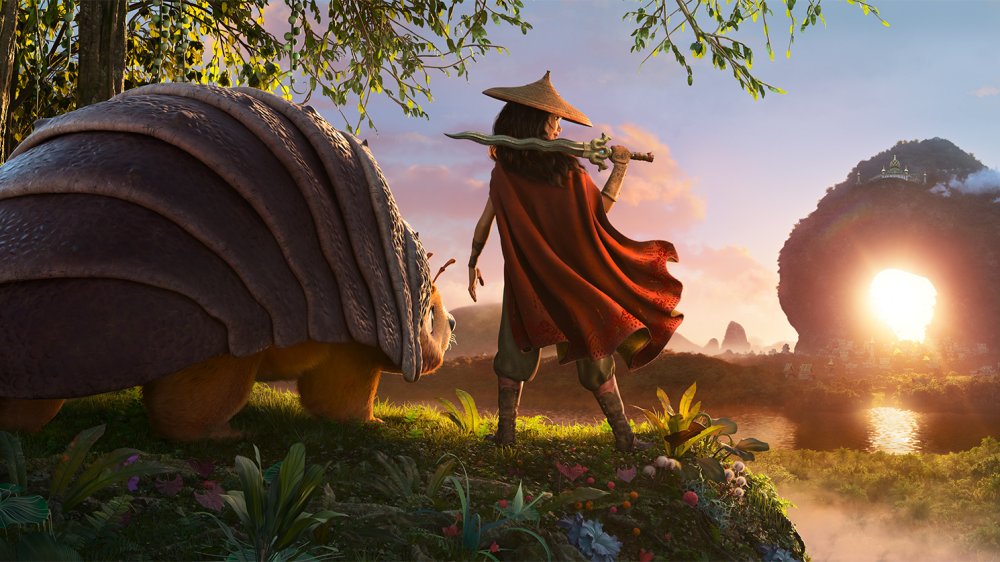 Disney
Many fans are excited for Raya and the Last Dragon, especially for its depiction of a Southeast Asian protagonist in a world inspired by Southeast Asian culture. In a Reddit thread focused on the new trailer, user u/Paperback_Downtown commented: "South East Asia REPRESENT!" 
Others are excited about the stunning visuals and original story. User u/redtornado02 commented: "Looks crazy gorgeous. About time we had a movie like this from Disney." The trailer managed to pique user u/steveofthejungle's interest, as they added, "I'm so intrigued. The music, and character design, the animation, this is the movie I've been wanting to hear more about for a long time. The trailer delivered. Even teasing us ever so slightly with the dragon." Several fans liked the music, which user u/monkpunch said had Mandalorian vibes.
Meanwhile, some fans are comparing the film to Legend of Korra, because of Raya's hairstyle, outfit, and large animal steed, bot to mention the four different cultures depicted int he trailer and the stated mission to "restore peace." It's also reminiscent of Avatar: the Last Airbender writer Aaron Ehasz's newest series The Dragon Prince. Several fans wrote that they hope these similarities are superficial. User u/santh91 was simply unimpressed: "Story and design seems to be very formulaic."
Fan commentary reveals a cautious optimism surrounding Raya and the Last Dragon, with a few fans worried that the story won't live up to the trailer. User u/Typical_Humanoid commented: "Please don't let this be a Brave repeat where it's one of the most badass animated trailers ever only for someone's relative to be a bear for half the runtime and that's the conflict. Please let Raya just be a badass and that's the film." While they hope the film won't be like Brave, Raya herself is certainly following in Merida's footsteps.
Raya joins the ranks of the Disney princesses, following in the footsteps of Merida and Moana
Like Merida and Moana before her, Raya represents a new type of Disney princess. Tran told Entertainment Weekly that Raya, as the daughter of a chief, is technically a princess: "But I think that what's really cool about this project, about this character, specifically is that everyone's trying to flip the narrative on what it means to be a princess. Raya is totally a warrior. When she was a kid, she was excited to get her sword. And she grows up to be a really badass, gritty warrior and can really take care of herself."
Co-director López Estrada told EW that he and Hall were blown away by Tran's audition and performance as Raya. They even changed a part of the script after her improvisation, he said, "She went for it, improvised for a minute, and had us all in tears. We changed the scene and reblocked the animation so that it would follow what Kelly did that day because she just clicked on something that was so much bigger than anything we had imagined."
Raya and the Last Dragon was originally meant to come out in November of 2020, but the coronavirus pandemic set the production back. According to EW, the creative team had just started in March when they quickly had to transition to working from home and meeting over Zoom. While Disney's Mulan and Pixar's Soul elected to bypass theaters and go straight to streaming, Disney still plans to release Raya and the Last Dragon in theaters on March 12, 2021.