Why Cameron From Penguin Bloom Looks So Familiar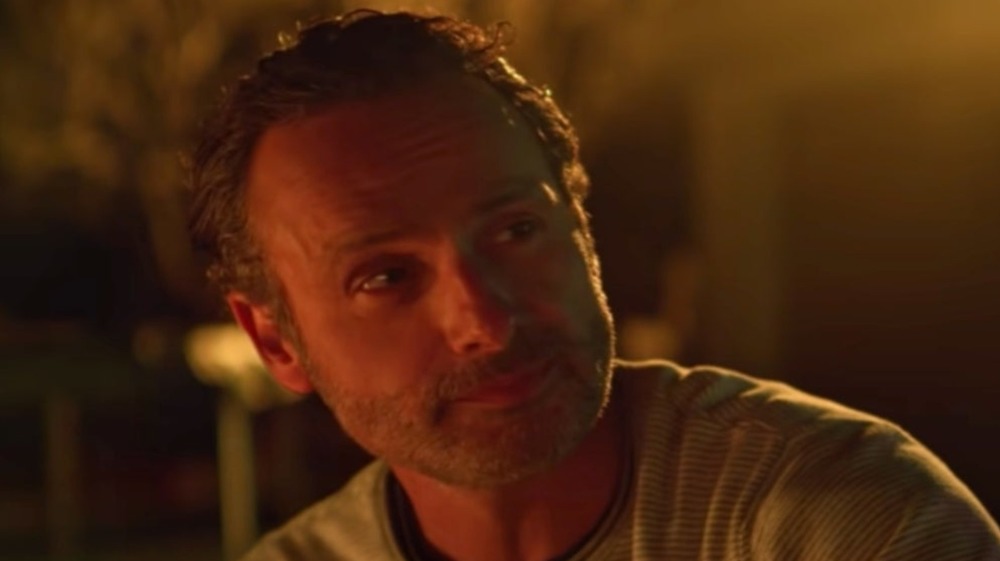 Netflix
Netflix's new family drama Penguin Bloom tells the story of Sam Bloom (Naomi Watts), an Australian woman suddenly paralyzed after an accident. Sam, her husband Cameron, and their sons struggle to adjust to their new reality, but they find hope and the promise of a better future after the boys take in an injured magpie chick, which they name Penguin due to its black and white coloring. 
For the actor who plays Cameron, Penguin Bloom is the first step on the road toward a new future. It's understandable if his presence here makes you do a double take — odds are you aren't used to seeing actor Andrew Lincoln in this context, since Penguin Bloom is the first new on-screen role he's taken since 2010. But that doesn't mean the actor hasn't been busy. Far from it, in fact. Here's why Cameron from Penguin Bloom probably looks very familiar.
Andrew Lincoln was The Walking Dead's survivor in chief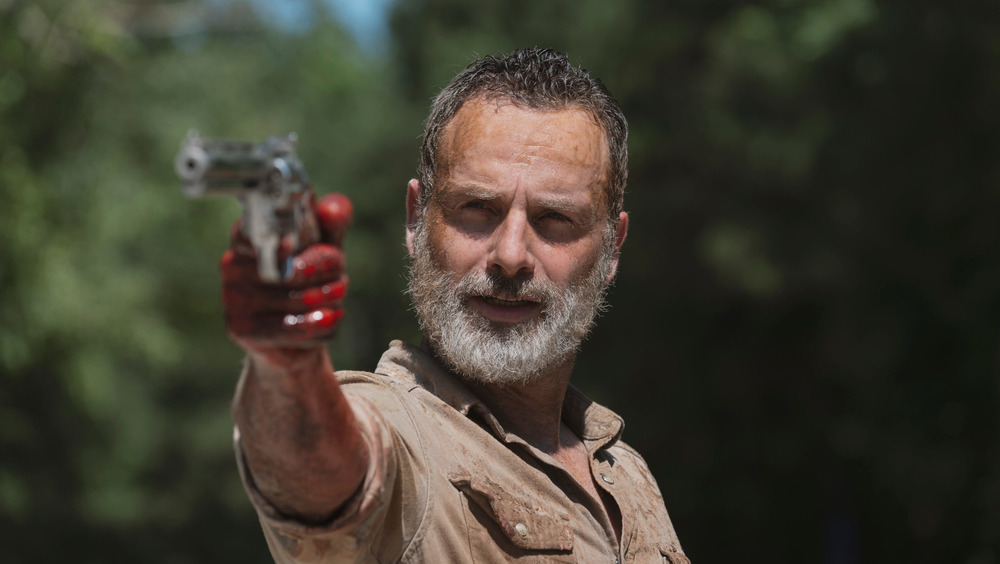 AMC
For much of the last decade, Lincoln has been the star and face of one of television's biggest breakout hits, AMC's The Walking Dead. For nine seasons and 103 episodes, Lincoln played the grizzled former sheriff's deputy Rick Grimes, battling both the hordes of walkers and the survivors who will do anything to ensure their own safety.
Rick emerges as a leader of his first camp of survivors in Atlanta, and largely retains that position as the group moves through what's left of the world, facing off with the many petty despots who cross their path. Survival takes its toll on Rick — he kills his own best friend Shane (Jon Bernthal), loses his son Carl (Chandler Riggs) to a walker bite, and sees countless other friends and followers come and go. 
The last audiences saw of Rick, he was being helicoptered away to safety (and hopefully medical attention) by Anne (Pollyanna McIntosh) and her mysterious compatriots. Even if Rick doesn't return for the show's final season, fans of the series already know they have more Rick Grimes to look forward to. Lincoln is expected to star in a trilogy of Walking Dead feature films in the near future.
Andrew Lincoln is that guy from Love Actually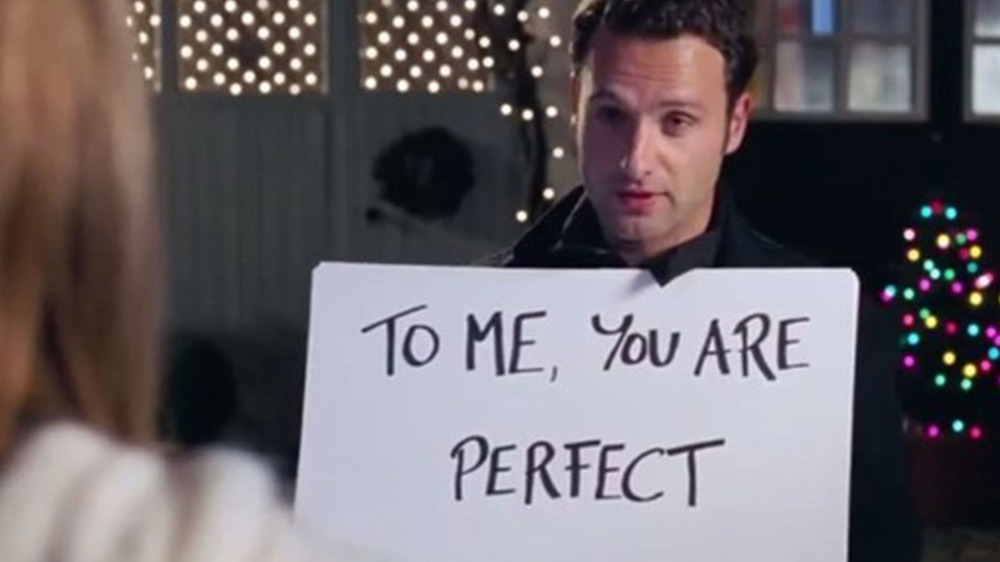 Universal Pictures
If you only remember one thing about Love Actually, chances are it's Lincoln's Mark and his cue cards.
Mark is just one figure in the constellation of stars that populate Richard Curtis' 2003 Christmas romcom, but in the long, long afterlife of the film, it has been Lincoln who in many ways might be the person most associated with it. The scene in which Mark stands outside of Juliet's (Keira Knightley) door with his black-markered poster board messages has become the film's most prominent image. It's certainly the most parodied, with everyone from Saturday Night Live to Lincoln's Walking Dead co-star Jeffrey Dean Morgan riffing on the scene. Lincoln himself even starred in a parody for the UK's Red Nose Day fundraising event in 2017.
There's more to Lincoln's Mark than just his final grand gesture, though few of his character's actions have aged well. As the best man at his best friend Peter's (Chiwetel Ejiofor) wedding to Juliet, he surprises the couple with a loft full of singers performing the Beatles' "All You Need is Love." He also spends most of the wedding and reception behind his video camera, which becomes awkward when their actual video doesn't turn out and Juliet comes to him asking to see his tapes. It turns out that it's almost entirely closeups of her, which — on a scale from one to "Jessie's Girl" — is a pretty awkward way of revealing to your best friend's partner that you're in love with her. In hindsight, Mark's quiet pining and yearning feels more uncomfortable than perhaps it did upon release. One person's romantic declaration is another's evidence for a restraining order.
Andrew Lincoln was a lawyer and teacher on British television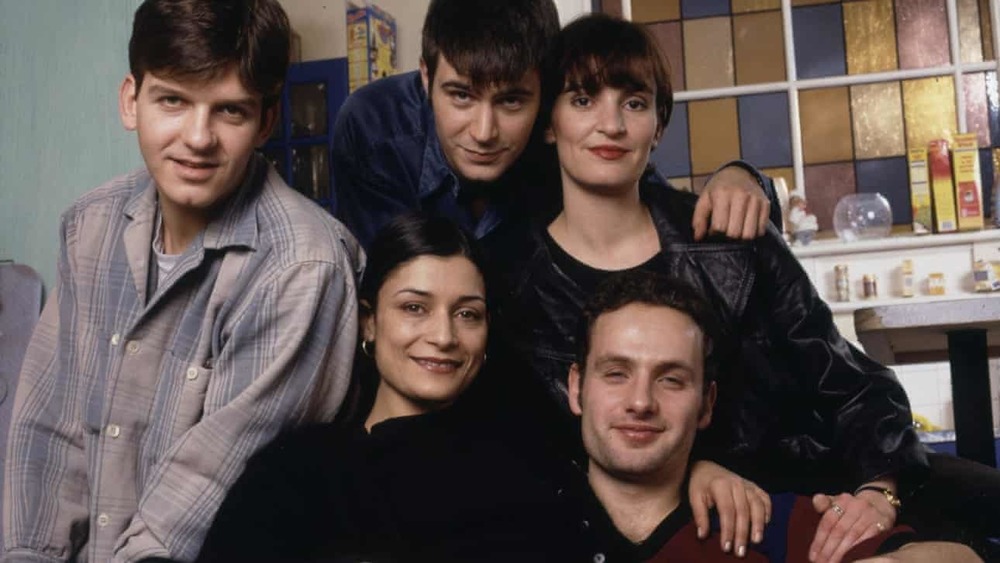 BBC
Prior to Love Actually, Lincoln's biggest roles were on a pair of British television series. His breakout came in 1996 with This Life, on which he played Edgar "Egg" Cook, a young London lawyer who grows increasingly frustrated with his choice of profession. He quits his firm, which causes strife with his ambitious girlfriend and fellow lawyer Milly (Amita Dhiri). This Life was positively received, being named one of the 100 best British TV programs by the British Film Institute in 2000. It would later be loosely adapted into the short-lived NBC drama First Years.
In 2002, Lincoln starred as the slacker teacher Simon Casey on the dramedy Teachers, which followed a revolving staff at Summerdown Comprehensive Secondary School. Lincoln even took the helm for two episodes of the series, and in 2006, he was nominated for Best New Director at the BAFTA Television Awards.
Though Lincoln's only listed upcoming projects post-Penguin Bloom are the untitled Rick Grimes movies, there's another recent project of note on his CV. In 2020, he expanded his repertoire of Christmas characters by playing Ebenezer Scrooge in the Old Vic's production of A Christmas Carol. Now there's a context in which you might recognize him — someone you don't want to spend the holidays with.