The Surprising Influences Behind Raya And The Last Dragon's Kumandra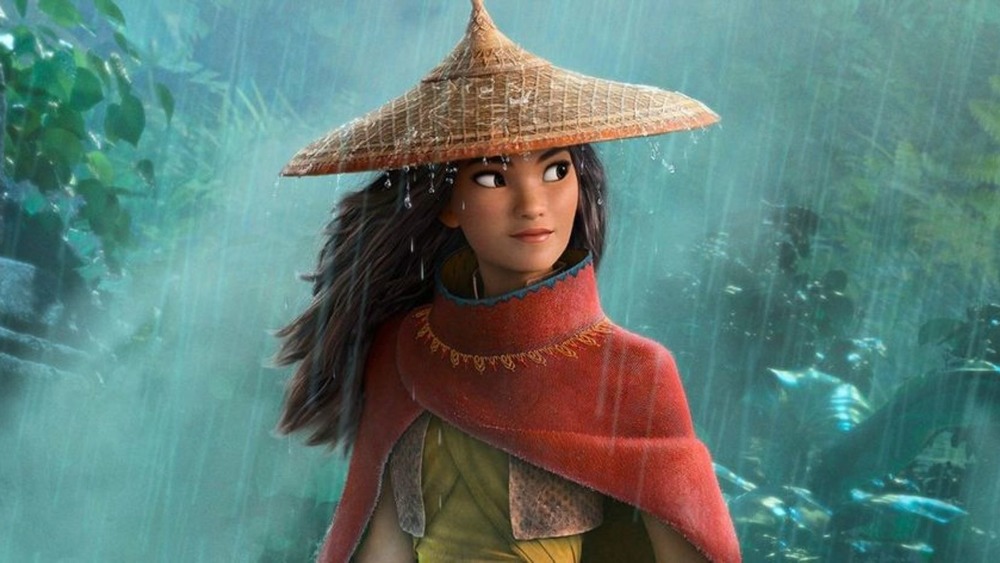 Walt Disney Animation Studios
As is par for the course for Disney's animated films, Raya and the Last Dragon looks like it's going to have a lot of heart (which probably means it's also going to cause a lot of tears). What separates it from the pack, however, is its unique setting: Kumandra, the Land of the Dragon. Inspired by several Southeast Asian cultures — including Cambodia, Myanmar, Laos, and more — Kumandra is populated by five clans, and was populated by dragons. The winged creatures nearly went extinct after clashing with an ancient evil called the Druun, but as the film's title implies, there's one dragon left: Sisu (Awkwafina), a water dragon who can appear human at will. She and Raya (Kelly Marie Tran) must work together to prevent the Druun's complete resurgence.
At a recent virtual press junket with directors Don Hall and Carlos López Estrada, producer Osnat Shurer, and writers Adele Lim and Qui Nguyen, Looper found out some interesting tidbits about the more specific influences that went into Kumandra and its people.
Cultural tradition and personal stories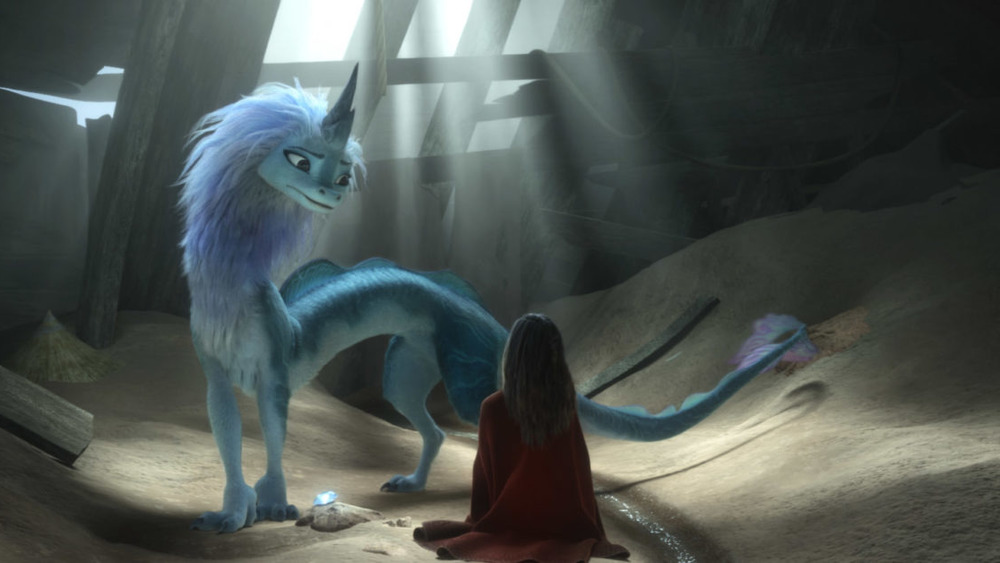 Walt Disney Animation Studios
During the presser, Lim and Nguyen were asked whether any Disney princess or certain portions of Southeast Asian lore helped guide them when writing Raya and the Last Dragon, and their respective answers are both enlightening.
Lim began by noting that "in Southeast Asia, there's a great tradition of female leaders, military leaders, and warriors," citing the Malaysian warrior Tun Fatimah in particular. Fatimah was the daughter of her era's bendahara (prime minister), and Raya is the daughter of Kumandra's chief. Both then take up the sword despite — or perhaps because of — their inherent societal standing.
Lim also cited "the [Malaysian] stories of Nagas and dragons, particularly with water" and "Naga Tasik Chini, the dragon of Chini Lake" as influences. Nagas are half-human, half-serpent creatures that can take on fully human forms, so they likely inspired Sisu's ability to switch back and forth between water dragon and human.
Nguyen went on to say that "the Trưng sisters" of Vietnam — Trưng Trắc and Trưng Nhị — were on his mind when writing Raya. Like Fatimah, they were born into privilege but chose to fight rather than sit around, rebelling against Chinese invaders in the first century AD. 
To that end, Nguyen spoke of "that kind of fighting spirit" on a more personal level, admitting that his mother influenced Kumandran families. "I know what she had to go through when she came to this country," Nguyen said, adding that he felt it appropriate to channel her resolve into the people of Kumandra. He also noted that Lim's parents were an inspiration as well, and how "important [it was] for us to show the real spirit of Southeast Asia." There's not enough of that spirit on screen yet in his opinion, a void which Raya and the Last Dragon will begin to fill.
The screenplay is undoubtedly close to both writers' hearts, and to the traditions of Southeast Asia. Raya and the Last Dragon is sure to make Disney animation history when it is released in theaters and on Disney+ on March 5.