How The Paint Cans In WandaVision Episode 3 Connect To An Upcoming MCU Project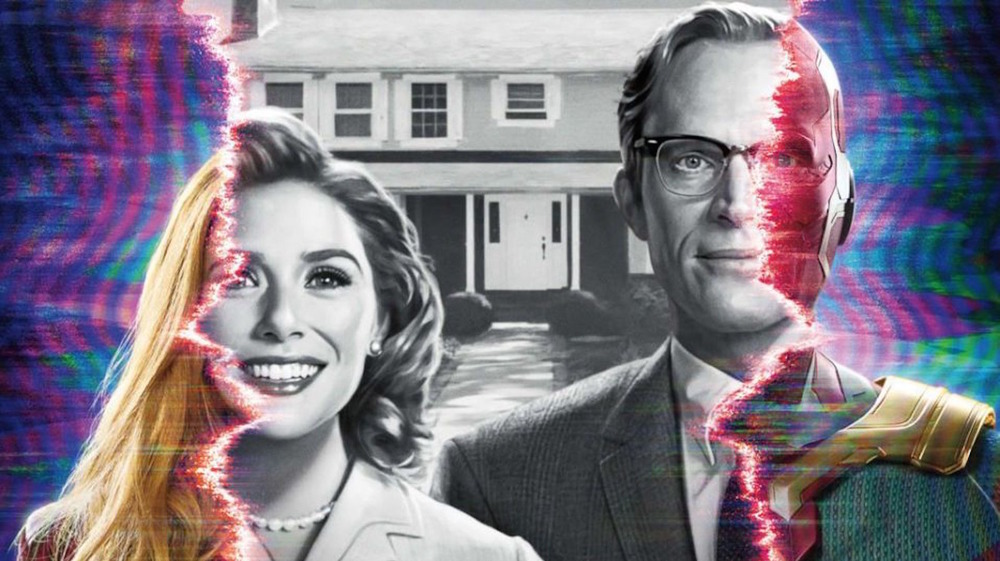 Disney+/Marvel Studios
Contains minor spoilers for the first three episodes of WandaVision
WandaVision hasn't been with us long, but it's made a couple of things abundantly clear: first, that no detail on the screen is innocuous enough that it should be discounted as a potential Easter egg, and secondly, that fans are going to have bone-dry eyeballs by the time the series concludes in March, thanks to two straight months of being afraid that they'll miss something if they blink.
The latest episode sees the eponymous Wanda abundantly pregnant, considering that she's only been expecting for a day. In a frenzy of maternal instinct, she gets down to the business of telekinetically arranging the nursery, complete with crib, rocking chair, and "Whoops! All Sentient" butterfly mobile. She even takes it upon herself to add a stork mural to the wall using cans of paint, clearly labeled "Simser" brand.
Specific? Suspiciously so, and as was mentioned earlier, WandaVision doesn't add details without piling a mountain of subtext underneath them first. As you may have guessed, "Simser" has a deeper meaning in the Marvel Cinematic Universe, one that directly connects it to a pair of highly anticipated upcoming MCU projects. And before you read on, steel yourself, because it ... doesn't actually add a lot to the proceedings.
An artist gets a shout out in WandaVision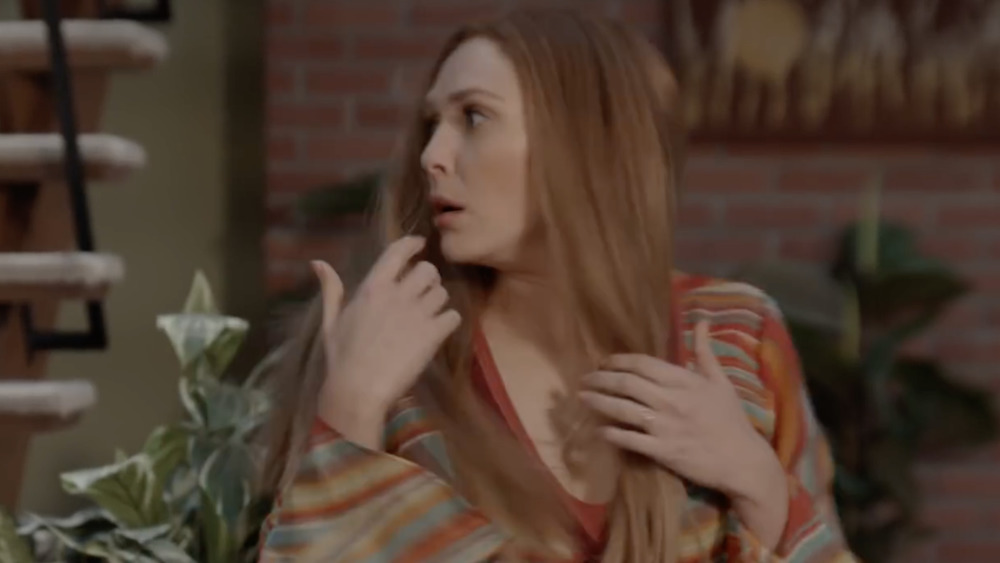 Disney+/Marvel Studios
In an interview with Jimmy Kimmel, WandaVision star Elizabeth Olsen called the show's prop master, Russell Bobbitt, "a really smart guy" for a potential nod to the comics hidden in episode 1's wine bottle label. Now, it seems like the props department has handed out some praise of their own for one of the series' storyboard artists.
The name "Simser" appears to have come from Jeremy Simser, an art department employee on WandaVision who provided storyboards for six episodes, according to IMDb. No stranger to the superhero genre, Simser's previous work includes storyboards for The Flash, Supergirl, Heroes Reborn, Deadpool 2, and even Amazon's The Boys. Even more excitingly, the folks at Marvel Studios appear to have taken a shine to Simser's art, as his personal website has him slated to work on Doctor Strange: In the Multiverse of Madness. Back at IMDb, he's also credited with working on the upcoming Disney+ adaptation of She-Hulk.
So there you have it. As references to the MCU at large go, it's not exactly the Infinity Gauntlet in Odin's Vault, but it's a neat piece of trivia, and it's always rad to see the people behind the scenes getting a subtle shoutout. All that's left now is to wait for a bottle of Shakman Brand Baby Powder to pop up in episode 4.