Tales Of Dunk And Egg - What We Know So Far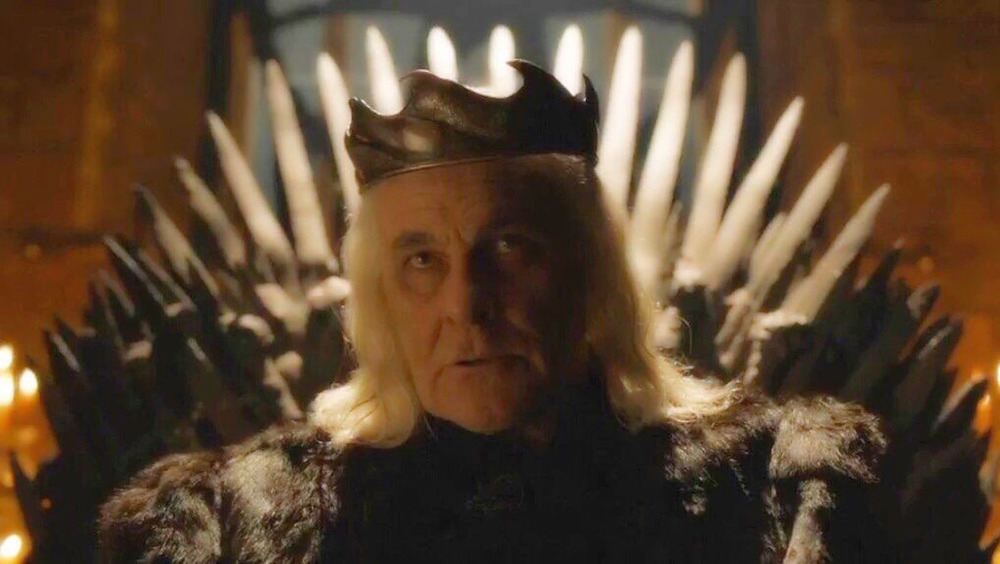 HBO
The Naomi Watts-led Game of Thrones prequel series may have been killed, but there's hope yet that HBO will pull through with the Targaryen-focused House of the Dragon. With the announcement of Tales of Dunk and Egg in early development, that hope only grows (via Variety).
Based on a series of novellas by George R. R. Martin set in Westeros that were later adapted into comics by Ben Avery and Mike S. Miller, there's a wealth of source material for the showrunners to work from. Indeed, the Dunk and Egg mythos has always seemed like a natural place to start a conversation about a potential prequel series. As of January 2021, the series contains three novellas — The Hedge Knight, The Sworn Sword, and The Mystery Knight, all collected in A Knight of the Seven Kingdoms with magical illustrations by Gary Gianni — but Martin has indicated he intends to continue on for at least four more. Hopefully, HBO doesn't plan to wait for publication. The next novella in the series, entitled The She-Wolves of Winterfell, is almost as delayed as The Winds of Winter at this point.
When will the show release, who will be in it, and what will it be about? Here's everything we know so far.
What's the release date for Tales of Dunk and Egg?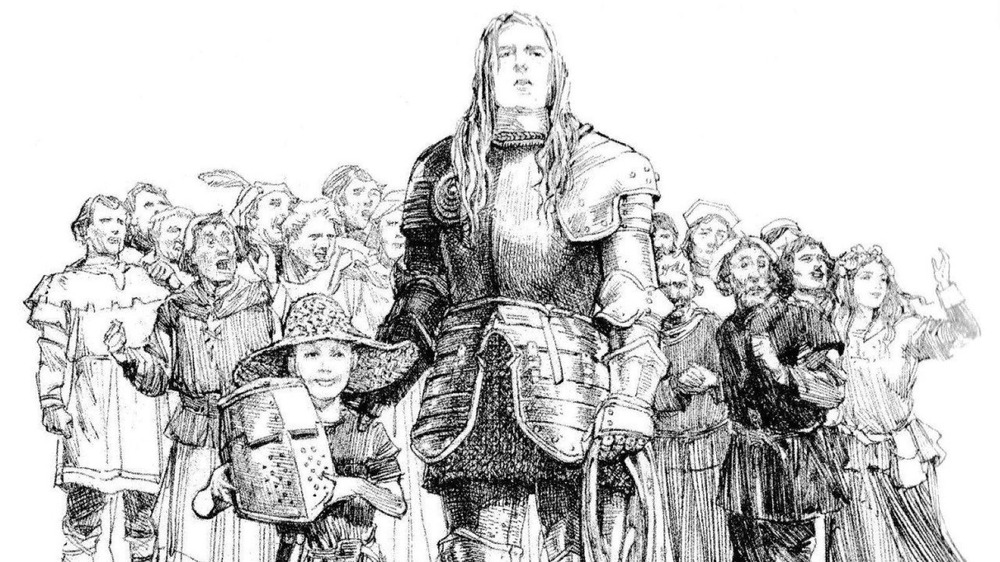 Gary Gianni/Bantam Books
HBO has yet to announce an official release date for the prequel series, but according to Variety, "sources say it is a high priority for HBO as the premium cabler looks to build on the success of Game of Thrones." Good news for sure, but there are two caveats. First and foremost is, of course, COVID-19, which continues to strangle schedules across the industry. Second is the likelihood that House of the Dragon is going to hit screens first, since it's already farther along in development.
As of January 2021, all signs point to House of the Dragon releasing sometime in 2022, so Tales of Dunk and Egg is likely to come a year or two later if things stay relatively on track. We also have to assume that House of the Dragon proves the hit HBO is hoping it will be. If the new prequel series flops, it's hard to imagine WarnerMedia cutting another ream of huge checks to stage yet another series set in the Westerosi before-times. These are all questions only time can answer.
Who's in the cast of Tales of Dunk and Egg?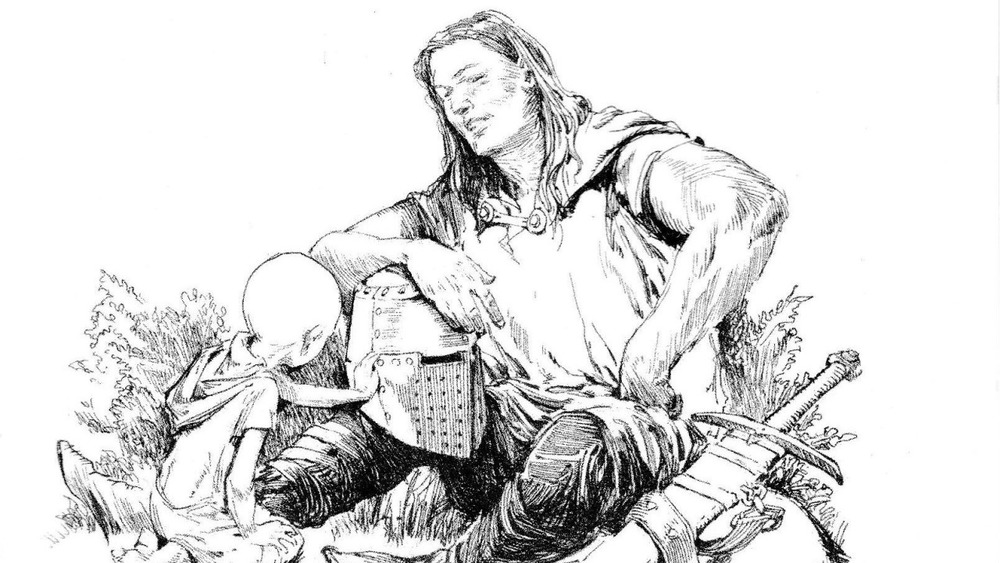 Gary Gianni/Bantam Books
No release date means no casting announcements, either. It's not even entirely clear whether or not casting has started yet, it being so early on and all. Welcome to development. House of the Dragon is still relatively early in its own production lifecycle, though several cast members have been announced: Paddy Considine as Viserys Targaryen, Olivia Cooke as Alicent Hightower, Matt Smith as Daemon Targaryen, and Emma D'Arcy as Rhaenyra Targaryen. Martin's Dunk and Egg novellas are set several generations after the Targaryen civil war that is said to be the focus of House of the Dragon, so it's unlikely any of those actors will crossover, but this is the highest high fantasy, so who knows?
Game of Thrones mixed well-known actors like Sean Bean (Ned Stark) with relative newbies like Maisie Williams (Arya Stark), so Tales of Dunk and Egg could follow suit. Whoever ends up in the title roles, one thing's for certain: The actor who plays Dunk needs to be quite tall, and the actor who plays Egg quite young and bald. 
Regardless of height and hairline, who exactly are these guys, anyway?
What's the plot of Tales of Dunk and Egg?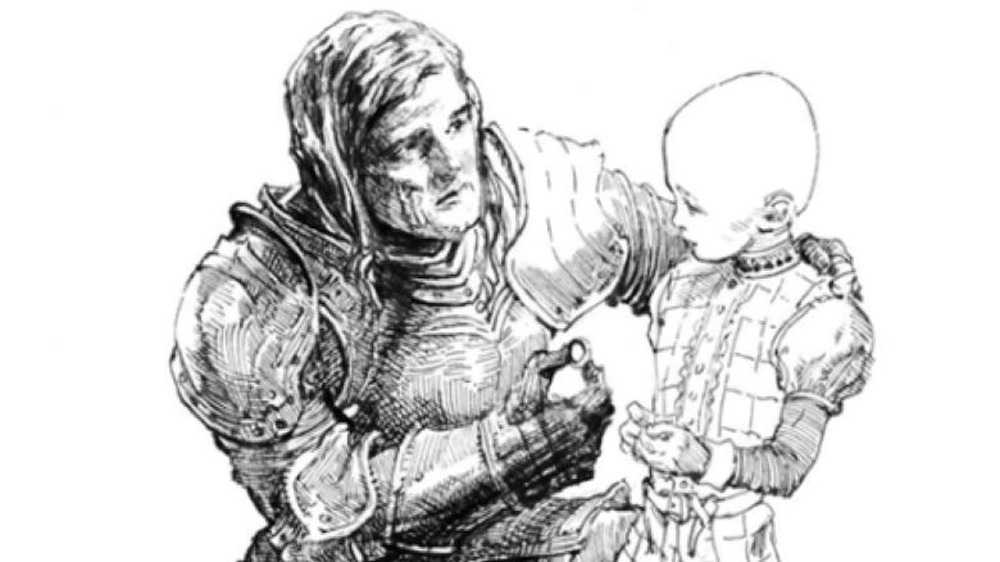 Gary Gianni/Bantam Books
Martin's novellas take place close to a century before the events of A Song of Ice and Fire, chronicling the travels of hedge (or errant) knight Ser Duncan the Tall, the titular "Dunk," and Prince Aegon V Targaryen a.k.a. "Egg." For those with a sharp memory, you may remember that Maester Aemon (Peter Vaughan) reveals himself as Aegon's brother, and is thus one of many secret Targaryens in Westeros.
Though he would later come to sit the Iron Throne, Egg spends a good portion of his youth with Dunk as a mere squire. The first novella recounts their origin story in which an infamous trial by combat reveals the necessity of letting young Targaryens out of the palace for a little seasoning. Their adventures get off to a rocky start — and many a "clout in the ear" when Dunk determines that Egg is misbehaving — but the two develop a brotherly bond over time. As revealed in A Song of Ice and Fire, Aegon names Ser Duncan to his Kingsguard after ascending to the throne, so the good times must have outweighed the bad. They're no strangers to knightly tournaments, trials by combat, or even dragon eggs, and readers learn much of Westerosi history as they follow along.
Greenseeing is beyond our ability, but Tales of Dunk and Egg is more than likely to closely adapt the novellas. However, it may go beyond Martin's work as well, just as Game of Thrones did. With each episode likely to be an hour long, they're certainly going to burn through their source material at a clip. 
We'll have more information about this one as it becomes available.