The Real Reason Debra Jo Rupp Almost Didn't Take Her WandaVision Role - Exclusive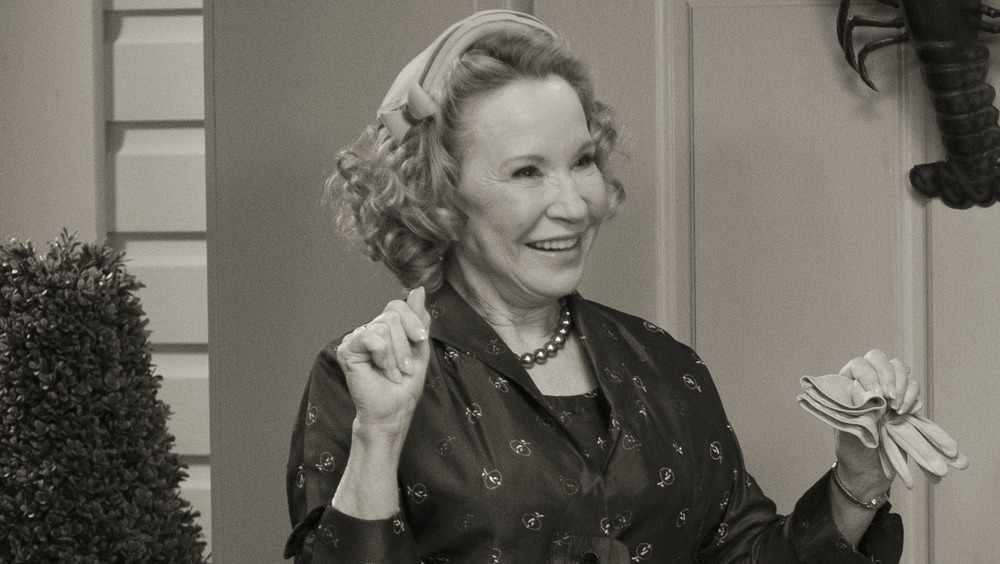 Disney/Marvel Studios
To most actors, landing a role in a Marvel Cinematic Universe project is the opportunity of a lifetime. But beloved actor Debra Jo Rupp almost let the chance to be in WandaVision pass her by for one simple reason: she just wasn't familiar at all with the MCU and the 23 films of the sprawling saga leading up to Marvel Studios' debut series on Disney+.
"I didn't even know what Marvel was," Rupp tells Looper in an exclusive interview. "I knew the comic books and I knew the cartoons, and that's what I thought it was."
It's understandable how word of the MCU escaped Rupp. After all, she's been extremely busy appearing in more than 80 TV or films over the past 30-plus years, bringing her charming demeanor to such hit series as That '70s Show (as the incomparable Kitty Forman), Friends, and The Ranch — not to mention lending her more serious side to dramatic series like This is Us, Law & Order, and NCIS: Los Angeles.
Luckily for Rupp, while she was busy with her career demands and was contemplating passing on WandaVision, a family member was very much paying attention to what the MCU was all about, and convinced her of just how important it was that she get involved in the series.
"When I was offered the job, I kind of went, 'Well, I don't know. I don't know,'" Rupp recalls. "And then I talked to my great nephew Johnny, who said, 'Aunt Debbie, if you don't take this job, I will never speak to you again!' And then I realized that there was, like, a thing. There was the thing about this. I had no idea how big it was. I had no idea. None."
Introducing Mrs. Hart to the MCU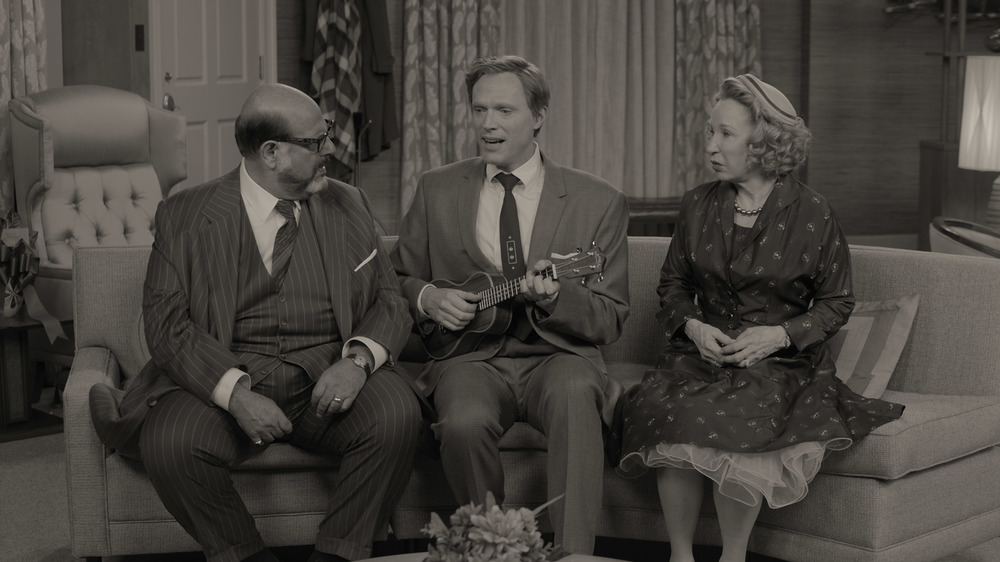 Disney/Marvel Studios
Kicking off Phase Four of the MCU, WandaVision is set after the events of Avengers: Endgame. With a much larger story going on around them, Wanda Maximoff (Elizabeth Olsen) and Vision (Paul Bettany) are seemingly cast back in time to the classic television sitcoms of the 1950s, '60s, '70s, and beyond, where the couple gets to live out their idyllic lives as a married couple while keeping their superhero powers a secret.
In the pilot episode, Wanda and Vision — in Dick Van Dyke Show fashion — invite Vision's boss, Arthur Hart (Fred Melamed), and his wife, simply known as Mrs. Hart (Rupp), over for a customary "get to know you" dinner. Naturally, a comedy of errors unfolds as Wanda desperately tries to cook the meal in the face of increasingly absurd obstacles. And while the couple's actions appear strange to Mr. Hart, Mrs. Hart in her sweet ways doesn't call anything into question because she buys into the notion that the strange happenings are rooted in Wanda's Sokovian customs.
Rupp appears again as Mrs. Hart in episode 2 of WandaVision as an audience member of the Westview Talent Show fundraiser, an event spiced up by the unusual antics of Wanda and Vision. And while any future appearances by Rupp in WandaVision are yet to be seen, the actor is clearly thrilled that she took her great-nephew Johnny's advice.
"I'm so glad that I made my great-nephew happy, because it was some kind of experience, I have to say," Rupp raves.
New episodes of WandaVision premiere Fridays on Disney+.