The Beyoncé Tribute You Missed In Netflix's Bridgerton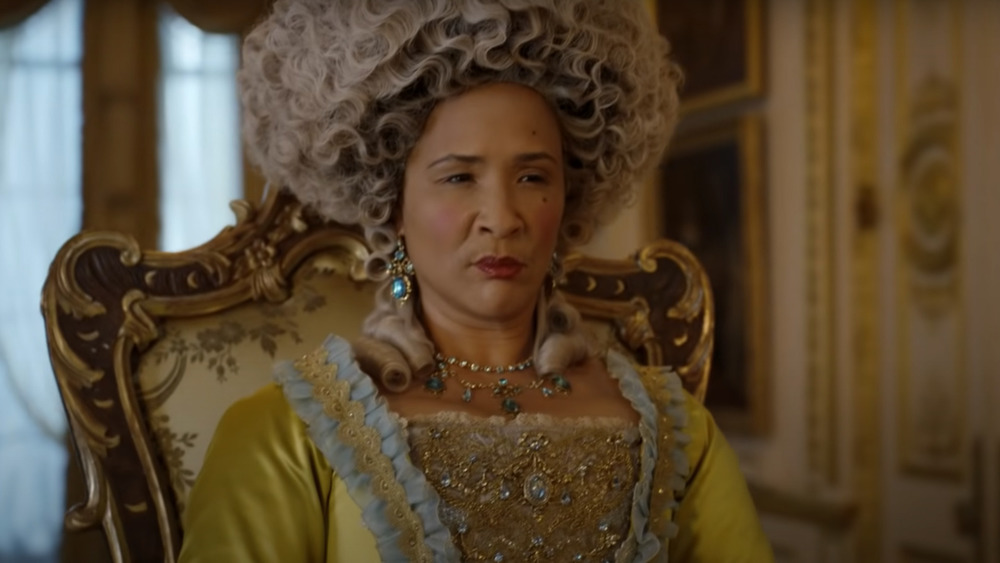 Netflix
Who runs the world? Girls, of course — and Beyoncé.
As it turns out, the people working behind the scenes of Netflix's latest streaming hit, Bridgerton, may just be huge Beyoncé fans, like the rest of the world. Marc Pilcher, head of the show's hair and makeup design, revealed during a recent interview with Harper's Bazaar that one of the series' most memorable looks — Queen Charlotte's uber full, butterscotch ombre afro — was inspired by none other than Queen Bey herself.
The iconic afro in question, seen during the third episode of the first (and currently, only) season, was initially inspired by the huge hair Keira Knightley rocked in The Duchess, but Bridgerton's version was then modeled after Beyoncé's magical 'fro in Austin Powers in Goldmember, he explained.
"So we did it just like Beyoncé's with the sort of lovely coppery gold outside," Pilcher told the magazine. "That wig was literally five wigs sewn together. So we bought four afro wigs and another one. So all the ringlets were based on one wig, and the other four we straightened, and then reset on kebab sticks to get the biggest, most amazing afro that we could. And I remember the first time when she came to set and I was like, 'Have we gone too far?' You were just waiting for the producers to go, 'No.' But, of course, she walked out, and everyone was like, 'Oh, my God, you look amazing.'"
And amazing is right. Actress Golda Rosheuvel, who portrays Queen Charlotte in the show, arguably steals every scene she's in, with her commanding presence and fierce beauty.
Bridgerton is a diverse show with amazing style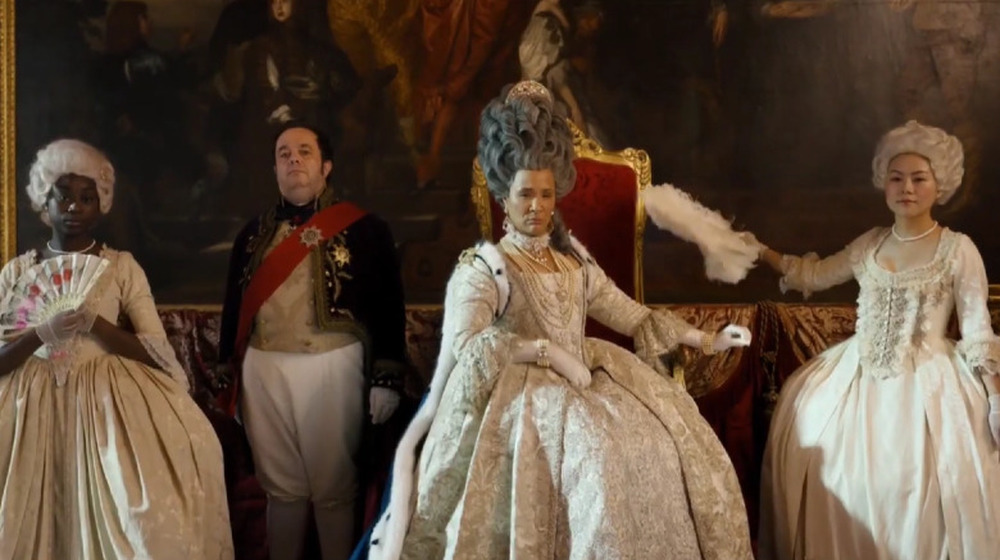 Netflix
Since its premiere on Christmas Day last year, Bridgerton has been making waves, and for good reason. There's plenty to love about it: the series, executive produced by Shonda Rhimes, puts a modern spin on the classic forbidden love story, making for a tantalizing mix of Grey's Anatomy-esque romantic drama and gorgeous scenery to rival that of any period piece.
And also? Bridgerton completely knocks it out of the park when it comes to diverse casting. While before, viewers could expect period pieces set in (even fictional versions of) the United Kingdom to be lacking when it comes to the representation of non-white faces, Bridgerton instead features a cast that includes people of varying racial backgrounds. Numerous main characters are people of color, and in the backgrounds of scenes, it's not uncommon to see, for instance, a black man rocking bleached dreadlocks while still dressed in clothing that's representative of the era.
The show drives home their goal of modernizing classic stories with their soundtrack selections as well. Numerous scenes are set to orchestral covers of popular pop songs by artists like Ariana Grande, Taylor Swift, and Billie Ellish, and the end result — diverse characters wearing elaborate dresses of the Regency era while waltzing to "thank u, next" — is just plain cool.
Unfortunately, Netflix has not yet picked up the show for a second season, but here's hoping that we haven't seen the last of this hugely unique series.