The Underrated Robin Williams Movie That Just Landed On Netflix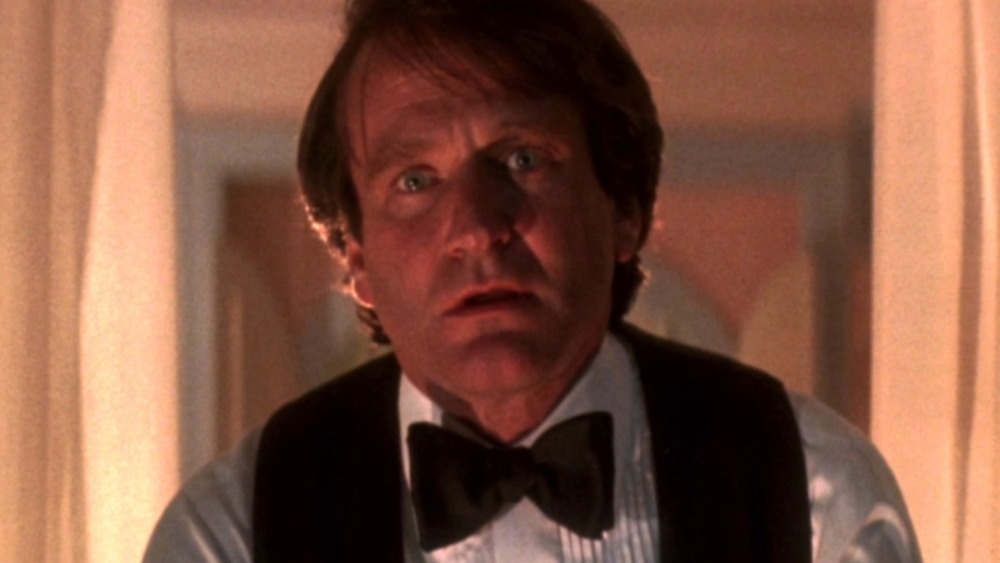 TriStar Pictures
From his Oscar-winning performance in Good Will Hunting to his voice-acting brilliance in Aladdin to his side-splitting stand-up comedy routines, Robin Williams' cinematic footprint is as unmistakable as it is unforgettable. There's a genuinely irresistible charisma to his work, whether he's doing comedy or drama.
But just because Williams starred in a production didn't always make it an automatic hit — his own performance aside. Such was the case with Hook, a Steven Spielberg-directed critical flop (not a phrase you hear very often). While the film earned five Academy Award nominations in categories like costume design and original song, Hook failed to capture the hearts of most critics. Even Spielberg himself has said that he doesn't like Hook, and wasn't confident when making it. "I didn't quite know what I was doing and I tried to paint over my insecurity with production value," Spielberg confessed to Empire magazine in 2018 (via Den of Geek). "The more insecure I felt about it, the bigger and more colorful the sets became."
Even so, Hook definitely has its strengths. Audiences generally find it far more appealing than critics (and Spielberg) do, granting the film a legacy it wouldn't have otherwise had. Many of the actors feel the same way, honoring lead actor Williams after his untimely death in 2014. "[Robin] really taught me at a young age what it means to be a star, what it means to be a leader on a set," said Dante Basco, who plays Rufio in Hook (via Variety).
As of January 15, 2021, Hook is officially on Netflix. What's it about, exactly? Let's take a closer look.
The hook of Hook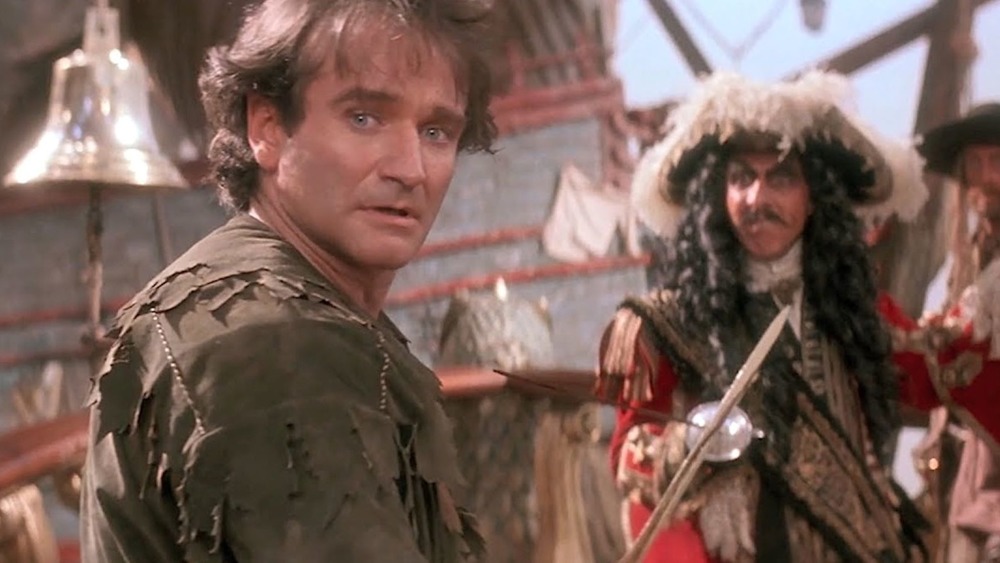 TriStar Pictures
Hook is a Peter Pan story like no other. Rather than retell the story of the boy from Neverland, the film stars Williams as an older version of the character named Peter Banning, who's forgotten his past and lives a successful yet mundane life as a lawyer. Married to Wendy Darling's (Maggie Smith/Gwyneth Paltrow) granddaughter Moira (Caroline Goodall), he's hardly a family man given how hard he works. But when the family goes to London to visit Wendy, Peter's children are kidnapped, and the only thing that's left behind is a note from Captain James Hook (Dustin Hoffman). As any father would, Peter wants to call the police, but Wendy has other ideas, reminding him of his true identity as Peter Pan.
Peter doesn't believe Wendy, of course (who would?), but Tinkerbell's (Julia Roberts) pixie dust lands him in Neverland proper before long. Now, Peter has the opportunity to save his children, but there are two glaring issues. First, his time on Earth sapped away the power of flight he once had and all but erased his proficiency as a swordsman. Second, though his daughter Maggie (Amber Scott) still loves him, his son Jack (Charlie Korsmo) is content to stay with Hook, a father figure with none of Peter's workaholic tendencies. His only hope in saving them — and being reminded of the power of familial love — is the help of Tinkerbell and the Lost Boys.
It's a really brilliant premise, but as Spielberg admitted, the execution bothers him. With the movie now streaming on Netflix, you can decide how you feel about Hook for yourself — and, like Peter, relive memories of your own childhood in the process.