The Tom Hanks Western That's Dominating Amazon Video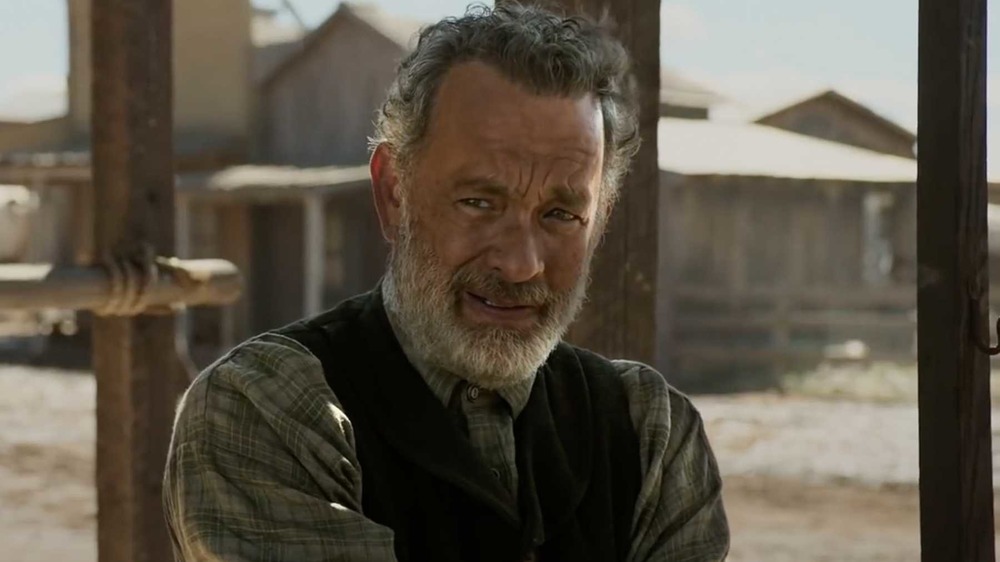 Universal Pictures
Tom Hanks had a very interesting 2020, to say the least. Back in March, the actor and his wife, Rita Wilson, announced they had both been diagnosed with COVID-19. Fortunately, the couple were able to make a full recovery without losing their sense of humor about it. Hanks even poked fun at the incident with a cameo appearance in Borat 2 in which the titular Kazakhstani reporter gives the virus to the A-list star. 
And while many actors saw their movies get pushed into 2021 and beyond, Hanks actually headlined two projects that made it to screens before the year's end. The first was the World War II naval film Greyhound, which received an exclusive release on Apple TV+ in July of 2020. The second is currently making waves over on Amazon Prime after a limited theatrical window, and it just so happens to be another period piece bolstered by an emotional performance from Hanks — News of the World.
FlixPatrol tracks the viewing habits of audiences across streaming platforms, and right now, it seems like people are in the mood for a good Western with a pair of stellar performances from Hanks and newcomer Helena Zengel. If critics and audiences over on Rotten Tomatoes are to be believed, then this could very much be worth a Video on Demand rental. 
News of the World is another gripping film from director Paul Greengrass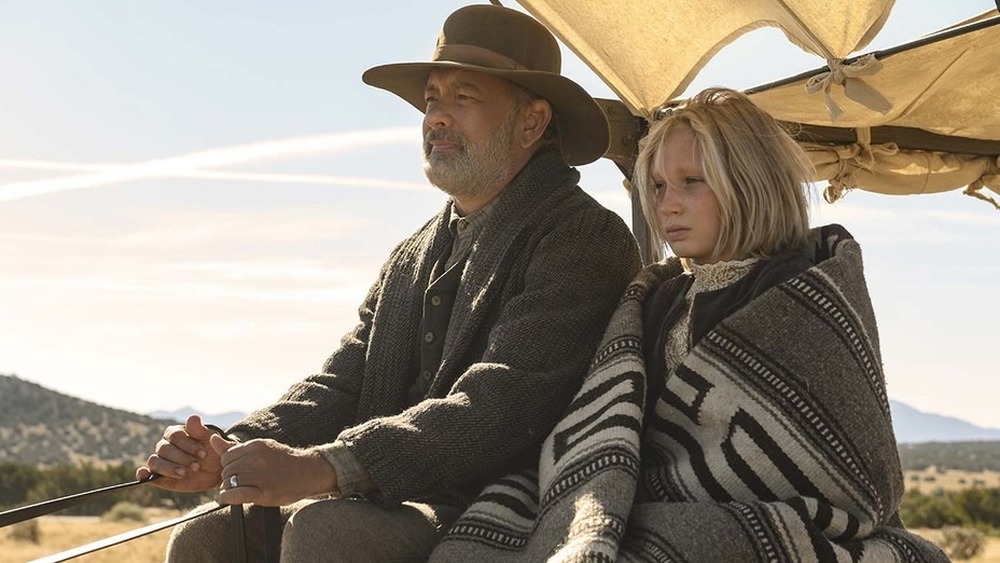 Universal Pictures
Director Paul Greengrass is a master of building tension and devoting careful attention to detail within action scenes. While he's brought a kinetic energy to movies like The Bourne Supremacy and The Bourne Ultimatum, he never loses sight of the human emotion behind the thrills. That's why he was nominated for Best Director at the Academy Awards for his work on 2006's United 93, a great film if not tough to watch more than once. 
Greengrass and Hanks collaborated once before on 2013's Captain Phillips, which proved to be a fruitful partnership as both artists ended up with a slew of awards and nominations. Now they're back with News of the World, which follows Civil War veteran Captain Jefferson Kyle Kidd (Hanks), who encounters a young girl, Johanna (Zengel), who's been separated from her family. Union Patrol officers task Capt. Kidd with returning the girl to her aunt and uncle. It's a frosty relationship at first, but as they encounter various threats on the Texas plains, they'll need to learn to trust one another to make it home alive. 
2020 didn't offer much in the way of new movies, making this gem coming in at the end of the year a definite bright spot. For People's ranking of the year's top ten movies, Tom Gliatto ranked the Western fifth. If you're looking for a slow-burner of a film that packs a major emotional punch, or just need something to watch that both you and your dad can enjoy, then check out News of the World.