The A-List Star You Didn't Expect To Cameo In Borat 2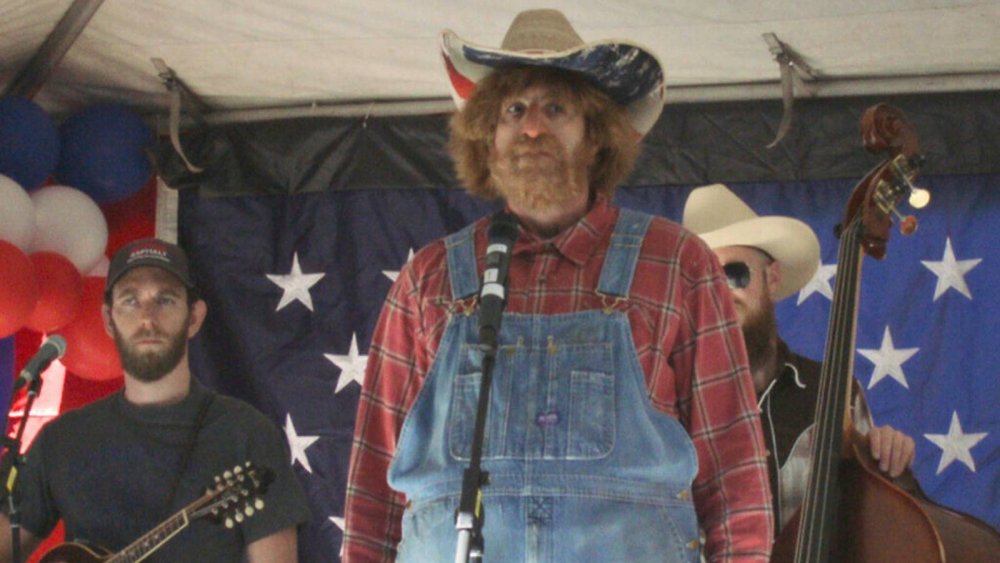 Amazon Studios
Borat Subsequent Moviefilm: Delivery of Prodigious Bribe to American Regime for Make Benefit Once Glorious Nation of Kazakhstan is now available to watch on Amazon, and fans will be delighted to see Sacha Baron Cohen once again don the outfit of everyone's favorite Kazakhstani reporter. 
This time around, Borat is too famous to walk around the United States as himself. He takes on various disguises to infiltrate numerous situations while traveling around with his daughter, Tutar (Maria Bakalova), whom Borat hopes to deliver as a gift to Vice President Mike Pence. Needless to say, hilarity ensues as Borat speaks with various unsuspecting victims who let their guards down when he's around. There's definitely more of a satirical bite to this film when compared to the first, as evidenced by the fact that many of the scenes take place in the midst of the COVID-19 pandemic gripping the United States right now.
Critics are saying the sequel is a worthy follow-up to the 2006 original, and based on their reactions, there are plenty of outrageous moments throughout the film to have you laughing your butt off, with more than a few surprises tucked away for good measure. One of the best revelations is an A-list cameo you honestly have to see to believe. 
Spoilers ahead for Borat 2, so go ahead and watch the movie if you want the cameo to remain a surprise!

Tom Hanks appears as himself in Borat 2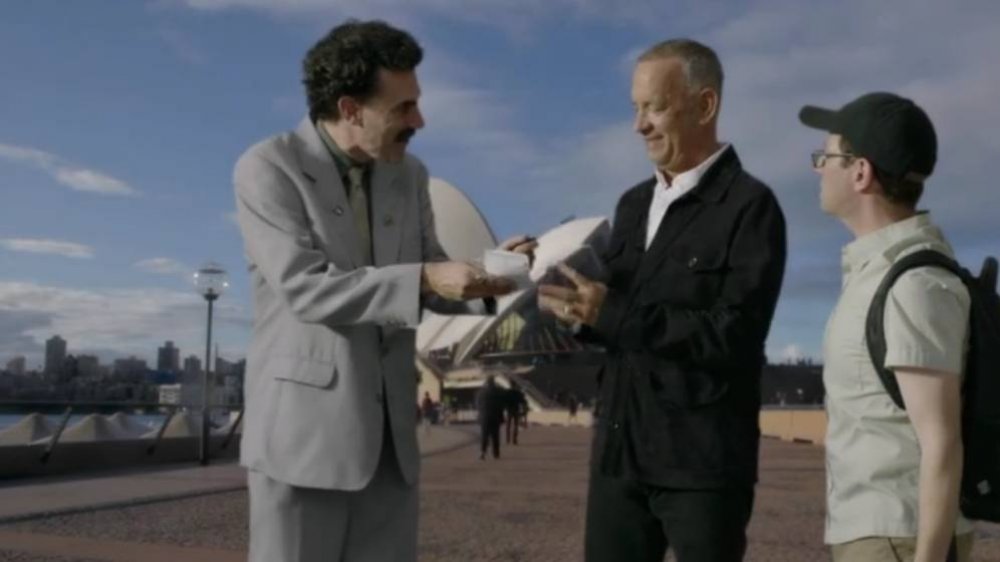 Amazon Studios
Plenty of political figures, including Vice President Mike Pence and former New York City Mayor Rudy Giuliani, appear in Borat 2 as unsuspecting victims. One major cameo happens during a short sketch, however, and it's none other than Tom Hanks. 
Yes, you probably have to do a double-take as you're watching the film to realize that's actually Tom Hanks appearing in a hilarious moment from the film. During the scene in question, Borat goes up to Hanks to ask for an autograph when the two meet in Sydney. As Hanks asks Borat how to spell his name, the Kazakhstani reporter proceeds to cough all over Hanks, implying that Borat was the one who infected Hanks with the coronavirus. As you may remember from earlier this year, Tom Hanks and his wife Rita Wilson were diagnosed with COVID-19. The two had to be hospitalized for a short period of time, but fortunately, they both made full recoveries. 
It's great to see Hanks has a sense of humor about the entire situation, and he's probably one of the few celebrities showing up alongside Borat who isn't going to end up furious about his appearance in the film. Hanks' scene is just one of the many moments in the movie that draws humor out of the COVID-19 pandemic, and it's a great treat for fans to see for themselves that Hanks is doing all right. 
Borat Subsequent Moviefilm is now available for streaming on Amazon Prime.