Tom Hanks' Greyhound - What We Know So Far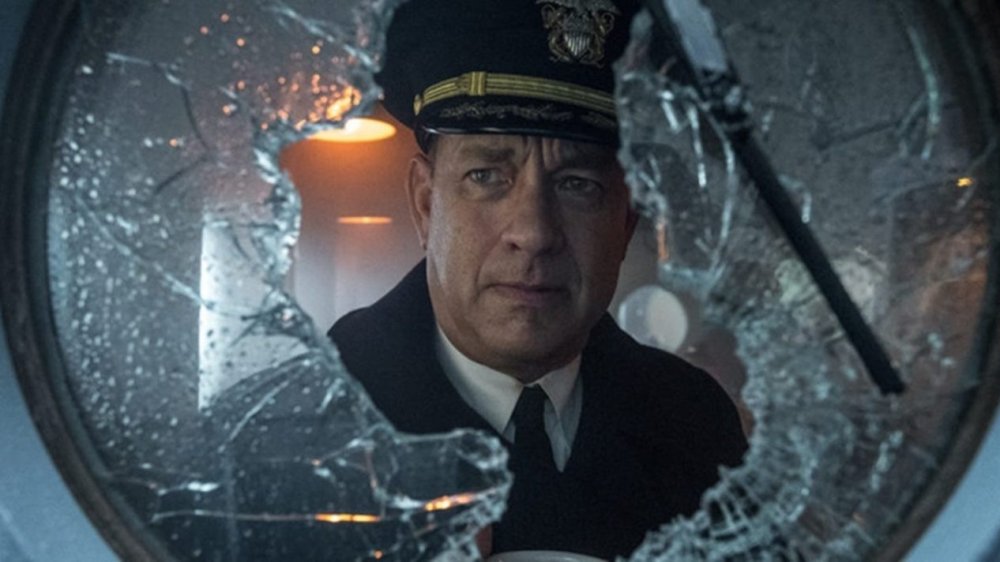 Sony Pictures
Tom Hanks' next big project is coming to a small screen near you.
In the brief time since its launch, Apple TV+ has scored some of Hollywood's biggest stars. Its flagship series, The Morning Show, premiered alongside the service itself on November 1, 2019, with huge names like Jennifer Aniston, Reese Witherspoon, and Steve Carell. Luckily, their latest news is just as exciting, with word that America's favorite actor will bring a buzzworthy new film to the streaming service.
Deadline reports that director Aaron Schneider's war epic Greyhound, which stars Hanks (who also adapted the film from C.S. Foreste's novel The Good Shepherd), will arrive on Apple TV+ this summer. A huge, beloved star like Hanks carrying a big-budget film is definitely a major step for Apple TV+ less than a year into its existence, and if you're excited about Greyhound, we've got all the details for you. Here's everything you need to know about Greyhound, from release date to plot details.
What's the release date for Greyhound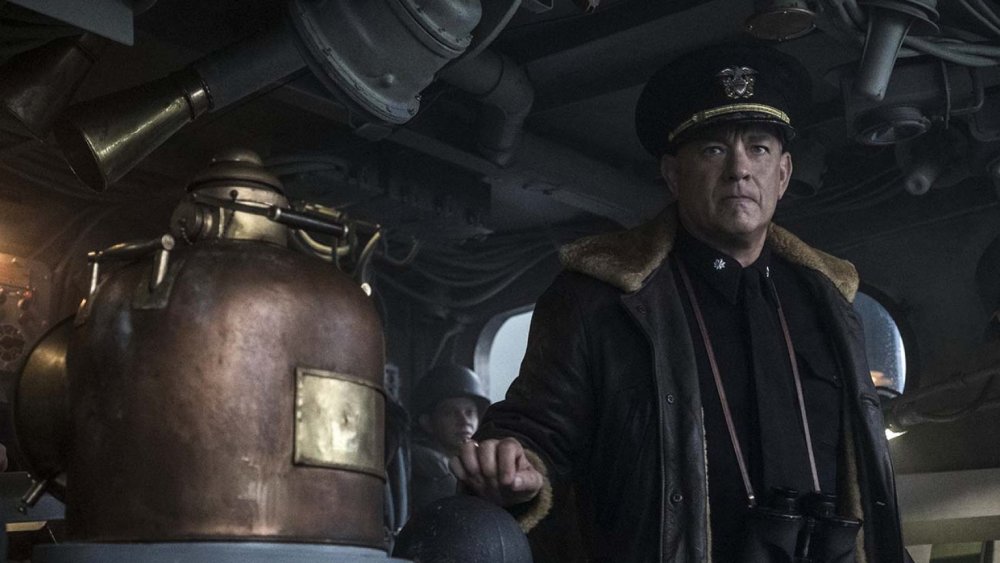 Sony Pictures
If you're already excited for Greyhound, you won't have to wait very long — the film will hit the streaming service on July 10 globally, available in over 100 countries. However, this definitely wasn't the original plan.
Originally, Greyhound was set for a theatrical release, but like many other films, its release was left in flux after the ongoing COVID-19 crisis shuttered movie theaters around the world. Though some movie chains plan to open their facilities as soon as possible, it remains to be seen when it might be completely safe to gather in a movie theater again, and in May, Apple TV+ snapped up the rights to Greyhound for a whopping $70 million dollars. Ultimately, it became Apple TV+'s most expensive film acquisition to date. However, with Hanks in the lead, Greyhound seems like a pretty sure bet, and will help Apple TV+ gain even more clout on the crowded streaming battleground.
What's the plot of Greyhound?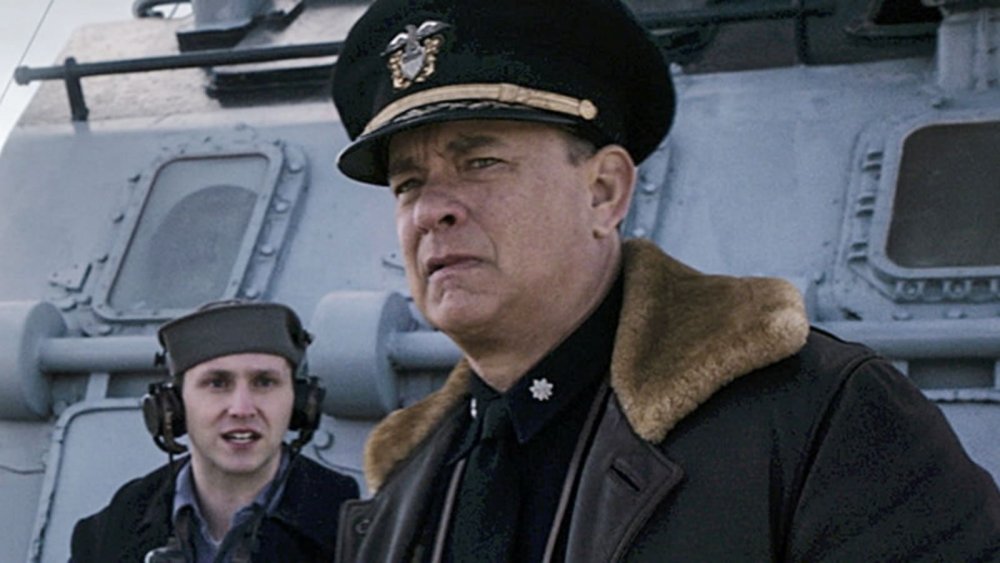 Sony Pictures
Inspired by a real event, Greyhound tells a gripping story set against the backdrop of World War II's Battle of the Atlantic, at the beginning of America's involvement in the war. Hanks' Commander Ernest Krause must assume the role of captain and protect 37 caravan ships from enemy attack over the course of several days. If you're wondering about the title, it refers to Krause's ship.
Without any assistance from Allied planes, Krause is forced to get creative to make sure that the ships stay safe, and even traverse an area of the Atlantic known as the "Black Pit," which is filled with Nazi forces. Hanks is no stranger to war epics, and this lesser-known story has plenty of promise, especially with such a venerated actor at the helm. Fans of Saving Private Ryan and Band of Brothers will definitely want to check out Greyhound, and maybe even learn about a less-known but significant part of the war in the process.
Who's in the cast of Greyhound?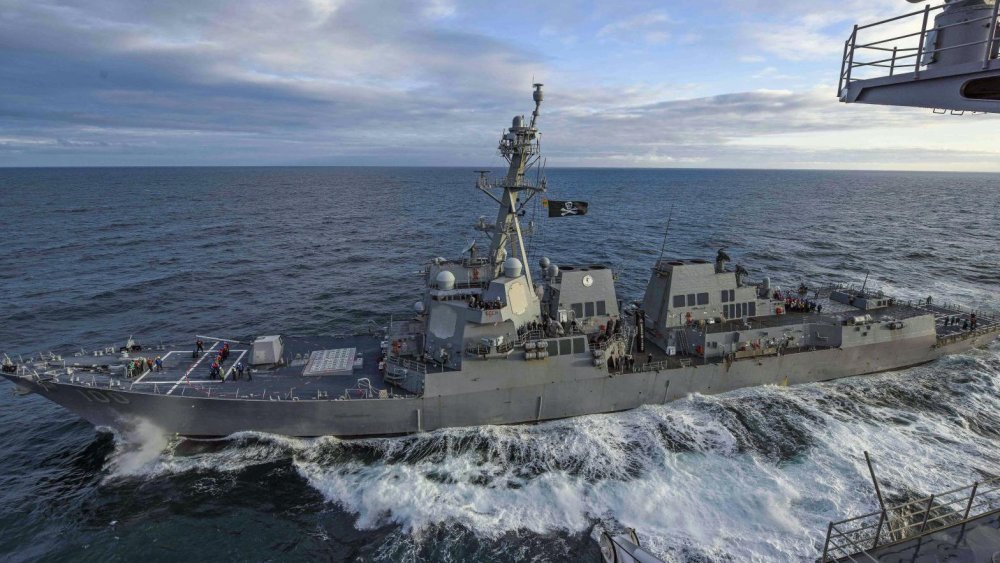 Sony Pictures
Tom Hanks, one of Hollywood's most well-loved and decorated actors, will appear in a leading role as Navy veteran Commander Ernest Krause, who must navigate a seemingly impossible, potentially deadly situation. Hanks will also be joined by a few other stars you might recognize.
Stephen Graham, a British actor who has appeared in everything from Gangs of New York to Public Enemies to Boardwalk Empire, will star alongside Hanks. Elizabeth Shue, who got her start in '80s films like The Karate Kid before appearing in CSI: Crime Scene Investigation and The Boys, also stars. Rounding out the main cast is Rob Morgan, who recently played Turk Barrett across Netflix's universe of Marvel shows. Hanks might be the biggest name in the cast, but there's no doubt that every actor in this talented group will bring everything they have to this epic film.
Is there a trailer for Greyhound?
A trailer for Greyhound was released at the same time as the announcement that the film would hit Apple TV+ on July 10, and unsurprisingly, it promises plenty of action, drama, and intrigue alongside a powerhouse performance from Hanks.
The fast-paced trailer, which notes that Greyhound is an Apple original film, features plenty of shots of a dark, imposing sea, saying that in the North Atlantic in 1942, "in the world's greatest war, one battlefield held the key to victory or defeat." With plenty of explosions, an extremely ominous score, and plenty of closeups on Hanks, the trailer builds as Krause receives his Naval promotion to the point where he must fight for days to save his men and their forces. If the trailer for Greyhound is any indication, Hanks' latest war film is sure to be a crowdpleaser, and may even earn attention during awards season.