The Thor Easter Egg You Had No Idea Was In WandaVision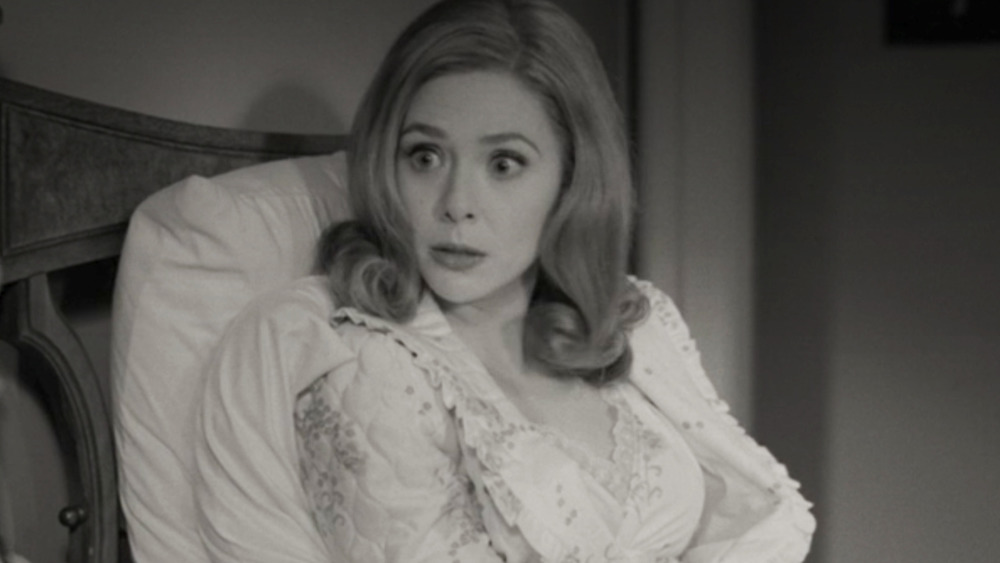 Marvel Studios/Distney+
Contains spoilers for WandaVision
Marvel's first big television series has hit Disney+, and it's full of Easter eggs — including sly references to other heroes in the Marvel Cinematic Universe.
The first two episodes of WandaVision, which stars Paul Bettany's Vision and Elizabeth Olsen's Wanda Maximoff, mark the studio's first huge release since 2019, as well as its first big Disney+ project and the beginning of the Marvel Cinematic Universe's long-awaited Phase 4. After a year without any new MCU releases — due to the ongoing COVID-19 pandemic, releases like Black Widow have been shelved, while the rest of the Phase 4 projects have faced delays — fans can finally enjoy new Marvel content as of January 15, 2021, when the first two installments of WandaVision dropped on Disney+.
Following the time-honored tradition of the rest of the MCU, WandaVision, an ambitious project that bends genres and styles seamlessly while giving Wanda and Vision their own feature for the first time, also houses plenty of incredible Easter eggs about the rest of the universe. Here's the tiny Thor Easter egg you definitely missed in the second episode of WandaVision.
Thor makes a sneaky appearance in the second episode of WandaVision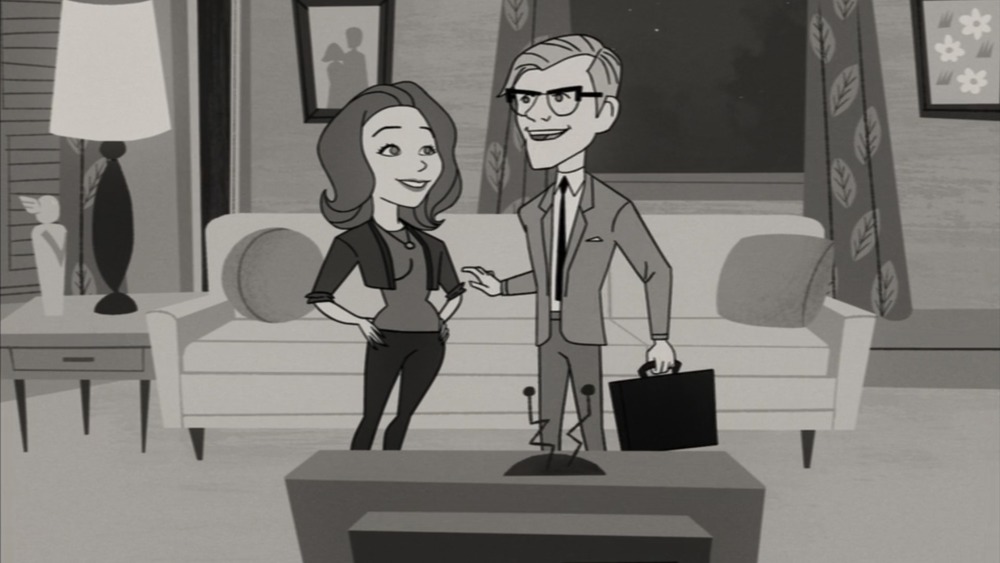 Marvel Studios/Disney+
Throughout its first two episodes, WandaVision moves through a variety of classic sitcom tropes — the first episode, which perfectly mimics husband and wife sitcoms like I Love Lucy, was even filmed in front of a live studio audience — while the second one channels Bewitched, particularly in its opening sequence. Drawn as flat cartoonish figures, Vision and Wanda float through the small, sleepy town of Westview before landing in their home.
As Wanda and Vision go about their day to day life and try to hide Vision's true robotic nature and Wanda's telekinetic powers, they finally arrive at home, and behind them, eagle-eyed viewers can spot what appears to be a small statue of the God of Thunder himself, Thor (played throughout the MCU by Chris Hemsworth), next to a lamp in the title couple's living room.
The show's introduction changes from episode to episode, so it's likely this reference was a one-off, but it remains to be seen how many times the show will reference the MCU's favorite Asgardian god. Another character, Wanda and Vision's chatty neighbor Agnes (Kathryn Hahn), bears a distinctive brooch throughout the first two episodes, which may well be a reference to the Fates, a trio who appear in the Thor comic books (but haven't popped up in the MCU just yet). Beyond that, Kat Dennings is set to appear in WandaVision as Darcy Lewis, a character with ties to Thor's Jane Foster (Natalie Portman), though her role still remains a mystery.
Fans will just have to keep watching for any other MCU Easter eggs, but you'll definitely want to see if you can spot this clever one in episode two. New episodes of WandaVision drop every Friday on Disney+ at midnight PST.