Culkin Breaks His Silence On Removing Trump From Home Alone 2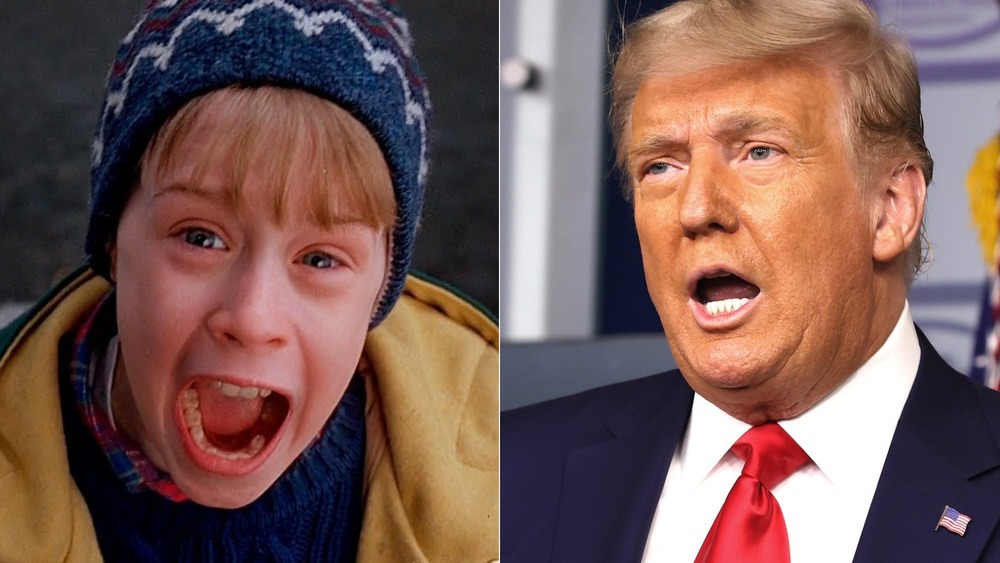 20th Century Studios, Chip Somodevilla/Getty Images
On the stage of the United States of America, a historically bizarre and horrific series of events is presently unfolding. When the currently-sitting president, Donald J. Trump, helped to foment public outrage with false claims of election tampering, it led to a violent insurrection by a fascist, right-wing militia, which descended on the U.S. Capitol, resulting in destruction, theft, multiple deaths, and an indelible stain on American democracy. Those events took place on January 6, 2021.
Two days later, Twitter made the decision to permanently ban Trump from their social media platform "due to the risk of further incitement of violence," according to a tweet from @TwitterSafety. While people online debated the benefits and detriments of such a decision, the House of Representatives immediately set to work on drafting up Articles of Impeachment. And on January 13, 2021, Trump became the only president in United States history to be impeached twice — this time, with the closest thing an impeachment vote has ever seen to bipartisan support. 
In the midst of all of that, a question arose: If we can hypothetically remove Trump from office mere days before he would be leaving anyway, where else can he be removed from? The answer, according to Twitter at least, is that we should also remove Trump's brief cameo in Home Alone 2: Lost in New York. And after much discussion, even the film's star has weighed in.
Removing Trump from Home Alone 2 is Culkin approved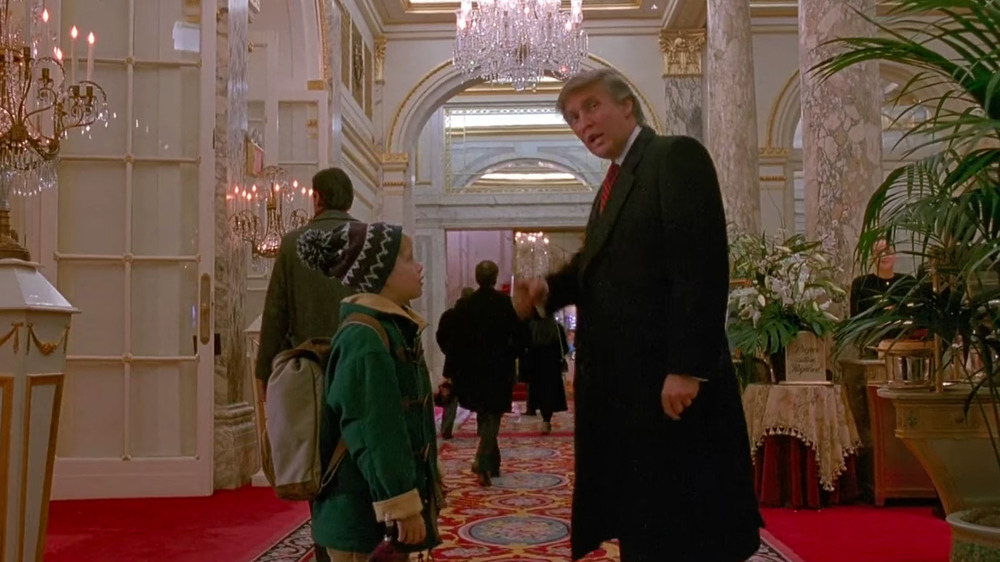 20th Century Studios
The Home Alone franchise is a Fox property, which means it's also, now, a Disney property. As such, you can stream the films on Disney+. And if there's one thing we know about Disney+, it's that they don't mind editing things. The classic Tom Hanks mermaid comedy Splash, for example, has a scene where Darryl Hannah's butt has been digitally hidden by CGI hair, as she runs towards the ocean. Suffice to say, there was not any such CGI in the original film.
With that in mind, people have been atwitter at the idea that Trump could be similarly removed from the infamous scene in Home Alone 2, where he gives Kevin directions.
Macaulay Culkin, star of the first two films, is clearly internet savvy. For example, back in 2018, Culkin teamed up with longtime YouTube creator James Rolfe (aka The Angry Video Game Nerd) to make a fun of the Home Alone video game series. With over 7.5 million views as of this writing, it's safe to say that the former Kevin McCallister still has the juice when it comes to Home Alone hot takes. Naturally, that means people can't feel truly assured that Donald Trump should be removed from Home Alone 2 until Culkin himself gives his blessing ... and that is precisely what happened on January 13.
That day, a tweet from @rachellobaugh argued for a "petition to digitally replace Trump in Home Alone 2 with 40-year-old Macaulay Culkin." Culkin responded to the tweet with one word: "Sold." 
Similarly, @maxschramp tweeted a video where he had digitally removed Trump himself. Once again Culkin dropped in with his one-word approval: "Bravo." It's also noteworthy that Culkin is not the only Home Alone alum with words about Trump's appearance in the film.
Trump bullied his way into Home Alone 2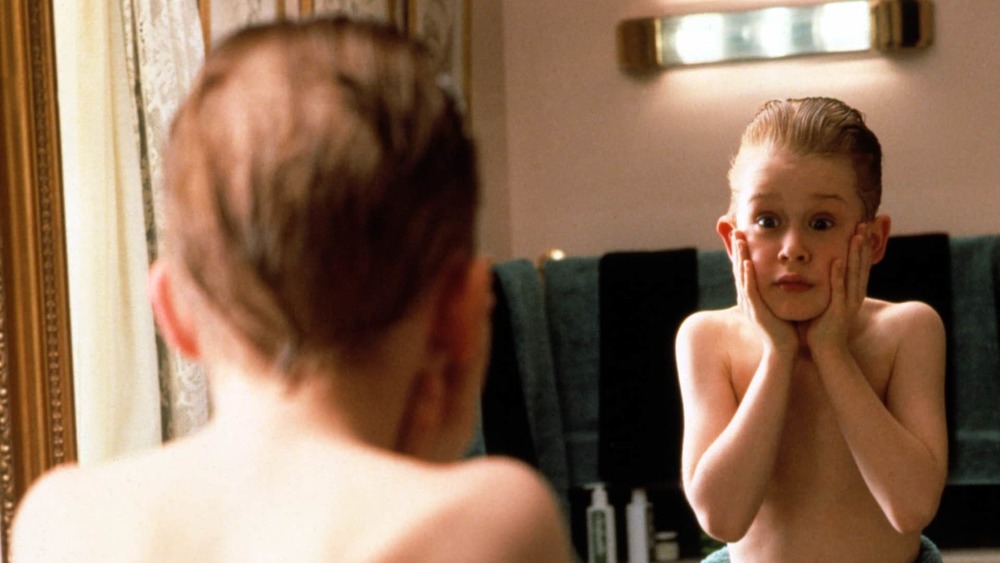 20th Century Studios
It will likely surprise absolutely no one that the soon-to-be former President of the United States was more responsible than anyone else for his brief cameo in Home Alone 2. 
In an interview with Insider, Home Alone director Chris Columbus revealed the entire oddball story behind Trump's brief moment in the film. "Like most locations in New York City, you just pay a fee and you are allowed to shoot in that location," explained Columbus, of his using New York City's famous Plaza Hotel in Home Alone 2. "We approached The Plaza Hotel, which Trump owned at the time, because we wanted to shoot in the lobby. We couldn't rebuild The Plaza on a soundstage. Trump said okay."
However, in what also won't come as a surprise to many, Trump's okay came with a catch. "We paid the fee, but he also said, 'The only way you can use the Plaza is if I'm in the movie,'" Columbus revealed. "So we agreed to put him in the movie, and when we screened it for the first time the oddest thing happened: people cheered when Trump showed up on-screen. So I said to my editor, 'Leave him in the movie. It's a moment for the audience.' But he did bully his way into the movie."
So, will Disney+ digitally remove Trump and replace him with an older Macaulay Culkin? 
The chances aren't great, but it's certainly worth noting that Trump's scene (which is merely a cameo, anyhow) was already cut from Canadian broadcast network CBC's airing of Home Alone 2 as far back as 2014, according to The Guardian.