Why WandaVision's Set Is More Important Than You Think
WandaVision, Marvel's first television series to grace our screens through Disney+, is well on its way, scheduled to premiere sometime in December 2020, though the exact date hasn't been announced yet. One particular feature of the series that has caught audiences' attention is its meta-style, and how it appears to travel through the history of television — from black-and-white sitcoms like The Dick Van Dyke Show to the comedies of today. 
With very little details about the plot of WandaVision released so far, fans are left to wonder exactly what this means, and how Wanda Maximoff (Elizabeth Olsen) and Vision (Paul Bettany) end up in this situation. Another big mystery is how Vision returns, since the last time fans saw him, he was killed by Thanos (Josh Brolin).
While filming for WandaVision took place at a variety of places, a prominent shooting location was Blondie Street at the Warner Bros. Ranch located in Burbank, a constructed suburb used for many different sitcoms of the past. Aside from the obvious connection to sitcom history, the filming location also has a special significance for the series and its director. In the lead up to the WandaVision premiere on Disney+, Entertainment Weekly spoke with the cast, writers, directors, and producers, who went into detail about the process of making the series as well as the real significance behind Blondie Street.
WandaVision's director Matt Shakman has a history with Blondie Street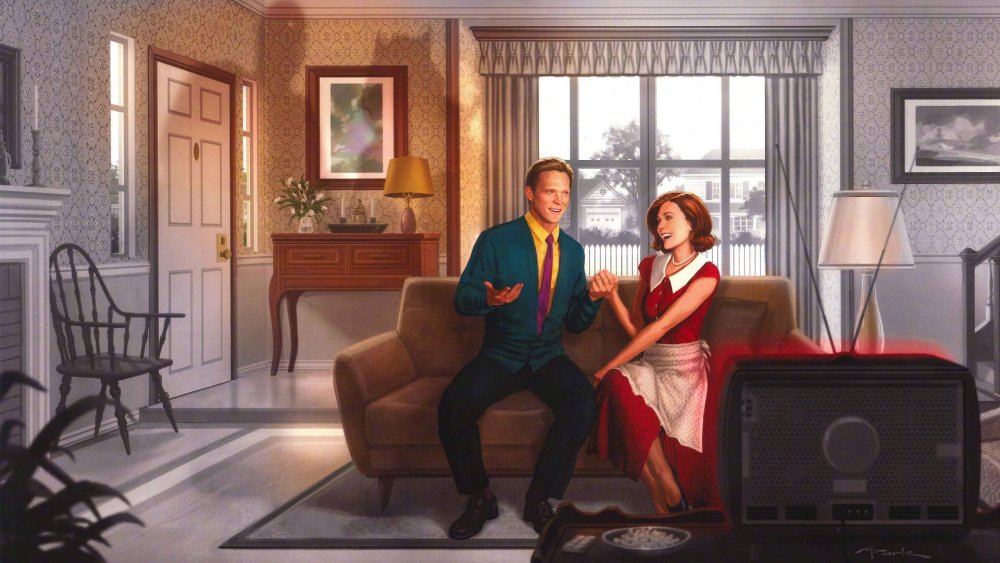 Marvel Studios/Disney+
Matt Shakman, the director of the show's six episodes, has a history to draw from for inspiration. When he was a kid, Shakman acted in the Growing Pains spin-off series Just the Ten of Us, which occasionally used Blondie Street for filming. Explaining to EW what it felt like to return to this scene of his childhood, Shakman stated that he felt "surrounded by these ghosts of television past — including my own ghosts," and that it was "deeply moving" to come back so many years later.
Along with the personal connection, the use of Blondie Street has a clear purpose for WandaVision. While it obviously provides the perfect location to film the scenes modeled after sitcoms past like The Partridge Family and Bewitched, which were also filmed at Blondie Street, it also helps really establish the feeling of artificiality, which is a key theme for WandaVision. Shakman elaborated on this, saying, "You can't find a real street that feels like Blondie Street. You need it to have that weird sense of fakeness."
While it's still unclear exactly what role the sitcom factor will play in Wanda and Vision's story, it's exciting to see that Marvel went all-in to make this feel as accurate as possible. With Olsen and Bettany returning to their roles from the Marvel films, along with a supporting cast that includes Kathryn Hahn and Teyonah Parris, WandaVision is likely to be a hit.