The Part Of Vision's Costume Elizabeth Olsen Can't Stand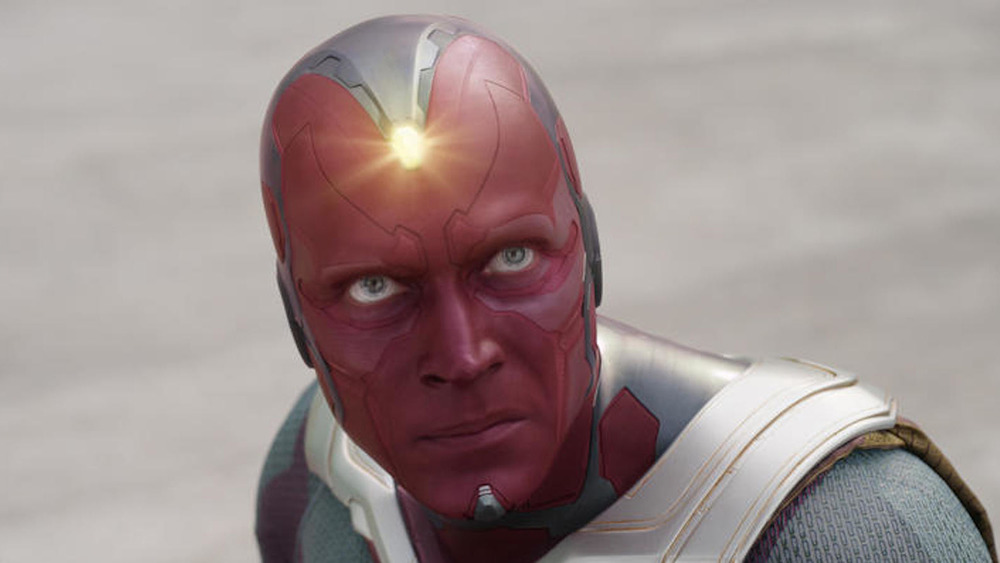 Disney+/Marvel Studios
WandaVision promises a bold new future for the Marvel Cinematic Universe. Other series set within the MCU, such as Agents of S.H.I.E.L.D. and Agent Carter, have more or less followed the same format as the films where everything unfolds within the structure of an action-adventure story. WandaVision mixes things up by giving audiences what appears to be a sitcom format — or at least a sitcom homage — that will see the titular couple of Scarlet Witch (Elizabeth Olsen) and Vision (Paul Bettany) move through different eras of American laughers from the 1960s to the present day.
There's still much we don't know about the series, which is likely why a ton of wild fan theories have developed regarding how WandaVision connects to the future of MCU films, and how the oft-teased multiverse will factor into this universe moving forward. There are a few things we can gather about what direction the series will take, however, especially after the release of an interview actor Paul Bettany had with Entertainment Tonight in which he cited House of M and The Vision comics as direct influences. While those storylines hint at some darkness bubbling under the surface of the show, we're expecting plenty of levity, as well.
According to Bettany, there was a great deal of joke-cracking going on behind-the-scenes, especially when it came to one of Bettany's costumes that Elizabeth Olsen just plain couldn't stand.
Elizabeth Olsen called Paul Bettany's 1980s wig 'Mr. Creepy'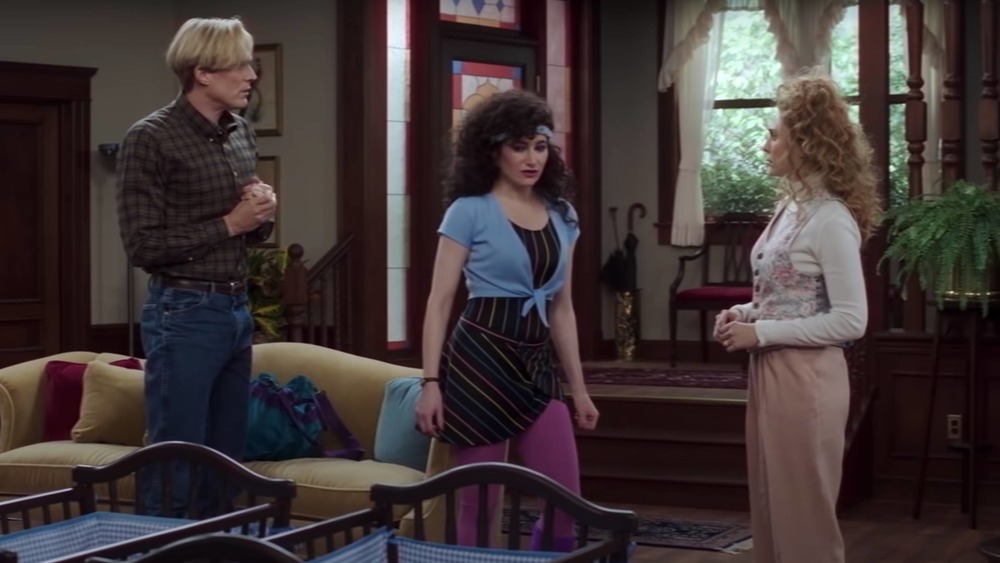 Disney+/Marvel Studios
Paul Bettany has been complaining about his character's make-up requirements for a while now. He's officially one of many actors who despised their superhero costumes. 
This trend unfortunately continued on WandaVision, though the actor did get the occasional break from his mechanical trappings. According to Bettany, it was a welcome change of pace to only have to wear wigs and period-accurate costumes in a few scenes: "We had so much fun creating these characters and creating all of these looks and running around the American Century and sitcoms. It was a magical time." Bettany was also asked whether he named his wigs, to which he responded, "You know what, I don't have names for my wigs. But I should. And I think from now on, I'm going to name them. I can tell you that Elizabeth [Olsen] had a name for my 1980s wig."
Bettany went on to explain that the name for this particular wig was "Mr. Creepy," and that it earned such a moniker because, "[Olsen] hated the fact that I didn't have sideburns on it. She said, 'I hate it. It's so weird. Why don't you have sideburns?' And I said, 'Because it was a wedge, and that was the style.' She went, 'It's creepy!'" 
From what we've seen so far, the show has a ton of fun dressing up its characters in period-accurate costumes, but we also know it takes advantage of modern technology with enough VFX shots to trump even Avengers: Endgame. This bringing together of the old and the new is bound to make for a quirky, groundbreaking series that pushes the boundaries of what kind of superhero stories can be told in this medium. 
To get a glimpse into Scarlet Witch's home life with Vision, you'll want to tune in to Disney+ on January 15, 2021 when the first two episodes premiere.