The Cobra Kai Season 3 Stunt That Took Mary Mouser 20 Takes To Land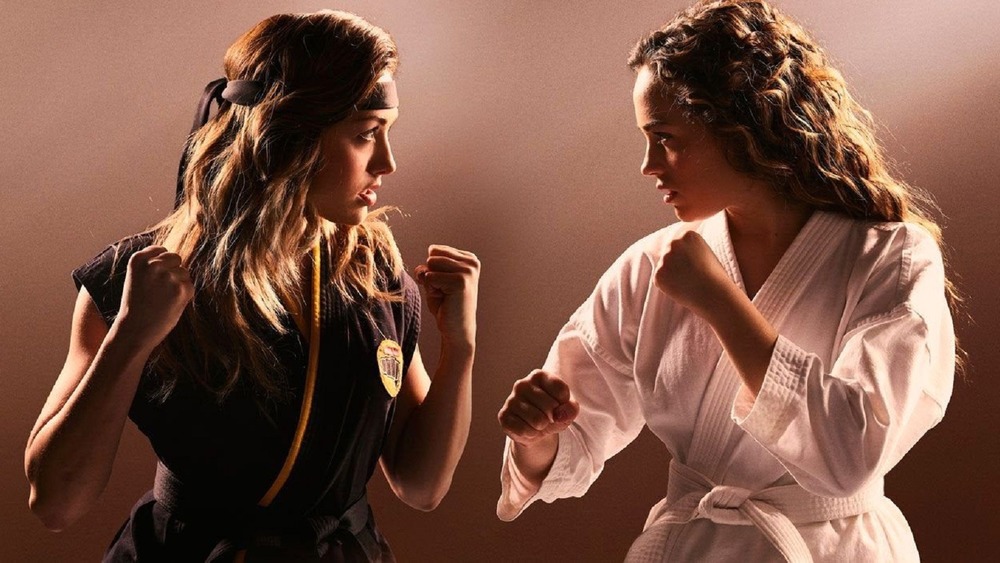 Sony Pictures Television
Minor spoilers for Cobra Kai seasons 2 and 3 follow.
The third season of the smash hit Netflix series Cobra Kai gave its fans, well, more. The third outing for the Karate Kid spin-off series improbably featured more humor, more drama, more awesome guest appearances, and more slam-bang karate action than even its previous two stellar seasons, and it even somehow managed to raise the stakes from the ending of season 2 — you know, the all-out brawl between Cobra Kai and Miyagi-do students that ended with former Cobra Miguel (Xolo Maridueña) in the hospital, and Daniel LaRusso (Ralph Macchio) rethinking his commitment to karate after his daughter Sam (Mary Mouser) suffered a scary injury, not to mention psychological trauma, in the melee.
Season 3 saw Sam admirably trying to conquer those fears, although the scars on her arm left by her nemesis Tory (Peyton List) in that season-ending fight served as a constant reminder of her limitations. When it comes to the limitations of Mouser herself, though, Cobra Kai's trainers seem keen to keep finding new ways to push against them. In a recent chat with Elite Daily, Mouser revealed that Sam's opening offensive during a mid-season fight between the two dojos at an amusement park required her to execute a move that she had just a bit of trouble with: a tornado kick, which requires a martial artist to perform a complete revolution in mid-air, feinting with the leading leg and striking with the other. (No sweat, right?)
"Just about every stunt I try, at least the first time, I epically fail," Mouser shared. "For some reason, my body does not want to do a tornado kick [...] I messed up probably 20 takes. I literally just walked out of the room for a minute because I was about to cry tears of frustration." 
Eventually, though, she nailed it. "The stunt coordinator was like, 'Look, you got this. We're all here for you, however much time you need,'" she remembered. "And lo and behold, the next take, I did get it."
Cobra Kai's trainers have put Mary Mouser through her paces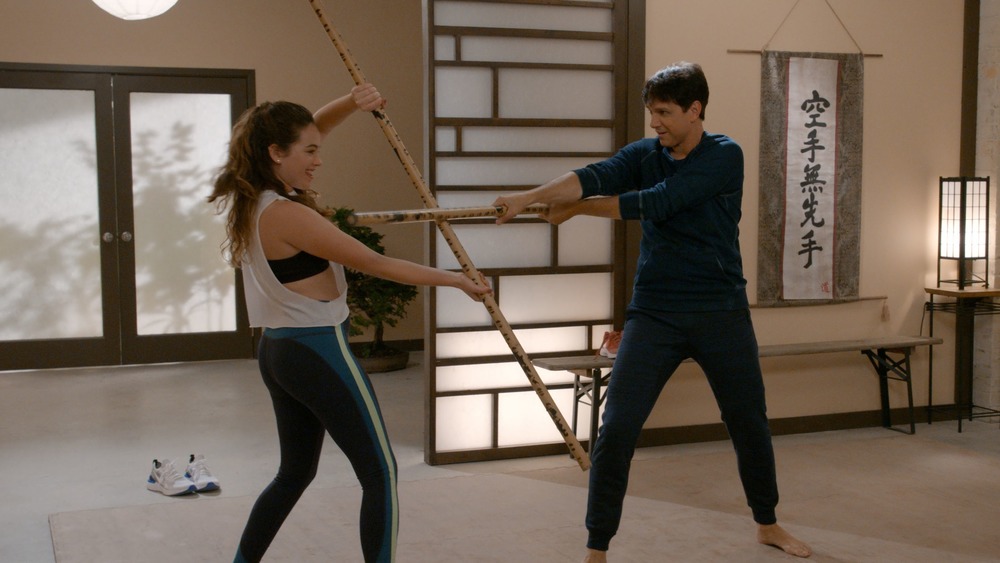 Sony Pictures Television
The Cobra Kai stunt team have got to be some of the hardest-working people in showbiz, as at least one cast member — Jacob Bertrand, who portrays Eli "Hawk" Moskowitz — has estimated (via TV Line) that 90 percent of the time, it's the actual cast members you see onscreen karate-ing their hearts out. If it seems like they've required more and more of Mouser with each season, well, she'd probably agree with you. During season 3, Sam had occasion to train with (and eventually use) a traditional weapon known as a bo staff — and for Mouser, learning proper technique didn't exactly come easy.
"I basically got handed a bo staff midway through the season, and [the stunt coordinators] were like, 'By the way, you're gonna use this at some point,'" Mouser said in a separate sitdown with Collider. "I was like, 'Oh! Am I? Cool, cool!'" To her dismay, though, it turned out that some of her fellow cast members were a bit more comfortable with the weapon than she was. "As soon as I was holding it in my hand, everybody on set became a baton twirler," she said. "Everybody's like, 'Oh my god, in high school I did flag! In high school I was a baton twirler!' So everybody's grabbing the bo staff, doing all this cool stuff, [and] I was like, 'Great. I need to learn how to wield that thing.'"
Of course, just like with that confounded tornado kick, the star eventually found her comfort zone. We wouldn't be in the least bit surprised to see her upping her game yet further for Cobra Kai's upcoming fourth season — because when it comes to butt-kicking fight sequences, the series, its stunt team, and its young cast just seem to keep topping themselves.