Why This Bridgerton House Should Be Recognizable To Jonas Brothers Fans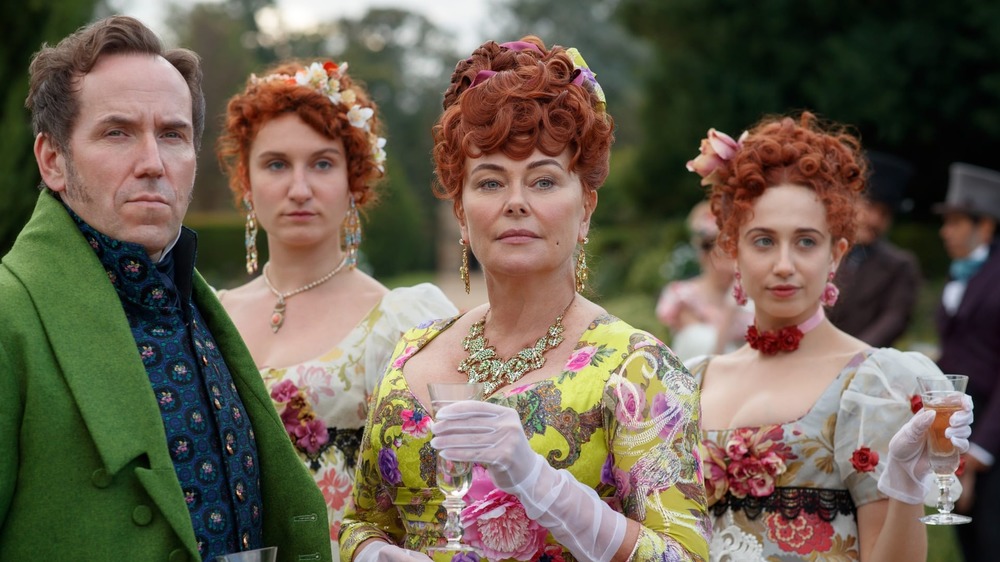 Netflix
Bridgerton ushers us mere commoners into a world of glamorous balls, diamond necklaces, and jaw-dropping hereditary estates. The show has a sizable budget: According to The Sun, it cost £5 million ($6.81 million) per episode. But even with that kind of dough to bake with, the production team faced an uphill challenge when looking for multiple locations that could convincingly pass as homes befitting the show's landed aristocracy.
Logistically speaking, you just can't have a cast that large (have you actually counted the Bridgerton offspring?) trekking out to the middle of the English countryside just to shoot one scene. As production designer Sarah Greenwood explained to Architectural Digest, those fancy houses had to be as close to London as possible, and stumbling on a mansion open to film crews in the middle of the city is about as unlikely as one of those unfortunate Hastings pigs being Lady Whistledown.
Fortunately, the longstanding popularity of period dramas means that there are historic homes ready to welcome a film crew for the sake of bringing Regency England to the screen. One such home has appeared on many of your other favorite TV shows and in movies, as well — including the returning royal series everyone's binging on Netflix and a few ... less obvious projects.
Hatfield House has a résumé longer than some of your favorite actors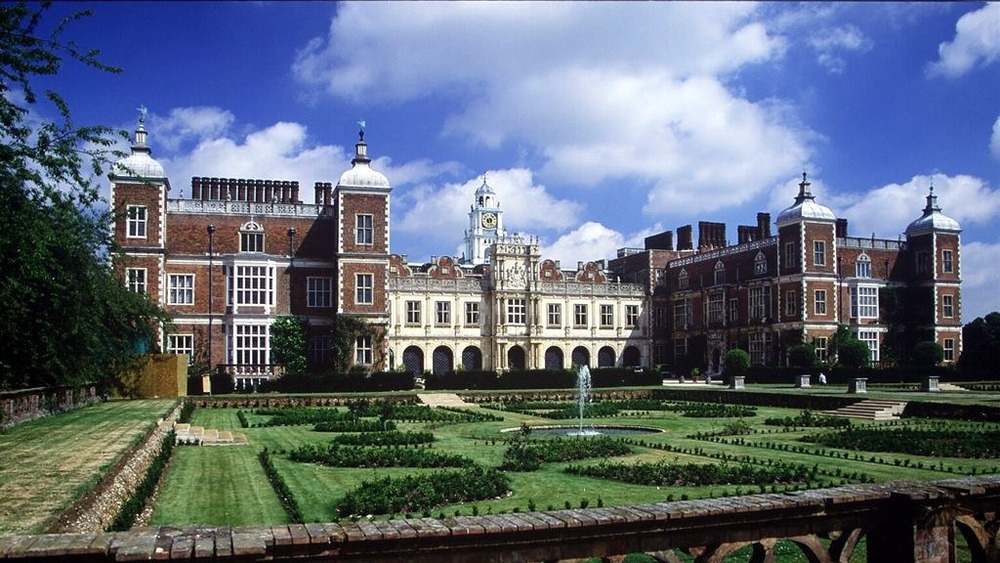 Wikimedia/Creative Commons
Hatfield House is located in Hertfordshire County, northwest of the capital. It was used for some of the interiors of the Featheringtons' home, but its exterior is just as famous. Fans of the Jonas Brothers will recognize the outside of Hatfield House from the opening shot of the band's video for "Sucker," which also utilized some of the rooms for interior shots. Bridgerton isn't even the first Netflix drama to use the house; the streaming service's adaptation of period thriller Rebecca shot there, too. (No, the house is not what viewers think is wrong with Netflix's Rebecca.) Hatfield also hosted scenes from The Crown and new spin on the Sherlock mythos, Enola Holmes. The black-and-white checkered corridor where Enola (Millie Bobby Brown) and Tewkesbury (Louis Partridge) have a showdown with the movie's villain was actually shot in the house's armoury.
Architectural Digest reports that Hatfield House has also been used for many non-Netflix movies, including Charlie and the Chocolate Factory, V for Vendetta, The King's Speech, Wonder Woman and The Favourite. In the latter, Queen Anne's (Olivia Coleman) bedchamber was created in the house's King James Drawing Room. (Queen Anne actually lived in Kensington Palace, but good luck getting permission to have 17 bunnies roaming around in there.) Production designer Fiona Crombie told Deadline that although they took out many of the tapestries and portraits for filming, she used some of the art in the collection of the current Hatfield homeowners, Robert Gascoyne-Cecil, seventh Marquess of Salisbury, and his wife Hannah Ann Stirling.
Hatfield House is packed with history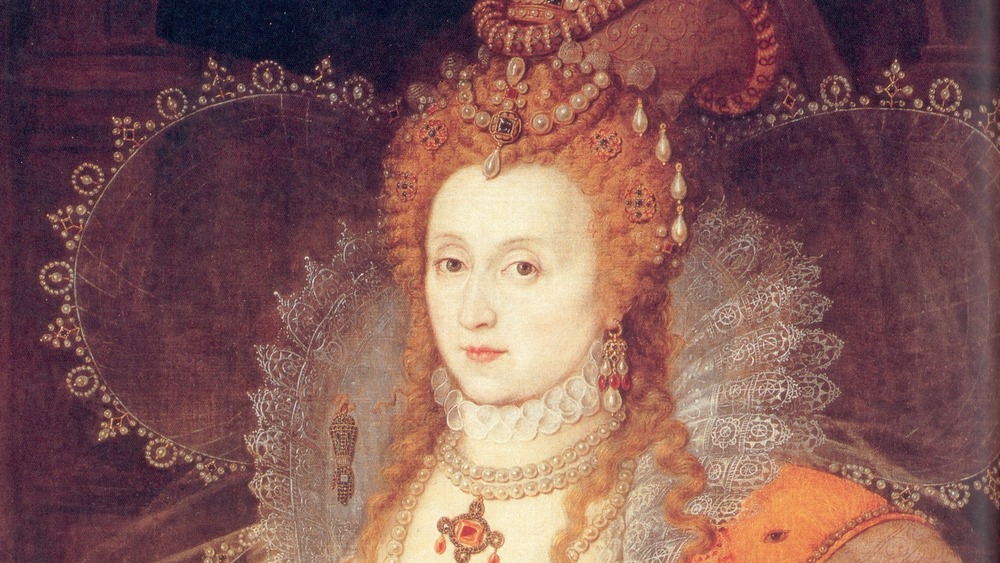 As Crombie's comments imply, Hatfield House's appeal isn't just about its location. Built in 1611 by highly influential minister Robert Cecil, first Lord of Salisbury, the house is packed with historical artifacts and portraits, which can serve as readymade set dressing.
For example, the suits of armor in the aforementioned armoury date back to the defeat of the Spanish Armada in 1588 (via OurHatfield.org). There are several flags in the Marble Hall (shown in Rebecca and "Sucker") that were taken from the Battle of Waterloo. The house has multiple famous portraits of Elizabeth I, including the Ermine portrait from 1585, and the Rainbow portrait, which shows her wearing a dress decorated with hearts and eyes, an apparent caution to her subjects that she was aware of everything they said and did. How's that for visual rhetoric?
Elizabeth had a special history with Hatfield. She and her siblings, the future Edward VI and Mary I, spent a portion of their childhoods in a building on the grounds that is now called the Old Palace (via Hatfield-House.co.uk). It was built in 1485 and later owned by their father, Henry VIII. Although her early years at the palace were relatively happy, Elizabeth was later imprisoned there by a suspicious Mary, a devout Catholic who feared Protestants in the country might try to overthrow her in favor of her younger sister.
It was on the grounds of Hatfield — under an oak tree — that Elizabeth learned that Mary had died, leaving her the new queen. Ironically, in Elizabeth: The Golden Age, Hatfield was used as the house of one of Elizabeth's (Cate Blanchett) most famous rivals: Mary, Queen of Scots.