The WandaVision Theory That Has Fans Looking Twice At Mr. And Mrs. Hart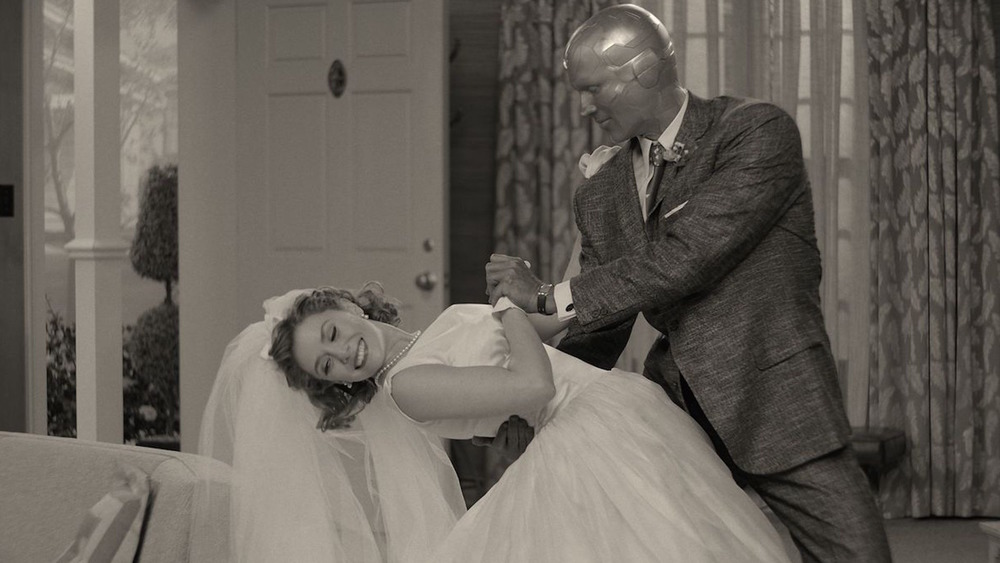 Disney+
At the time of this writing, the debut of Marvel Studios' WandaVision on Disney+ is only a week away, and fans couldn't be more excited. The show promises to expand on the stories of both "The Scarlet Witch" Wanda Maximoff and Vision — played by Elizabeth Olsen and Paul Bettany, respectively — through a trippy, Twilight Zone-esque lens that makes it one of the Marvel Cinematic Universe's most unique entries to date. Couple this premise with a handful of vague and fairly head-scratching teasers to generate some hype, and you end up with the perfect environment for all varieties of fan theory to spring up.
For example, a major element of WandaVision, at least according to promotional material, is the main couple traveling across different eras in history with a sitcom-inspired twist. The earliest decade viewers-to-be have witnessed Wanda and Vision attempt to start their life anew in is the 1950s, which also appears to be the only one in which they interact with other adult humans (at least, in the teasers). Known as Mr. and Mrs. Hart (Fred Melamed and Debra Jo Rupp), these mysterious characters are at the 'heart' of some fans' speculation, leading those intrigued to cook up a very thought-provoking rationale for their existence on the program.
Are Mr. and Mrs. Hart connected to Monica Rambeau and S.W.O.R.D.?
Disney+
From what we've seen so far, Mr. and Mrs. Hart are the average couple next door that Wanda and Vision befriend and invite over for dinner. However, their presence in their home quickly turns somewhat hostile, as they begin rattling off questions at them in an interrogating manner: asking about when they got married, where they moved into the neighborhood from, and why they haven't had any children yet. As posited by Redditor u/LisandroFM7, it could be that they're not simply nosy, but are actually trying to further their own secret agenda, in disguise.
The Reddit user writes, "Maybe Mrs. Heart [sic] is Monica Rambeau using her Appearance Alteration Power??? And Mr. Heart is a Sword Agent?" As we know, Teyonah Parris will appear in WandaVision as Rambeau — who made her MCU introduction as a child in 2019's Captain Marvel, albeit without appearance manipulation abilities — and the organization S.W.O.R.D. will play a major role in the franchise going forward. Though their specific motives remain a mystery, their presence could plausibly connect to Wanda's personal emotional struggles following Avengers: Endgame.
Continuing, u/LisandroFM7 says "Maybe they want Wanda to realize that this world is not real and she is creating it." At this point, Vision's death at the hands of Thanos (Josh Brolin), as depicted in Avengers: Infinity War, is definitive. Wanda has yet to process it, therefore, it's possible that to cope, she has created another world in her mind to escape the harsh reality she's living in. For that reason, perhaps Rambeau and S.W.O.R.D. need her to "wake up" from her delusion and use the Harts as a front to enter her fragile mind.
Bearing in mind what's known about WandaVision's story, this theory doesn't sound too far-fetched. At any rate, we'll just have to wait and see about its validity when the show hits Disney+ on January 15, 2021.