Black Lightning Season 4 Release Date, Cast, And Plot - What We Know So Far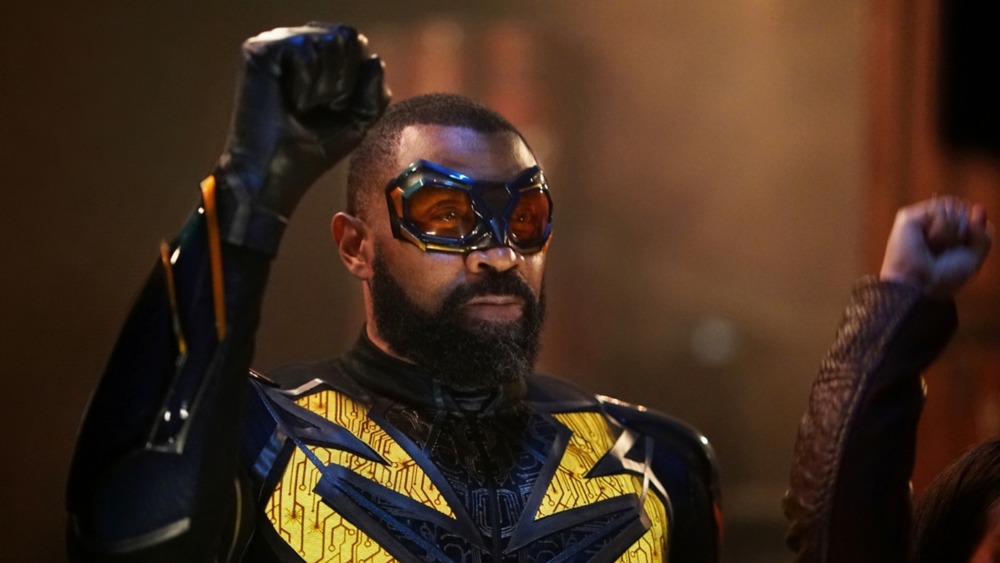 Annette Brown/The CW
Contains spoilers for Black Lightning season 3
It's been well over a year since Black Lightning season 3 premiered and some 10 months since the Georgia-set CW superhero show aired its last episode, which is an eternity in broadcast TV time. So Arrowverse fans are eagerly anticipating the return of Jefferson Pierce (Cress Williams) and the rest of his super-powered family. Fortunately, the drought will be over soon, and Black Lightning will strike again – for the last time.
Yes, the upcoming fourth season will be the final go-round for Black Lightning, DC's first Black-led series and comic. The final season announcement was made in November 2020, many months after the show had been renewed for season 4. "When we first started the Black Lightning journey, I knew that Jefferson Pierce and his family of powerful Black Women would be a unique addition to the super hero genre," executive producer Salim Akil said in a statement to Variety. "The love that Blerds and all comic book fans around the globe have shown this series over the past three seasons proved what we imagined, Black People Want To See Themselves in all their complexities."
But even though Black Lightning is coming to an end, the sun isn't going down on this corner of the Arrowverse just yet. The CW has a spin-off in development, focused on the super-powered, super-complicated character Painkiller (Jordan Calloway). A backdoor pilot that will serve as an introduction to the possible new series will air as an episode of Black Lightning.
Before we get to Painkiller, though, we have to finish Black Lightning. Here's everything we know so far about the fourth and final season, which will premiere Monday, Feb. 8 at 9/8c on The CW. (If you need to catch up, previous seasons are available to stream on Netflix.)
Black Lightning season 4 cast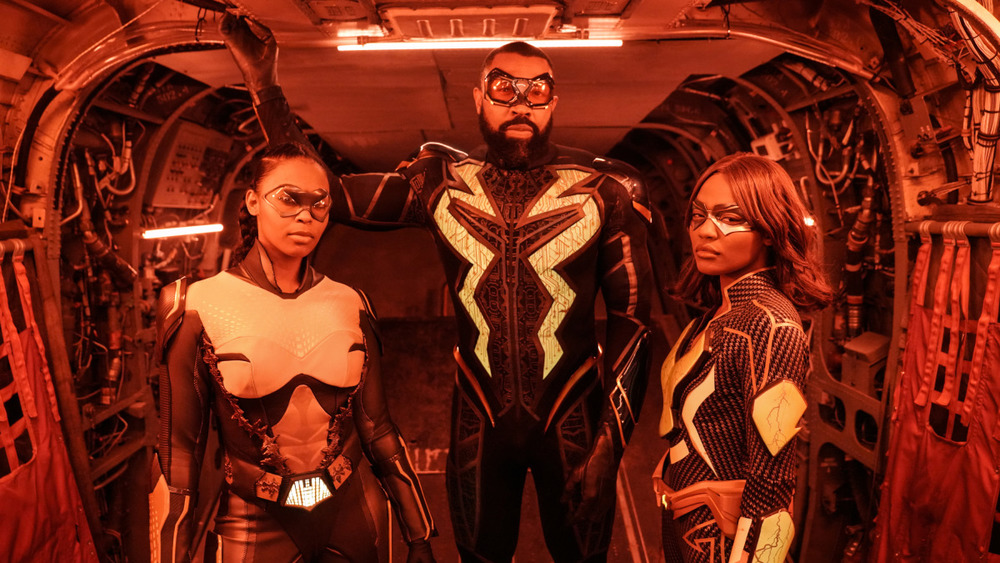 Jace Downs/The CW
The cast of Black Lightning will see some significant changes in season 4 in the form of major character exits, but most of the main cast will be back for the whole season. Cress Williams will of course be back as Jefferson Pierce/Black Lightning, as will Nafessa Williams and China Anne McClain as his superhero daughters Anissa Pierce/Thunder/Blackbird and Jennifer Pierce/Lightning. However, McClain will only appear in a limited number of episodes, and she had planned to leave the show whether or not it was picked up for season 5, according to TVLine. McClain said her exit has nothing to do with any on-set problems, it's just time for her to move on. "God is moving me in more than one way than just this show," she said in a video announcing her exit.
Other series regulars will also reprise their roles. Christine Adams will return as Lynn Stewart, Marvin "Krondon" Jones III will once again play Tobias Whale, James Remar will be back as Peter Gambi, and Jordan Calloway will return as Khalil Payne/Painkiller. Chantal Thuy, who recurred as Anissa's metahuman girlfriend Grace Choi, has been promoted to series regular for the final season.
Meanwhile, Damon Gupton, who was a series regular as high-ranking Freeland cop Bill Henderson in Black Lightning's first three seasons, will not be returning, as Henderson was shot and killed by a Markovian soldier in the season 3 finale. 
And we hope Wayne Brady will be back as bad guy Gravedigger, who survived the Pit explosion in the finale. Brady hopes he'll be back too, either for the final season of Black Lightning or for Painkiller. "I've been putting in calls. Because trust me, a brother wants to be back in the Black Lightning universe," he told Entertainment Weekly.
Black Lighting season 4 plot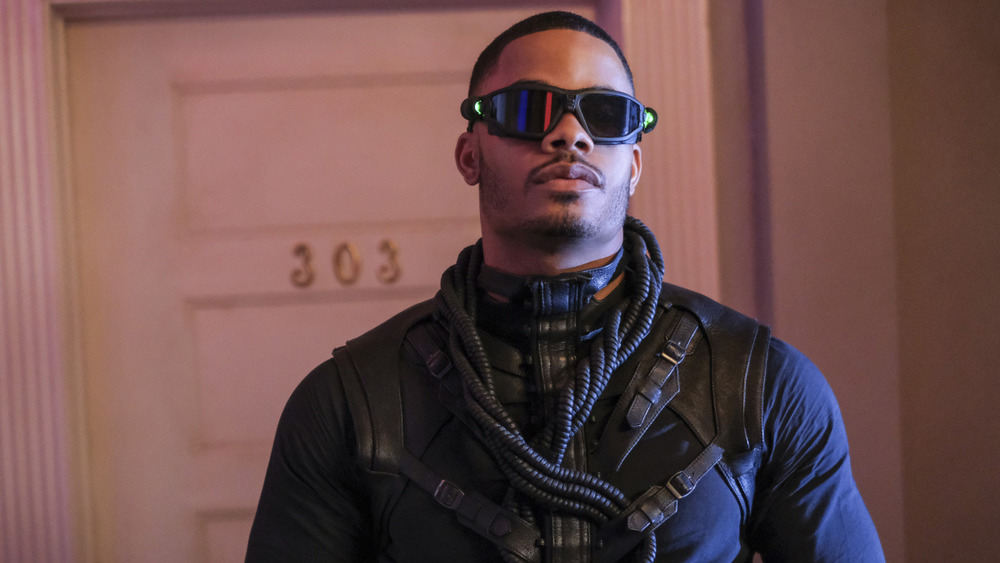 Mark Hill/The CW
Season 4 will likely follow the creation of the boarding school for metahumans for which Dr. Stewart got congressional approval in the season 3 finale. Her ex-husband Jefferson will surely be involved, considering his experience as both a metahuman as well as a teacher and school administrator. The school will try to repair some of the harm done to Black residents of Freeland by the ASA, the government security agency that used Freelanders as unwitting experimental subjects in its mission to create super-soldiers.
Season 4 will also continue to deal with Pierce family dynamics. They seemed closer than ever at the end of season 3, but a secret threatens to break them apart. "They're together, and they've overcome a lot, but I think Lynn still holding onto the secret that she still hasn't killed the drug habit yet is definitely going to be an issue," Cress Williams told TVLine after the season 3 finale.
Meanwhile, Tobias Whale is still out there, plotting his return to Freeland and his final showdown with his nemesis, while Gravedigger is still around, too. Williams told TVLine that those two enemies' as-yet-unknown plans will be the "linchpin" of season 4.
Finally, something will have to happen to set up the Painkiller backdoor pilot, which will air at some point during the season. According to Variety, it will follow Khalil Payne as he moves to a new city called Akashic Valley and tries to put Painkiller and his history of violence behind him. But that doesn't work out, of course, and he will have come to terms with his dark side in order to be on the side of the light. Should the show go to series, it will be executive produced by creator and Black Lightning developer/EP Salim Akil, who is also directing the pilot.