The Hardy Boys Cast Talks The New Show, The Franchise Legacy, And More - Exclusive Interview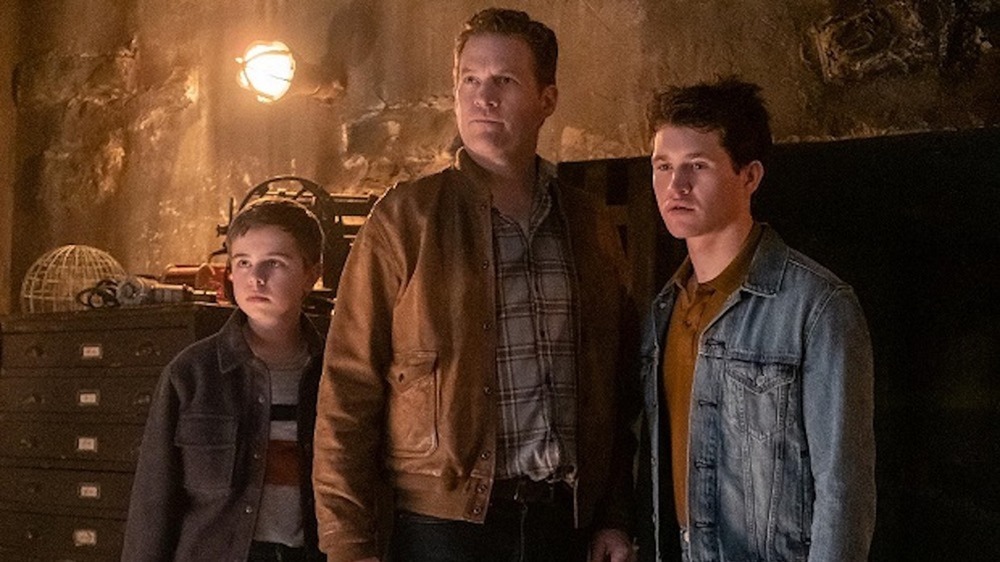 The Hardy Boys are back — with Hulu reviving the century-old characters as a new series at the tail end of 2020.
The Hardy Boys follows amateur sleuthing brothers Frank and Joe Hardy as they move to a small town after the unexpected death of their mother. There, they uncover a sinister secret that could change everything.
Starring Rohan Campbell as older bother Frank Hardy, Alexander Elliot as younger brother Joe Hardy, and James Tupper (Big Little Lies) as father Fenton Hardy, The Hardy Boys is loosely based on the young adult book series created by Edward Stratemeyer in 1927. The enduring franchise has included dozens and dozens of books and spinoffs — including the equally popular Nancy Drew — and several previous TV series.
In an exclusive interview with Looper, Campbell, Elliot, and Tupper chatted about how the new show handles changes to the Hardy Boys' origin story — and why it will appeal to a wide swath of viewers.
The new Hardy Boys series goes down a dark and gritty path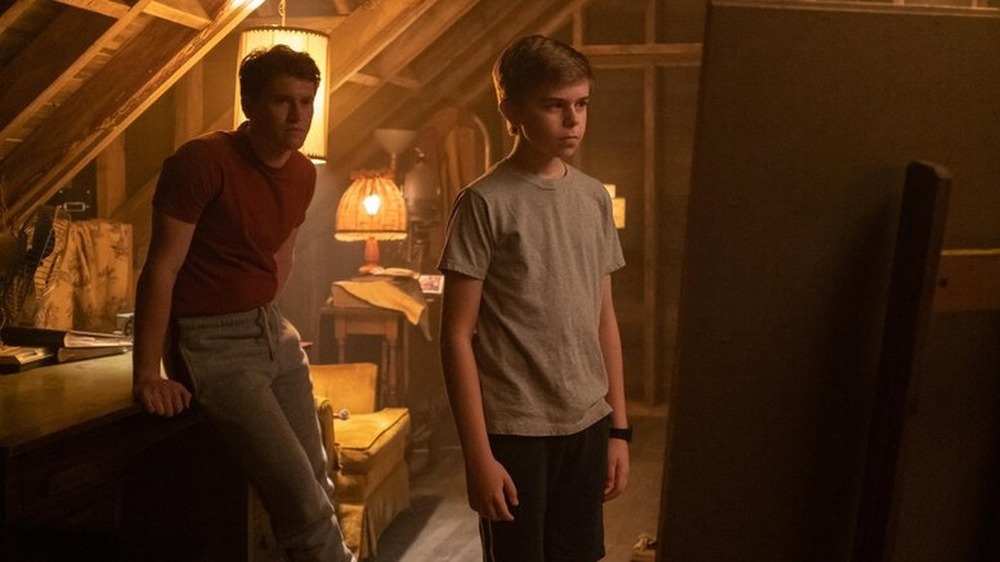 It's been almost a hundred years since the Hardy Boys' first book. Why do you think the characters and stories have been so enduring?
Alex: It's the way they were written; it's such an intriguing storyline with kid detectives. It makes kids who read it feel like they can do anything, empowering the kids of a generation or whoever reads it. It tells them: "Hey, you want to be like an adult? You want to have all these crazy experiences? You can do it. If these kids can do it, so can you." And I feel like we brought that to the show, and there's a real sense of family as well. Family is so important. I mean, the whole show is basically about family, if you really think about it. So I feel like that's really one of the main reasons why it's still popular even a hundred years later.
Rohan: I think the books have been around for this long because every time you pick one up, you escape. These boys take you on an adventure every time, and it's so easy to get sucked in with them. And it's cool to be visiting it a hundred years later — it's insane, the legacy is still growing.
The show puts a modern spin on the story, including some changes like the death of the mother, making it kind of dark and gritty. Why is it important to update the series?
Alex: Well, the main thing is that it's new — it's not the same exact story from the books put onscreen. It is a new generation of Hardy Boys, and I think that's what we were going for. It's catering to old fans, but it's also creating new fans, and after they watch this, they're going to go back and read the books and watch the show from the '70s. It's really just bringing a whole new fanbase for this. And I feel like that modern spin, and that dark and gritty version, is also there to help that, because a lot of [TV shows] like that are pretty popular right now. And it also adds more depth to the Hardy Boys. It makes it more than just mystery. It'll always be about mystery, but now there's more.
Rohan: We're also taking a new approach to long-form storytelling. What attracted me when I first read the script and talked to Jason our director and the showrunners, one of the first conversations we had is that we wanted people to be engaged for the long haul. So we needed to make a choice as to what was going to happen to the boys, that this origin story would feel like they had no other choice than to become the boys that we know and love from the books. And say we move on to a season two or three, whatever that looks like, I think that's when you start to approach the old story of the boys. But as far as the mother and the grittiness goes, we wanted to have something that made the boys become the boys that we know from the books. And that specific event, obviously, is dark and gritty but necessary for long-form storytelling.
The new Hardy Boys series looks to appeal to more than just boys who read the books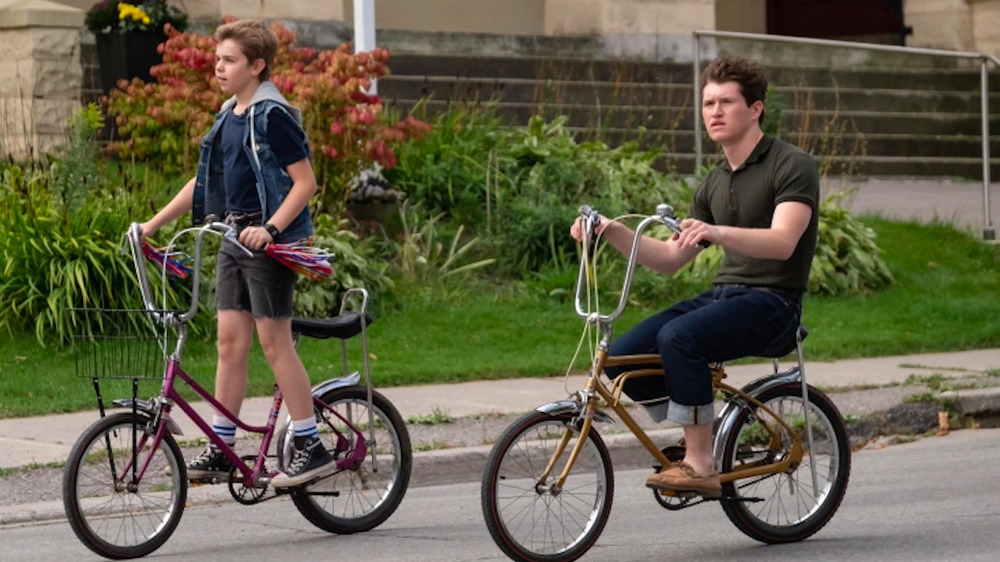 The Hardy Boys kind of has a Riverdale meets Stranger Things vibe. In fact, executive producer Jason Stone directed a couple episodes of Riverdale. What do you think of those comparisons, and what comparison would each of you make?
James: I'm honored to be in the same sentence with those two shows. I love both of them. Riverdale is phenomenal. And it's true, Jason came from that world and we stole him and brought his significant talent to our storytelling. It feels unbelievable. And Stranger Things is awesome. Thank you. My response is "thank you."
Rohan: [Like Stranger Things], The Hardy Boys is set in the '80s. And as far as the comparisons, like James said, it's such an honor to even be categorized with those shows. But I hope it's its own original thing as well. We wanted this to feel almost like a movie in TV format — and it feels like an indie film based off a book series that's its own original thing.
Alex: I can see why it would be compared to Stranger Things, especially with the '80s technology that we have, with the walkie-talkies and the kids going on their own adventure. But like Rohan said, it's brand new and completely separate. I mean, it's the Hardy Boys, right? So there's still Frank and Joe, there are still all the characters that we know. It's familiar, but it's new. And I feel like we really got that balance between nostalgia and originality.
The Hardy Boys have always been closely tied to Nancy Drew. Might Nancy show up in the series?
Alex: Not season one.
Rohan: Maybe. Possible.
James: Depends...
The Hardy Boys franchise has always been seen as "for boys" while Nancy Drew is "for girls." Why do you think the show transcends that and appeals to both sexes?
Rohan: Well, characters like Biff Hooper [played by Riley O'Donnell] and Callie Shaw [Keana Lyn], for starters. This show has a lot of really strong female representation. We worked really hard to give it a three-dimensional world where women were represented. It was important to us to make the cast diverse and bring a more modern side to that aspect of the books.
James Tupper reflects on his time on Big Little Lies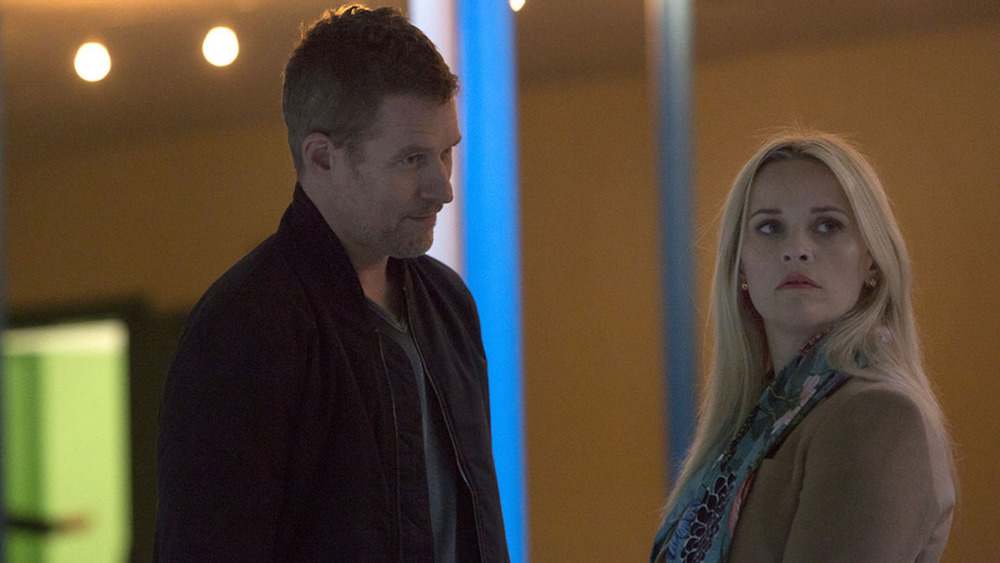 James, can you talk about your experience working on Big Little Lies?
James: It was, obviously, amazing. It was an all-star cast. And it felt a bit like being in the locker room at halftime at the NBA championships. You knew that everybody there could handle the ball and do special things. That's literally what it felt like. When you showed up on set, you knew your lines, you knew exactly what you wanted to do, and then you were just wowed by the people that you were working with.
And I've got to tell you, I had the same feeling on The Hardy Boys. I can't believe that these boys, at the age they're at, are doing the things that they're doing. It's a new wave. It's a new generation. They've been taught the right way. I went to New York and found my way through the acting schools there, and then I made my way to Hollywood. But these guys, they found it in Canadian towns where they were raised, and they're phenomenal. Phenomenal. So there's no change in the level of talent that I worked with [between Big Little Lies and The Hardy Boys].
I'm so confident in these boys, and it might be because I play their father, but I think they are the new wave of stars that are going to come out of Canada and make it huge in Hollywood. I'm very proud to be on the show.
Rohan and Alex, are you ready for how this show might change the trajectory of your careers?
James: They seem ready.
Rohan: I don't know. I just hope it's what people want, and I hope it's enjoyable, and they have as much fun watching it as we did making it.