Exclusive Clip: Meet The Cast Of Hulu's The Hardy Boys
When it comes to rebooting the stories of two whip-smart amateur sleuths, leave it to the professionals. 
Today — December 4, 2020 — streaming giant Hulu dropped all 13 episodes of the first season of The Hardy Boys, the crime-comedy based on the book series of the same name. In conjunction with The Hardy Boys' premiere on Hulu, Looper is thrilled to share an exclusive clip that introduces viewers to the show's talented cast. 
First, a taste of the series' central premise: Alongside their father, Fenton, brothers Frank and Joe Hardy move to the town of Bridgeport, touted as a place "where friends meet." There, the Hardy Boys do meet all manner of people, friends and foes, as they venture to unravel the truth behind the tragedy that turned their lives upside down. In their endeavor, Frank and Joe wind up getting far more than they bargained for, unearthing a sinister web of secrets sure to rock little Bridgeport.
Rohan Campbell heads up The Hardy Boys as Frank, and in the clip, offered a tease about what awaits in the boys' new town: "Bridgeport's a small town with a lot of secrets." Campbell's on-screen brother Alexander Elliot, who plays Joe, followed up that hint with one of his own, sharing, "It's one of those towns where everyone knows everyone." The duo's fictional father, Fenton actor James Tupper, also noted that in Bridgeport, "you're not always totally certain who's on the right side." He added, "The boys are detectives, but the dad goes away to try to solve some of the other clues. And they're left here in Bridgeport to kind of figure out who's done it."
Anyone familiar with the Hardy Boys books knows that Frank and Joe are about as determined as teenage boys can get, and in the Hulu series, they're just as scrappy, inventive, and driven by inquisitiveness and a desire for justice as fans know them to be. Of course, the Hardy Boys are also grappling with the pain of losing a loved one, so there's a darker side to the siblings' stories.
"Joe's just kind of this rowdy, adventurous kid — always gets into trouble. That's good for me because that means I get to do all the fun things," Elliot said of his character. Speaking about Frank, Campbell noted, "[He] was interesting for me. It's a story of him sort of growing up pretty fast."
Elsewhere in the clip, we meet Riley O'Donnell — the actress who plays a gender-bent Biff Hooper, originally a boy in the books — and Aunt Trudy Hardy actress Bea Santos, who shared her own thoughts about what makes The Hardy Boys so special. "There [are] a lot of ways you can set up The Hardy Boys, but I think there's an edginess that's brought to the show, and a playful darkness that is just a beautiful place for a story like this to unravel," she said. "When I started telling people I was doing The Hardy Boys, it was so cool that so many people were like, 'Oh my gosh! The Hardy Boys! I love those! I always read them when I was a kid.'"
Keana Lyn, who plays Callie Shaw, and Adam Swain, who portrays Chet Morton, also expressed their excitement for everyone to watch The Hardy Boys and share what they think about the show.
The Hardy Boys should be your next binge-watch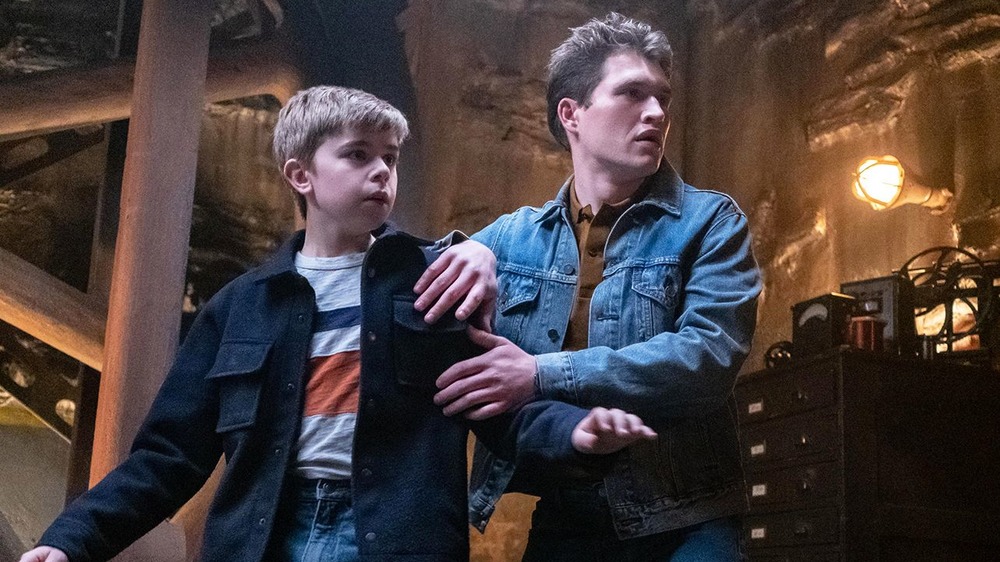 Hulu
If you ask the cast of The Hardy Boys, they'll tell you there's a lot to love about the series. And luckily for the team involved with the show, critics share the same opinion. Early reviews for The Hardy Boys are glittering, with many describing the series as striking the right balance between nostalgia and innovation in taking an old-school property and bringing it into the modern era. Plus, it's an all-around delight for anyone keen on mysteries.
"While The CW's Nancy Drew has leaned into supernatural creepiness, and Netflix's Stranger Things has explored straight-up horror, The Hardy Boys hosts a vague air of mysticism, guided by a series of ciphers and puzzles, which are some of the series' most compelling features," wrote The A.V. Club's Gwen Ihnat. "In this new series, The Hardy Boys' magnetic appeal is intact."
Writing for Laughing Place, critic Alex Reif applauded The Hardy Boys as playing "like a timeless classic for all ages." As Reif wrote throughout his review, "With nearly 100 years of publication history to draw inspiration from, the creators of this version of The Hardy Boys make great efforts to welcome all fans into Frank and Joe's world. [...] The Hardy Boys stays mostly true to its roots with a final product that feels like a loving celebration if its history."
All 13 episodes of The Hardy Boys season 1 are available to stream on Hulu now.