The Bizarre Nicolas Cage Series Everyone's Bingeing On Netflix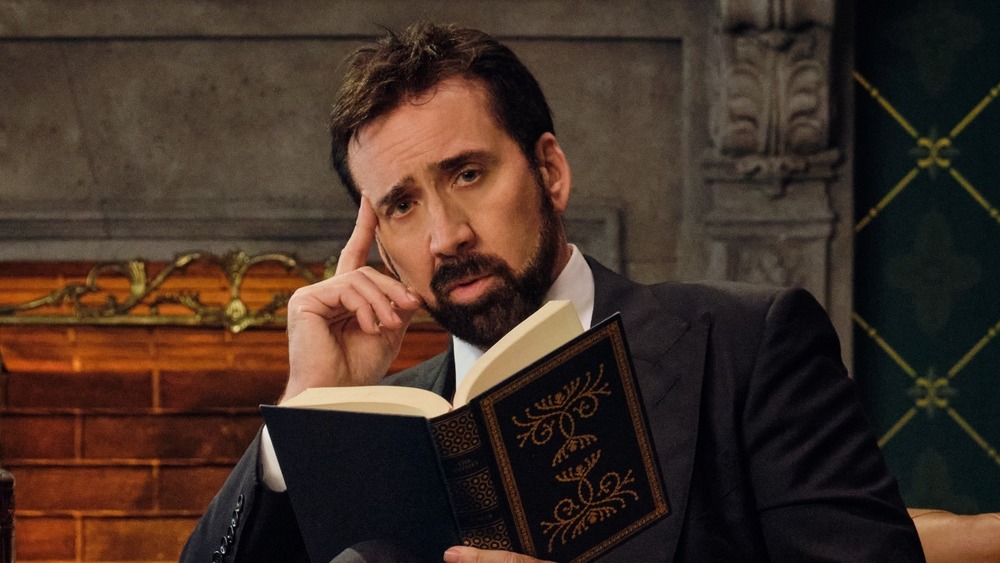 Adam Rose/Netflix
Recently, Hollywood's weirdest movie star Nicolas Cage has, for the first time in his career, been showing a willingness to do television (as seen in his upcoming Joe Exotic limited series for Amazon) and an unmistakable sense of humor about himself and his erratic public image (as seen his upcoming meta-comedy The Unbearable Weight of Massive Talent, in which he'll play himself). Those new qualities come together in his gig hosting History of Swear Words, a comedic documentary series that was just released on Netflix and is burning up the streaming service's daily Top 10 chart.
History of Swear Words is exactly what its title says it is. Each of the series' six episodes digs into the etymology of a different bad word, from mild ones like "damn" to the more taboo ones (you know which ones). Experts like cognitive scientist Benjamin Bergen (who explains the effects of swearing on the brain) and lexicographer Kory Stamper (who literally wrote the dictionary definitions for some of these words) enlighten viewers on where these profanities came from, while a hilarious mix of star and up-and-coming comedians like Sarah Silverman, Patti Harrison, and Joel Kim Booster discuss their cultural significance and the myriad ways they can be used.
The show features great bits like a definitive explanation for why that "Fornication Under Consent of King" origin story you heard in middle school is totally fake and actor Isiah Whitlock Jr. – who if you ever watched The Wire you'll know owns a certain four-letter word – setting a joke world record for its longest-ever utterance. It's produced by Funny or Die, and it has a similar vibe to that company's other educational comedy series, the recently canceled Drunk History.
Nicolas Cage is the host of History of Swear Words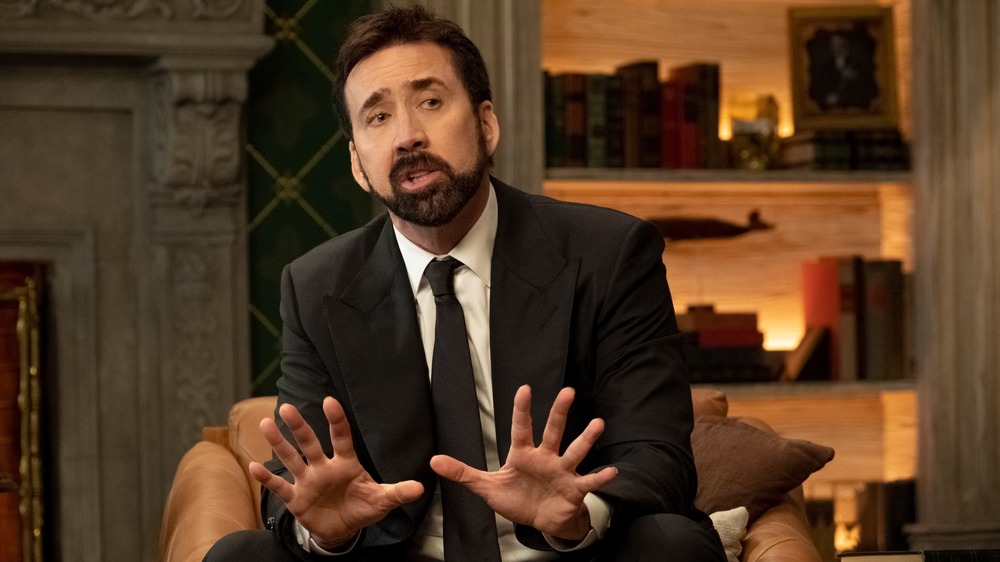 Adam Rose/Netflix
Nic Cage is a historically great swear word user himself, so he's the perfect unexpected host for the show. He is clearly having a lot of fun with his unpredictable line readings and rhapsodic soliloquies about different curse words. He introduces each segment in a lavishly appointed room, using different props for each swear (he's surrounded by yonic paintings for the P-word episode) and setting up movie clips that demonstrate exemplary uses of each word, including some of his own. The show crunched the numbers, and found that 71% of Cage's movie swears are the F-word, and that the actor who has the highest percentage of F-words in film isn't Samuel L. Jackson, whom you'd probably expect, but Jonah Hill, who says it 107 times in The Wolf of Wall Street alone. That's the kind of historical and cultural analysis you can expect on History of Swear Words.
History of Swear Words successfully Netflixifies the comedian talking head show in the way reality competition shows and supernatural teen dramas have previously been Netflixified. It's like one of those old VH1 shows where comedians sit around and crack jokes got transformed into a docuseries you'd find on History, but with the Netflix budget that helps it look really good. It's entertaining, informative, and a lot of f***ing fun.