The Harry Potter Star You Didn't Realize Is In Netflix's Bridgerton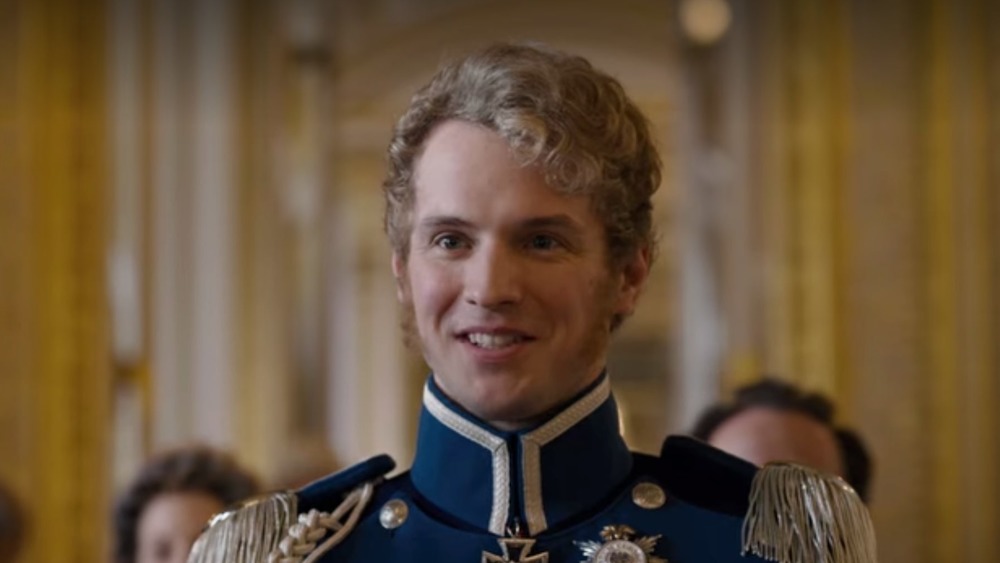 Netflix
Regency romance Bridgerton, the first show to emerge from TV mega-producer Shonda Rhimes' historic Netflix deal, is beyond a hit. According to Indiewire, who obtained the platform's record-breaking December streaming data unverified by a third party, the period romance not only reached the number one spot in the Netflix top ten in the United States but 75 other countries. It also managed to break into the top 10 most-watched Netflix series in 189 out of 190 countries Netflix streams in. It's quite a feat for any show on the platform, particularly a project that doesn't pack the same recognizable star power of fellow December releases like George Clooney's Midnight Sky, Ryan Murphy's star-studded Prom, and Ma Rainey's Black Bottom, the Viola Davis-starring, Denzel Washington-produced adaptation featuring the final live-action performance of Chadwick Boseman.  
Among the series' cast of emerging and break-out talent is Freddie Stroma, the English actor who portrays Prince Frederick, the nephew to Queen Charlotte (Golda Rosheuvel), and a loosely-based version the real-life Prince Frederich Wilhelm Ludwig of Prussia. In the series, Stroma serves as more of a minor hiccup than an actual threat to Bridgeton's leading and steamy romance between Duke Simon Basset (Jonathan Bailey) and Daphne Bridgerton (Phoebe Dynevor). During a brief fallout between the two, Daphne turns her attention and affection to the popular royal Frederick, who bonds with her and at one point even gifts her stunning (and likely costly) necklace featuring an array of gemstones. Eventually, Daphne realizes what viewers already know — Simon is her true love — and she breaks it off with Frederick to return to the Duke's arms. 
While Stroma's three-episode appearance is more or less brief in the scope of the entire series, his face might seem familiar, particularly to Harry Potter fans. Beyond his Pitch Perfect and Unreal roles, the Bridgerton actor also portrayed Gryffindor's reserve keeper Cormac McLaggen.
Freddie Stroma's Harry Potter character had an entire book arc that never made it to the screen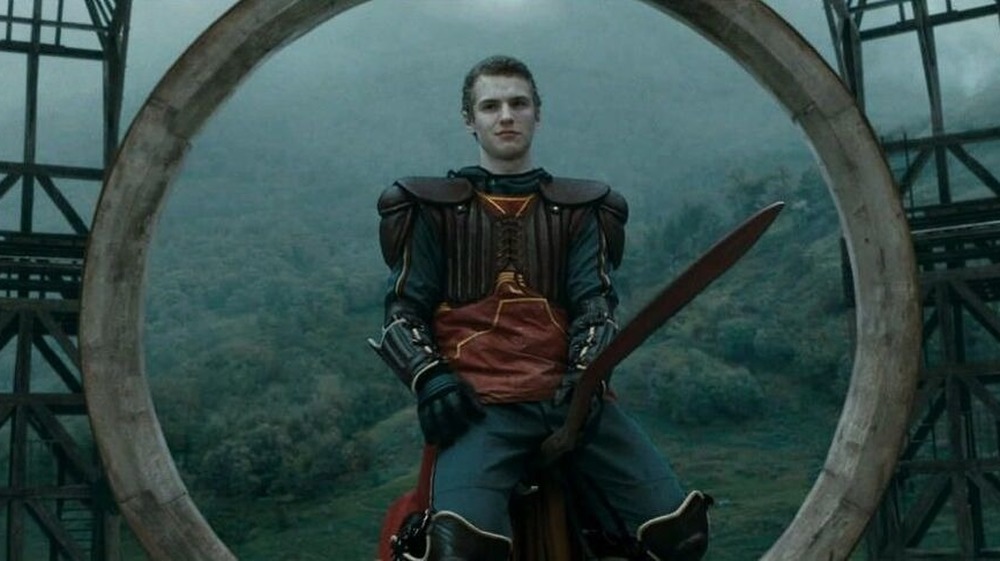 Warner Bros.
Fans of both the Harry Potter books and films will likely be familiar with Stroma's character. The nephew of Tiberius, an important official in the Ministry of Magic, Cormac's personality in the books is defined largely by his arrogance and several other sour sides of general Gryffindor qualities. Largely a background adversary to two members of the series' golden trio — Hermione Granger and Ron Weasley (Rupert Grint) — in the books, Cormac's plotline is driven by his desire to get back on his house's Quidditch team, which he ultimately fails to do thanks to a single embarrassing moment that costs him his spot on the team forever. Just a year older than Harry and the rest of the crew, Cormac loses his chance to try out for the keeper position on the team after he's resigned to bedrest following his ingestion of poisonous Doxy eggs on the basis of a bet. 
When he's finally able to try again, he's now a foe for Ron, and when Hermione overhears him taking shots at the Weasley family before his tryout, she proceeds to place a Confundus Charm on him, affecting his performance. As a result, Ron remains keeper, and Cormac becomes a bitter reserve. That is until he gets a chance to play in a game against Hufflepuff after Ron gets sick. Leaning heavily into his arrogance, Cormac proceeds to boss the team around, fails to stop Hufflepuff from scoring on several occasions, and eventually knocks a bludger straight into team captain Harry's skull, knocking him right off his broomstick. 
Freddie Stroma's portrayal of Cormac McLaggen in Harry Potter films was noticeably different from the book character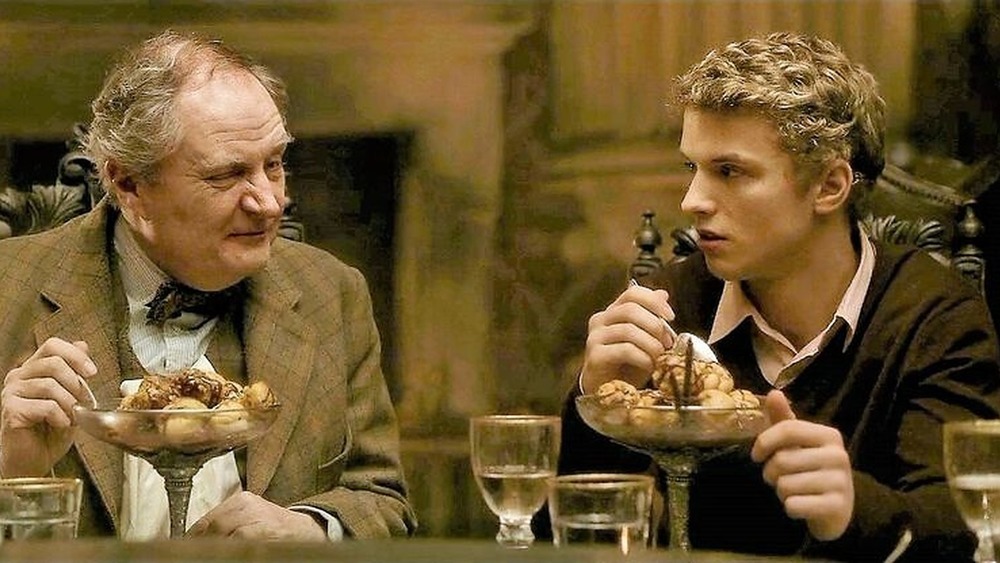 Warner Bros.
Cormac was known for other things in the books, including infuriating Hermione (Emma Watson) while at a Christmas party and getting a little too cocky with some Death Eaters, but film fans never saw Cormac's less than graceful exit from the team. That's because the films' never adapted it. 
McLaggen makes his first franchise appearance in Harry Potter and the Half-Blood Prince and then appears again, this time with no lines, in the two-part finale of Harry Potter and the Deathly Hallows. The tension he's famous for creating with the trio in the books is less clear on-screen as scenes featured in print were either never written or landed on the cutting room floor, much like many of the books' smaller characters. Yet, the Half-Blood Prince still managed to give Stroma's character his own memorably embarrassing moment, even if it wasn't like the one from the book. 
Audiences probably best know the actor for the funny and stomach-turning scene that landed his character in detention for a month. After Harry (Daniel Radcliffe) convinced Cormac that the dragon tartare he was eating was dragon testicles, the Gryffindor upchucked on the shoes of the one and only Professor Snape. And if you don't recall that moment, know that while he was a real stinker in the books, he at least ended up on the side of Dumbledore's army — and survived — in the final battle of the Second Wizarding War. 
Much like his role in Bridgerton, the former Harry Potter star played a compelling second fiddle for what little time he graced the screen.