What Mila Kunis Would Look Like As Marvel's Silver Sable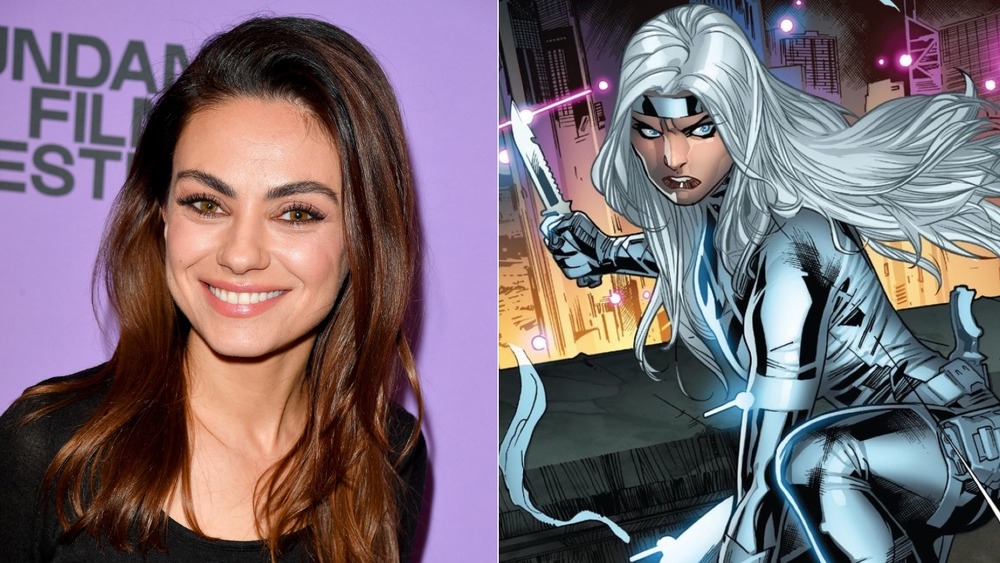 George Pimentel/Getty Images, Stuart Immonen/Marvel Comics
Silver Sable (a.k.a. Silver Sablinova) and Black Cat (a.k.a. Felicia Hardy) probably aren't recognizable names to Marvel Cinematic Universe fans who don't keep up with the comics, but they could've been — and still might be. 
Way back in 2017, a film featuring the two butt-kicking Marvel ladies was announced, directed by Gina Prince-Bythewood. Entitled Silver & Black, it was to be one of the first of Sony's planned Spider-Man movies sans the wallcrawler himself, but was unfortunately canceled in 2018. Prince-Bythewood went on to direct Marvel's Cloak & Dagger show instead (also canceled, but it got a good two-season run in at least), and has since said that she'll serve as a producer for whatever Silver Sable and Black Cat project(s) comes about.
No casting was ever reported for the film, so fans are left to wonder who could've played these two morally ambiguous characters. Just because Silver & Black was shelved doesn't mean fans should stop speculating, though; if Prince-Bythewood's word is anything to go by, the characters may still get their time in the sun. Either way, Redditor TheCastJacker takes things one step further than speculation, creating digital art of their Hollywood pick for Silver Sable: Mila Kunis.
The Silver Sable fans deserve
In comic book character tradition, Silver Sablinova has a complicated family past: Her mother abused her, her father was never home, and she took her mounting anger out on others as she grew up. Upon her father's death, she learns the reason for his absence: He was off traveling the world, hunting down international criminals. Struck with emotions she can barely define, she adopts the moniker of Silver Sable and takes her father's place as head of his Wild Pack, training her hardest to become a mercenary worthy of leading the group.
The sense of confidence she builds within herself given time and dedication is clearly evident in TheCastJacker's art. The pose she strikes says "I'm in charge," and the way Kunis' face is rendered only reinforces that notion. Silver Sable's outfit has changed a few times over the years — sometimes she appears with a headband, sometimes with some gadgets hanging off a belt or a strap — but TheCastJacker's piece is closest to her appearance in 2018's PlayStation 4 exclusive Spider-Man. Either way, it's undeniably in line with Silver Sable's sleek style.
As Marvel Comics and MCU fans alike continue to twiddle their thumbs and wonder how soon a Silver & Black-esque production will get greenlit, art like this is a welcome addition to the discourse, keeping hopes high and interest intact. One can only hope some Black Cat fan-casting art is on its way next.