What Netflix's Sabrina Fans Want To Change About The Show The Most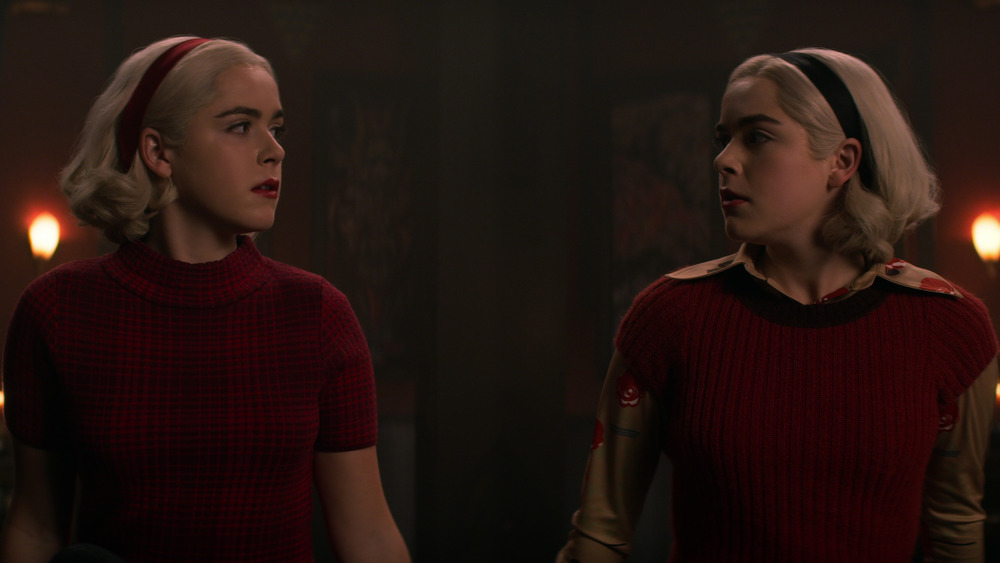 Netflix
For fans of Chilling Adventures of Sabrina, December 2020 was both an exciting and sad time. On December 30, the fourth season of the show came out on Netflix. Sadly, it was also the final season, as Netflix canceled Chilling Adventures earlier in the year. The show follows a teenage girl named Sabrina Spellman (Kiernan Shipka) — a half-witch, half-human — and features her adventures in high school dealing with regular issues like boyfriends and bullies, along with all the crazy ongoings in the magical world.
Now pulling double duty — literally — with two Sabrinas, one in Hell and one in the normal realm, Sabrina has to deal with the repercussions of her decision to keep the two versions of herself in last season's time-traveling finale. Also starring Ross Lynch, Jaz Sinclair, and Lachlan Watson as her friends Harvey, Roz, and Theo, as well as Lucy Davis, Miranda Otto, and Chance Perdomo as the rest of the Spellman family, Chilling Adventures is never short on drama or chaos.
While fans all over binge-watch the final episodes, which delve deep into horror and mythology with the introduction and further exploration of Hell and the Eldritch Terrors, others have already begun to look back on the show as a whole. In particular, discussion has come up about what fans would change about the show if they could, and there have been some surprising answers.
Fans wish that Chilling Adventures of Sabrina kept the season 1 style of storytelling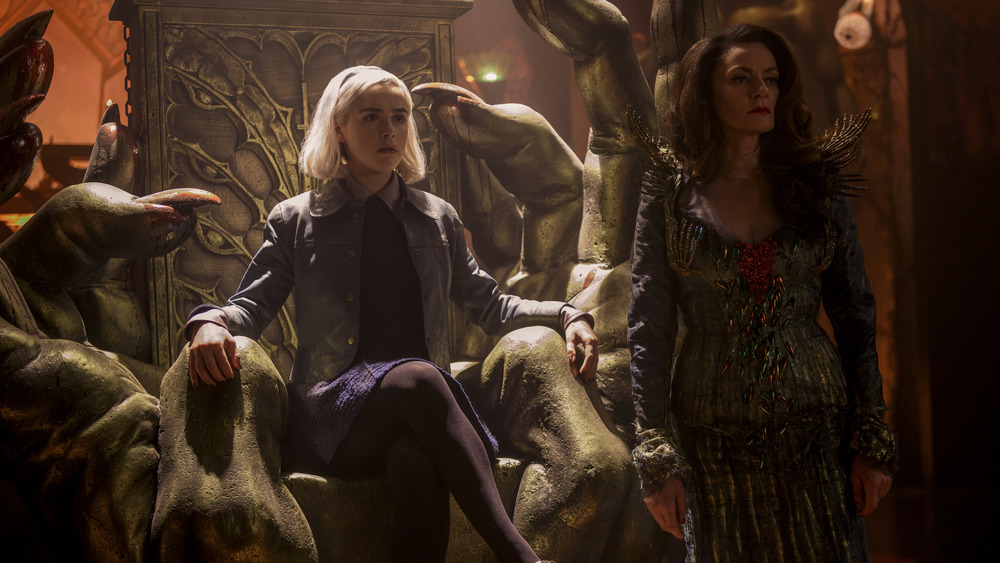 Netflix
In a thread on Reddit, user SuperDaly10 posed the question, "What would you change about CAOS?" using the shortened acronym fans gave the series. While there were plenty of answers, one comment, earning 131 upvotes, gained quite the support. For user Magpie213, Chilling Adventures of Sabrina would be much better if it stuck "to the first season type writing. [Keeping] it more of a horror-comedy type and exploring witchcraft and rules, traditions, customs, etc." Season 1 of the series was very clear-cut Sabrina, following her as she navigates the two sides of her life on a more basic level. Looking at where the show is now, it's definitely a lot more convoluted with tangled mythology and logic, a pivot some fans saw as a negative.
Other commenters seemed to convene on the belief that Chilling Adventures of Sabrina has too much romance and love triangles, with u/CatOnMeth simply saying "Stop with the ships. Sabrina can be a single Pringle," a comment that 88 people upvoted. 
This comment is similar to a lot of criticism given to the show's sister series, Riverdale, which is never short of relationship drama in the midst of all its murder and mayhem. Though it's clear that the new fourth season of Chilling Adventures will touch on Sabrina's possible romantic relationships with Harvey, Caliban (Sam Corlett), and Nick Scratch (Gavin Leatherwood), u/Magpie213 should be happy to know that there's no shortage of horror, with the gore and monsters taken to new heights. 
Check out season 4 on Netflix now to see if the show's ending lives up to your expectations.