Chilling Adventures Of Sabrina Part 5: Will We Ever Get To See It?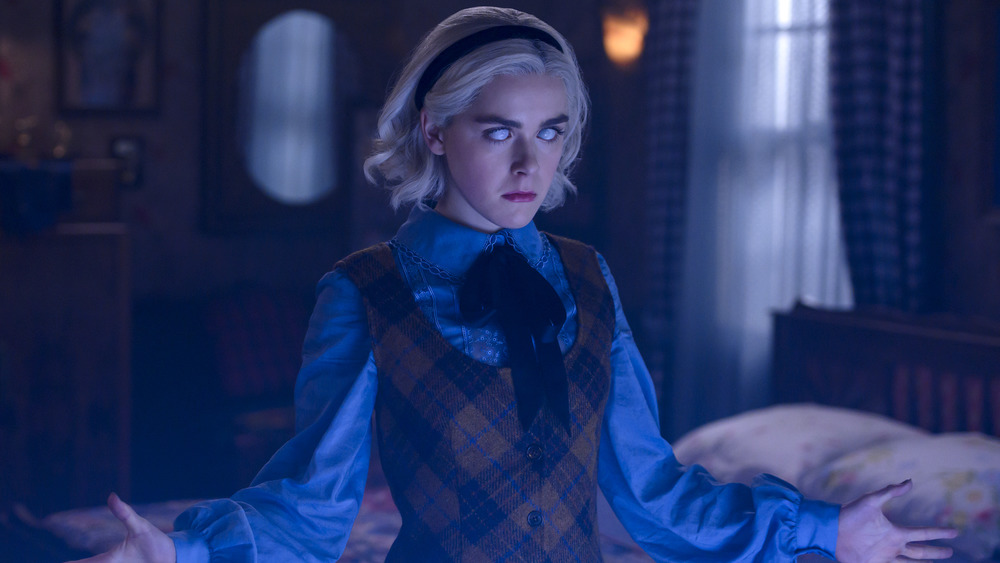 Netflix
Must all devilishly good things must come to an end?
Netflix's Chilling Adventures of Sabrina, based on the Archie comics series of the same name, became a pop-culture phenomenon the moment it hit the streaming site in late October 2018. A little over two years and three full seasons (called "Parts" in the Sabrina world) later, and the series has amassed an enormous international fanbase and earned a reputation as one of Netflix's most beloved original series. From the dark coming-of-age story at the series' center to the cast's performances as witches, warlocks, demons, and regular ol' mortals just trying to figure out why their quaint town of Greendale is host to so many terrors, there's a lot to love about Sabrina. 
All that considered, one can imagine how devastated fans were when it was announced in July 2020 that Part 4 of Netflix's Chilling Adventures of Sabrina would be the show's last outing. The final season of Chilling Adventures of Sabrina will see the titular witch, played by Kiernan Shipka, go up against the Eldritch Terrors, a collection of monsters that threaten the fabric of existence itself. It's sure to be an epic conclusion ... but is Sabrina really over? Could fans see more chilling adventures of Sabrina — and Harvey (Ross Lynch), Ambrose (Chance Perdomo), Roz (Jaz Sinclair), Theo (Lachlan Watson), Nick (Gavin Leatherwood), and everyone else — in Part 5 of the series?
Well, the short answer is yes, Sabrina is definitely ending with Part 4. According to actor Ross Lynch, ten episodes of Chilling Adventures of Sabrina Part 5 were planned prior to the COVID-19 pandemic, and if the pandemic hadn't happened at all, that season would have been made (via NME). Unfortunately, the reality is that a fifth season isn't in the cards for Sabrina. 
However, there is some good news here: Sabrina's story won't end after the Part 4 finale. It's continuing on, just not on the small screen.
Chilling Adventures of Sabrina will continue on the pages of comic books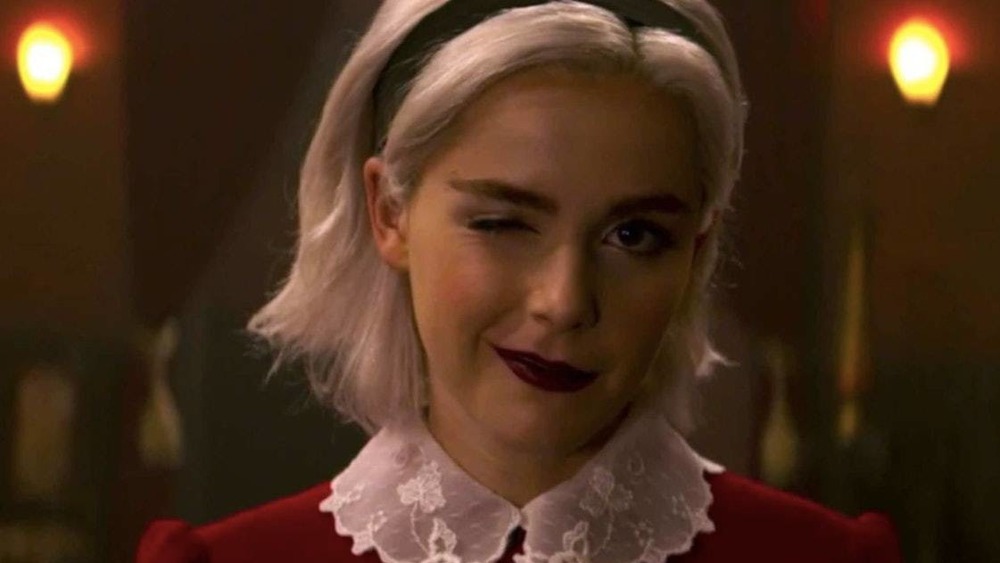 Netflix
Part 4 of Chilling Adventures of Sabrina is now available to watch on Netflix, and in case you binge-watch the entire season in a day and find yourself needing more witchy plots, then you're in luck. More stories involving Sabrina, her aunts, and her comrades in the fight against the forces of Hell will come to the Chilling Adventures of Sabrina comic books, of which series creator Roberto Aguirre-Sacasa is also a part. 
In fact, back in July when it was announced Netflix wouldn't be moving forward with the series beyond Part 4, Aguirre-Sacasa took to Twitter to share with his followers the good news. "Thank you for all the love, #sabrinanetflix fans. Part Four is our best yet and Part Five, 'Witch War,' would've been AMAZING. To be continued in the pages of #CAOS comic book," he tweeted.
The photo Aguirre-Sacasa shared in that tweet was a comic graphic showing Theo, Harvey, Sabrina, Roz, and Nick from Chilling Adventures of Sabrina at the bottom and Betty, Jughead, Archie, Veronica, and Cheryl from Riverdale at the top. Dividing the two groups in the middle of the photo was a telling bit of text: "The witches of Riverdale are coming." It certainly seems like Part 5 of Sabrina was meant to see the characters from Riverdale, the Archie-comics-based CW series that Aguirre-Sacasa adapted for television, entering the world of Greendale to evidently engage in an all-out witch war. Considering it can't happen on screen in Chilling Adventures, this meet-up will have to play out on the pages of the comics ... or on Riverdale instead. 
It's also possible the show's characters could appear in Riverdale season 5
Netflix
In season 3 of Chilling Adventures of Sabrina, the teenage half-witch, half-mortal and her cousin Ambrose (Chance Perdomo) leave their home of Greendale for the neighboring town of Riverdale. While we didn't get a chance to see Sabrina interact with Archie (KJ Apa) and his school chums, the moment confirmed that the two shows take place in the same universe — and a more official crossover could certainly happen in the future. In a post he shared to his Instagram account on September 1, 2020, Aguirre-Sacasa hinted that more adventures were in store. He wrote in the caption of a video from the series' set, "The story of the witches of Greendale isn't over. We still have Part Four, waiting for you, with the Eldritch terrors. And after that... Well, come closer and I'll tell you a secret."
That certainly sounds like Sabrina and her friends could make an appearance in Riverdale season 5, which is set to debut on the CW in January 2021. Plus, season 5 of Riverdale will deal with zombies, so that would be a pretty perfect excuse to have Sabrina and the rest of her witchy pals appear in an episode or two. Of course, this is merely speculation at this point, so fans of CAOS will just have to keep the hope alive that Sabrina and Archie will get the chance to meet in live-action form someday.
For now, you can binge-watch Part 4 of Chilling Adventures of Sabrina on Netflix now.