The Dark Murder Mystery Series Everyone's Binging On Netflix Right Now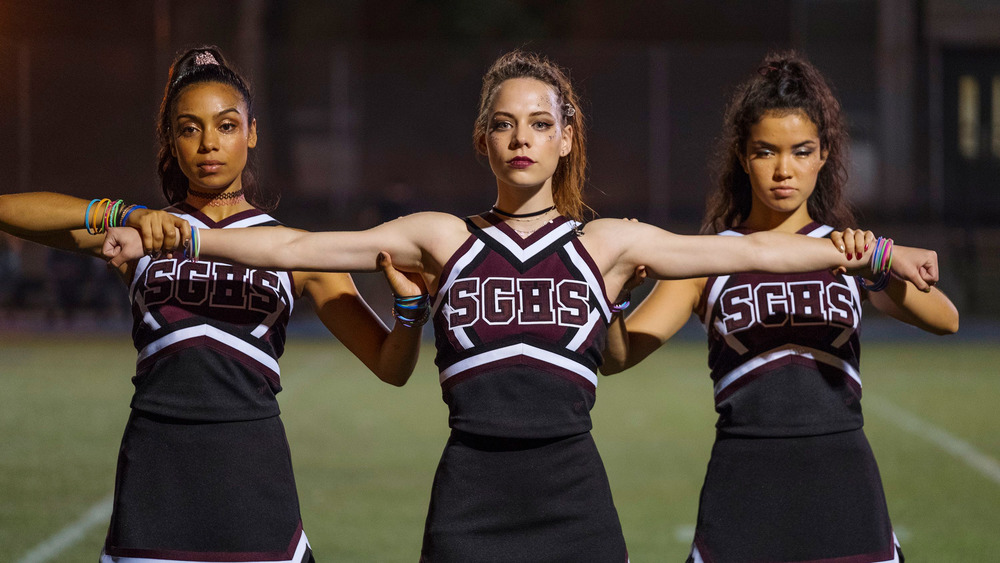 USA Network
Despite critics' favorable reception of USA Network's dark teen drama Dare Me, it wasn't until the show's ten episodes debuted on Netflix that it truly garnered attention. Now, the cheerleading thriller, based on Megan Abbott's novel of the same name, is keeping everyone on the edge of their seats as it climbs to the number seven spot in the most-watched TV series on Netflix in the U.S. today.
Gritty teen dramas are always in season, and Dare Me captivates audiences in an effective way by pulling viewers into the lives of cheerleaders and best friends Beth Cassidy (Marlo Kelly) and Addy Hanlon (The Get Down's Herizen F. Guardiola) — all while teasing and building up to some shocking event. The story is sent in motion when the new cheerleading coach Colette French (Willa Fitzgerald) arrives and takes away Beth's power over the squad.
With its promise of blood and its depiction of the ugly truth of cheerleading, Dare Me delivers on the thriller aspect. Steve Greene from IndieWire wrote that whenever a member of the cheerleading squad goes "flying through the air, a safe landing is never guaranteed," and that "watching these aerial maneuvers against a sea of psychological chaos is the contrast that not only gives this USA series its anxiety, but [also] its artistry."
Dare Me's success lies in the performances of its leads and its carefully built atmosphere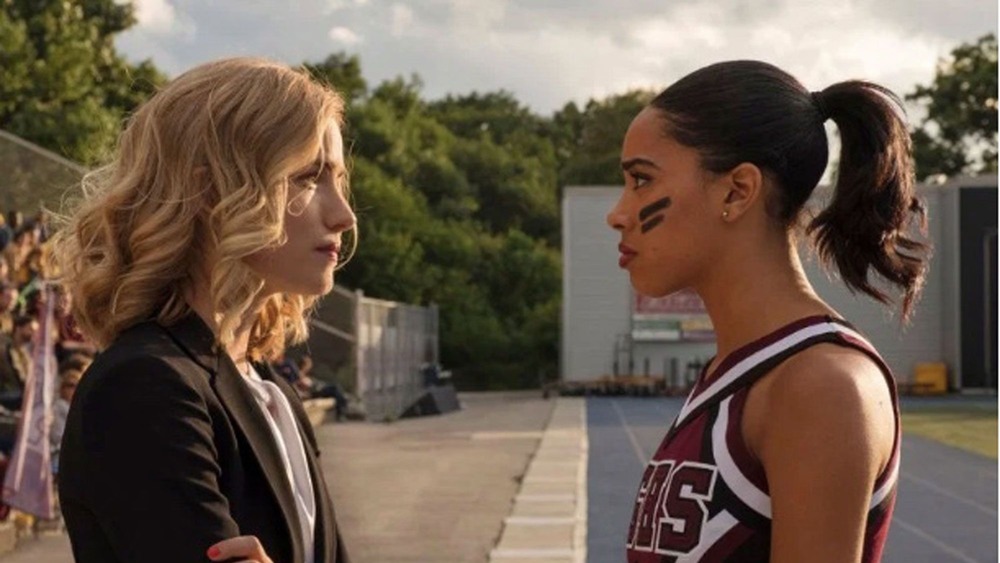 USA Network
Critics generally agreed that the series' three leads, who hadn't been in many notable roles before Dare Me, performed wonderfully. "Kelly, in particular, has a magnetic pull to her and an effortless ability to transition from 'innocent to animalistic,'" said The Hollywood Reporter's Daniel Fienberg. He continued, "Dare Me features a tantalizing blend of guilty-pleasure trashiness, smart genre deconstruction and unfiltered, darkly comic adrenaline." Fienberg also compared the show to both Netflix's You and HBO's Euphoria, but argued Dare Me was better.
If there is one misstep these cheerleaders make, it's dragging the story on for a few episodes too long. Alan Sepinwall of Rolling Stone wrote in his review of the show, "Abbott and her TV collaborators are much more interested in atmosphere than plot. The latter takes a very long time to materialize, though the former becomes so intoxicating that the long wait begins to feel besides the point." 
In the end, Dare Me isn't here to make anyone comfortable, but instead to explore something dark buried within its teenage leads.
Dare Me fans are hoping its Netflix success will lead to something bigger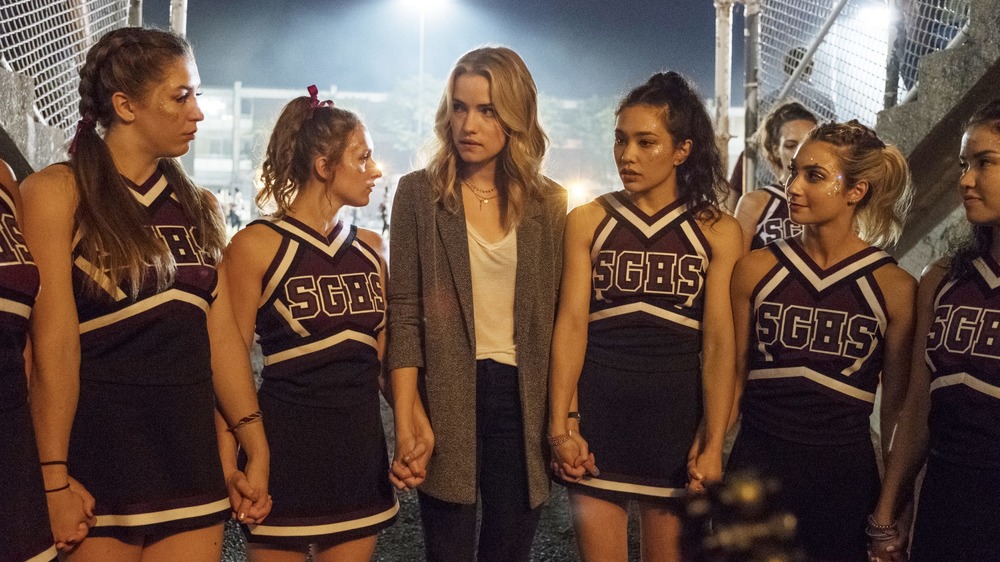 USA Network
In the wake of Dare Me's meteoric rise to the top ten most popular series on Netflix, viewers who've been fans of the series since it first premiered on USA Network in December 2019 are experiencing a wave of hope. Specifically, Dare Me enthusiasts are hoping that the show's success on the streaming platform will be enough for either USA Network itself to reverse course and renew the series for a second season, or for Netflix to pick it up and hand down a season 2 order. 
"Can Netflix take Dare Me and make a season 2 [please?]," one fan tweeted. When another viewer noted that "having it available in the U.S. means it'll hopefully get more exposure and then be renewed for a season 2," a Twitter user said in response, "Yeah, I thought the same. Let's hope for it. This show definitely deserves more recognition." One Twitterer went directly to Netflix, tagging the company's account and then stating, "Hey Dare Me is in your top 10 shows and trending, ya think you wanna pick it up for a season 2 please??"
Even audiences who are just now getting into Dare Me thanks to its arrival on Netflix are clamoring for more. "I finished Dare Me on Netflix in less than 2 days. When is season 2?" asked Twitter user @_GoldzMisfitz. 
Dare Me fans new and old have joined forces to create and sign a petition urging Netflix to renew the show for a second season. This is in addition to the many "save Dare Me" petitions created at the time the series' cancellation was announced in April 2020, and while it remains to be seen whether the requests of fans will have any significance in the eyes of Netflix executives, it can't hurt to try. 
Fingers crossed — and pom-poms up — that good news will be around the corner for Dare Me. If nothing else, though, at least the series will be remembered as one that captivated audiences as soon as it aired its first episode, and continued creating buzz over a year later.