Why Lazarus From Chilling Adventures Of Sabrina Looks So Familiar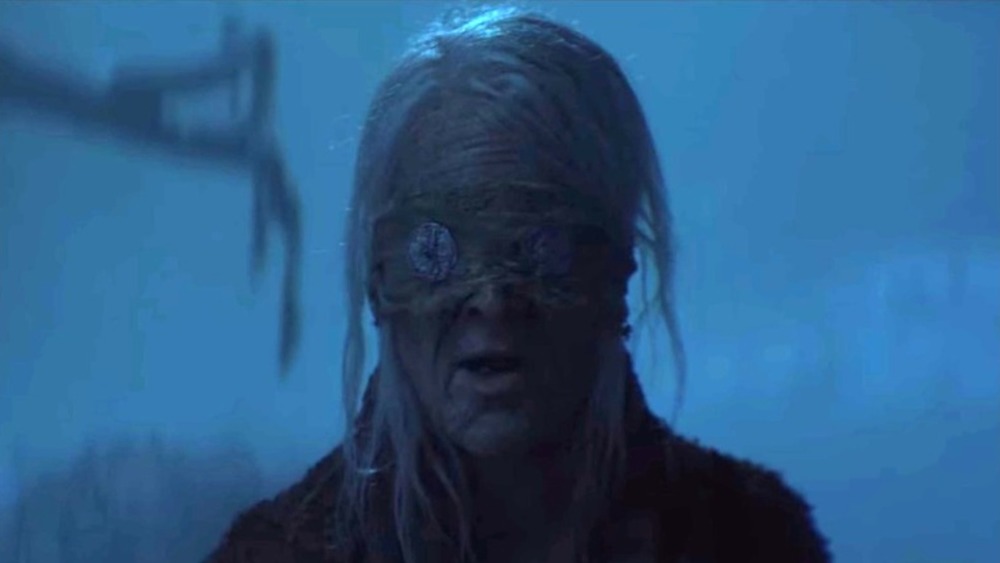 Netflix
With its final season hitting Netflix during the witching hour on the last day of a hellish year, it's clear Chilling Adventures of Sabrina plans to go out with a devilish bang. It also appears that showrunner Roberto Aguirre-Sacasa has called on at least one familiar, albeit somewhat passing, face from season 3 to help wrap up his (un)holy comic adaptation.
Serving as the supernatural horror's closing chapter, season 4 is conjuring up some of its most twistedly biblical and magically dark drama yet. Following Sabrina's decision to split herself in two to be both in Hell and on Earth, it looks like the version of her who isn't ruling the Underworld will have time to do typical teen girl stuff. Except, that fans of the series likely remember Faustus Blackwood (Richard Coyle) released the Eldritch Terrors on the world at the end of season 3, leaving Sabrina to spend the last eight hours of her story battling a threat that could consume all of Hell, Earth, and Heaven. 
To help stop the Terrors, voodoo priestess and Order of Hecate member Mambo Michele Marie LeFleur (Skye Marshall) calls on the avatar for the dead from near The Spellman's "Cain Pit." It's also known as a Lazarus pit, a little fact that becomes more important once you realize that the thing emerging from the thick fog is also named Lazarus. Upon removing his hood, he reveals an aged face covered with bandages and coins resting where his eyes should be. Marie has called on Lazarus to play a game in hopes that her winning will help stop the latest side effect of the Eldritch Terrors: a mass resurrection of the dead. 
While you've never seen the character before episode 6, you're likely familiar with his name. Jesus performs several resurrections in The Gospels, arguably the most famous of which is Lazarus. The character is played by English actor Oliver Rice, who you've already seen on the Netflix series, if not elsewhere in the vast genre-sphere of television. If Lazarus' voice and what you can see of his face seem familiar, here's where you've seen Oliver Rice before.  
Oliver Rice starred as a different character in The Chilling Adventures of Sabrina season 3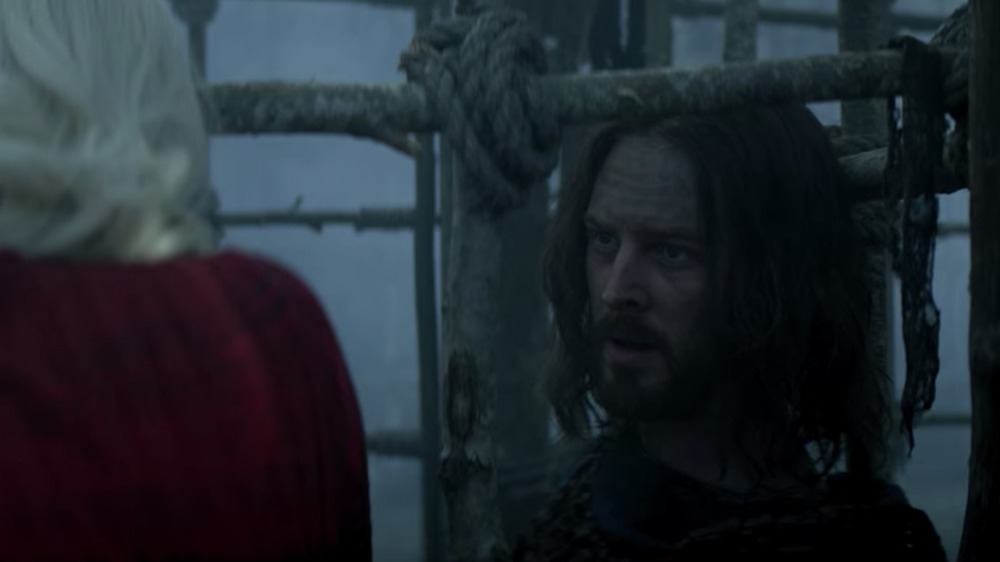 Netflix
While the actor appears in just a single episode of season 4 as Lazarus, fans have actually seen him in the series before. And considering the stories behind his previous Chilling Adventures character, it seems appropriate that Rice played both. The actor's first appearance in the streaming show was as another biblical character known as Barabbas. A prisoner of Roman governor Pontius Pilate — who is most famous for presiding over Jesus' trial and ordering his crucifixion — Barabbas is cursed to remain trapped, forever pardoned by Pilate in a never-ending time loop that sees others who visit condemned to death. 
Sabrina runs into Barabbas during the Unholy Regalia, a set of trials designed to prove she is fit to rule Hell over the clay demon Caliban. At one point, Sabrina even uses a spell that makes the blue-eyed and shaggy-haired Barabbas look like her, and she like him, to take the bowl Pontius Pilate "washes his hands clean" in after every sentencing. The metaphorical connections between Barabbas, Lazarus, and the cycles of time and death make for a clever casting choice, even if Rice only appears in the series twice. 
Oliver Rice has built a steady career out of genre projects like Altered Carbon and Supernatural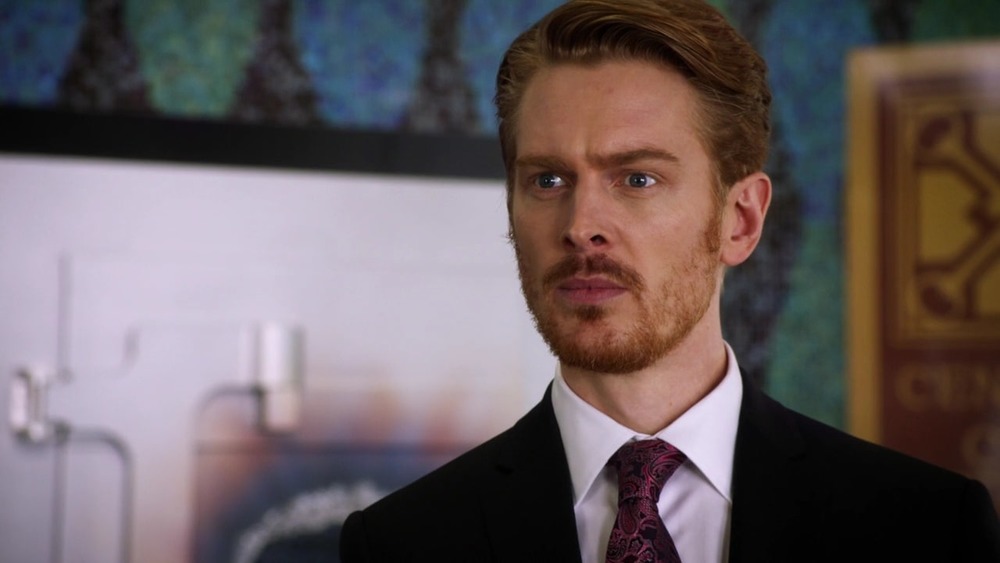 The CW
Beyond his work on Chilling Adventures, Rice has spent quite a lot of time on-screen playing in the genres of horror, fantasy, sci-fi, and even with a few superheroes. One of his more recent roles saw him starring in Brahms: The Boy II as Liam, a relative of a young kid ensnared in a demonic doll's clutches. Easily described as problematic, Liam eventually has a nasty run-in with a crocket mallet. An earlier part had Rice meet a similarly bloody fate, with the Brit starring as Torvald on the historic 15-season-run of Supernatural. Guesting in the season 8 episode "Everybody Hate Hitler," Rice played a man reanimated by the Thule Society — a faction of the Nazi Party who practiced in the occult. He tracked a Rabbi in a secret organization working against Thules during his single episodic arc before meeting a grim end thanks to a golem. 
A year later, in 2014, he would magic his way onto ABC's hit fairytale drama Once Upon A Time in the Frozen-themed episode "A Tale of Two Sisters" before conjuring up another brief part in Syfy's adapted hit The Magicians. Rice played Hugh, a tour guide who led groups through the Plover estate, the Chatwin's childhood home, and the birthplace of the magical Narnia-esque land of Fillory. 
He'd later swing into two guest roles in the Arrowverse, first as yet another Nazi — though this time unnamed — in the 2016 "The Justice Society of America" episode of DC's Legends of Tomorrow. In 2018, he dashed onto the speedster-centric series The Flash, where he played Eric Frye, a meta-human criminal who loses his powers when they're mistakenly transferred to another person. But arguably one of his biggest genre roles to date cast him in four episodes of the high-concept cyberpunk series Altered Carbon. Rice appeared in the show's second and final season as Mattias Stone, the right-hand man to Danica Harlan, the current leader of Harlan's World — a habitable planet 80 light-years from Earth. 
Oliver Rice has also dabbled in the romance genre Always Be My Maybe and Chesapeake Shores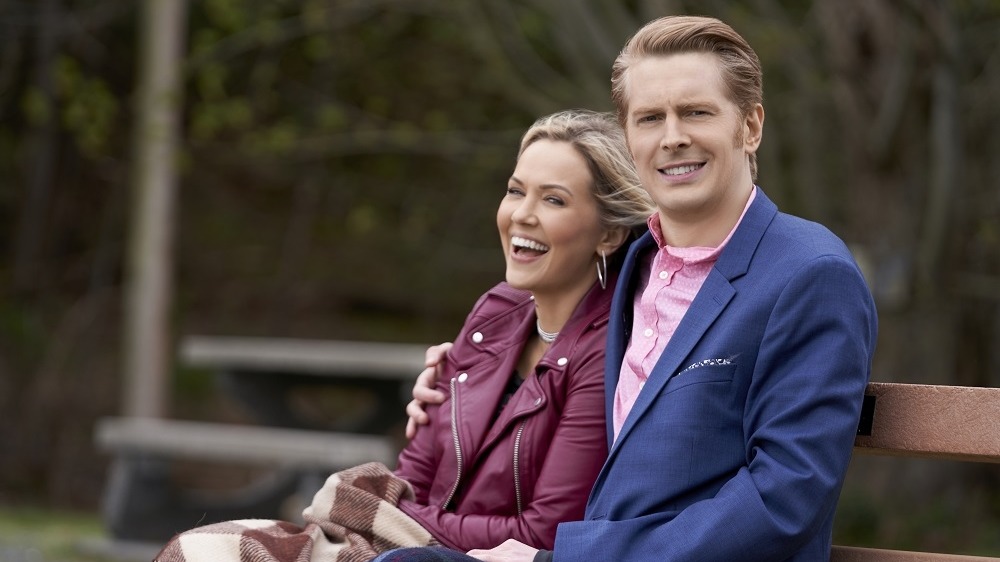 Hallmark
While Oliver Rice hasn't shied from darker roles, he's proven he can handle a little bit of romance. He continued his Netflix streak by appearing in the 2019 rom-com hit Always Be My Maybe as Simon, the Tom Ford salesman who helps Randall Park's Marcus try on a suit he can't afford. And for 13 episodes, he played another Simon — Simon Atwater, to be exact — in the Hallmark Channel series Chesapeake Shores. The show follows Abby O'Brien (Meghan Ory), a recently divorced mother and career woman living in New York who returns to her Maryland hometown to help her sister, Jess (Laci J Mailey), save her inn. Her return, however, stirs up a lot of emotions and drama, particularly when it comes to her family and Abby's first love Trace Riley, played by Jesse Metcalfe. Rice's character, a best-selling romance author, served as the love interest for Abby's younger sister and struggling playwright Bree, beginning in season 2. 
After watching him weave tales of biblical hell on The Chilling Adventures of Sabrina and playing baddies of the real and superhero variety, you might find Rice's role in a quaint Hallmark romance a nice change of pace.