Cobra Kai's Stars Reveal When Fans Should Expect The Series To End
Netflix
Season 3 of Cobra Kai is set to drop in a matter of days, and if series star Ralph Macchio is to be believed, there's more to come for Daniel LaRusso and his old rival-slash-current frenemy Johnny Lawrence (William Zabka).
There might be a lot more in the works too, as Macchio recently spilled to Movieweb that the upcoming third season may mark only the halfway point of the series, with Cobra Kai's writing team eyeing season 6 as the show's endgame. "The writers have always felt they had six seasons in their head, where the story arcs can go," Maccio revealed. "So that should all land when the time is right. You don't want to overstay your welcome, but the fans are having fun and there's more story there. As long as we're allowed to keep doing it, Billy [Zabka] and I are in."
Cobra Kai made its debut on YouTube Premium a couple of years back, continuing the story first told in the classic '80s sports drama The Karate Kid. That film found Zabka and Macchio on opposite sides of the ring as upcoming karate students with dramatically different moral codes, and found them facing off in a memorable showdown in which Macchio's LaRusso proved victorious. The new series picks up 34 years later, and finds both Johnny and Daniel struggling with middle age and lives they never could've conceived in their youth.
More than a straight nostalgia trip, Cobra Kai has proven dramatically and morally intriguing in its own right, with the O.G. Karate Kid stars reprising their roles in a series fueled by a completely different dynamic. And it now seems both Zabka and Macchio may be afforded the chance to live in the skins of their iconic characters for many years to come.
Will we actually get to see six seasons of Cobra Kai?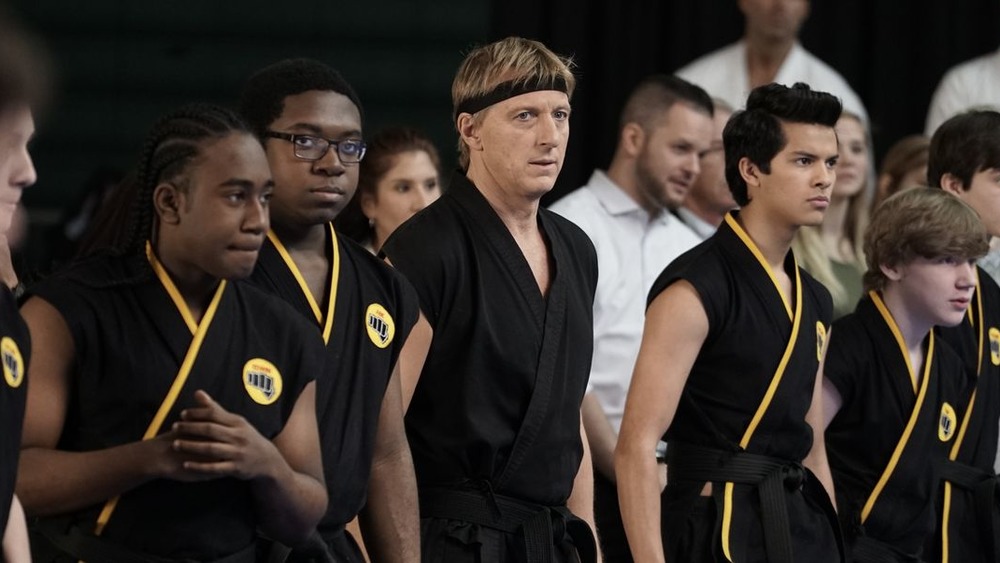 Netflix
Cobra Kai proved a surprise hit on YouTube Premium, and was picked up by Netflix for a third season with the streaming giant already greenlighting a fourth. Per the Movieweb interview, Zabka added to Macchio's enthusiasm about what's ahead. "We're more than thinking about season four — we start work on it in a few weeks," the actor said. "And beyond, the show has a long way to go and we're really having fun with it."
Watching even a single episode of Cobra Kai will confirm that everyone involved is indeed having an absolute blast. Likewise, Cobra Kai fandom has been at fever pitch since the series' shocking season 2 finale, so it makes sense Netflix would keep the train rolling. Beyond season 4, however, Cobra Kai will need more than enthusiasm to stay afloat, particularly as Netflix has historically shown serious reservations about taking even popular series past a third season. 
Whatever the case, series co-creator Jon Hurwitz is as psyched as anyone to keep exploring the world of the so-called Miyagi-verse. He's apparently just as keen to bring faces from that verse back into the fold with The Karate Kid co-stars Martin Kove (John Kreese) and Elisabeth Shue (Ali MIlls) each making returns. Per Hurwitz, that list may eventually include The Next Karate Kid star (and two-time Oscar winner) Hilary Swank. "In our writers' room we speak about literally every character that has appeared in the Miyagi-verse. So it's obvious that we've spoken about [Swank's character] Julie Pierce."
Would Swank actually be down for a Karate Kid return? That remains hard to believe. But so too is the wild success of Cobra Kai, so who's to say. Either way, the saga is set to continue when Cobra Kai season 3 hits Netflix on January 1, 2021.