What Soul's Angela Bassett Thinks Really Happened To Joe In The End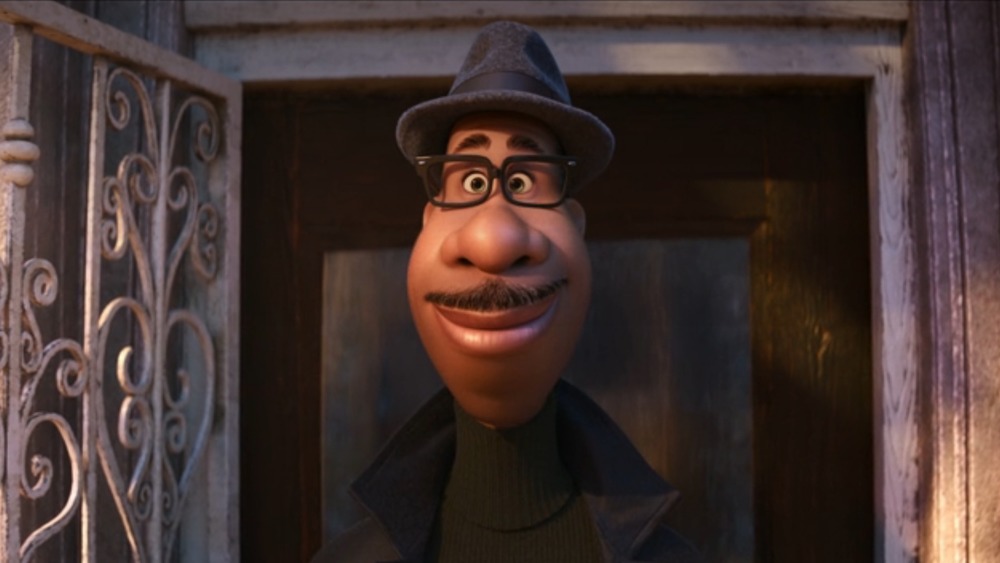 Disney/Pixar
Contains spoilers for Soul
Animation studio Pixar's latest film Soul questions what it is that makes life worth living in a fun romp that goes from the streets of New York City to the liminal space where souls are made. While there were plenty of scrapped storylines for the film, it ends on a hopeful, though ambiguous, note as protagonist Joe Gardner (Jamie Foxx) steps out of his front door with a smile on his face. The ending left many fans wondering where his life will go from there, and the film's Angela Bassett has some ideas.
Soul's middle-school band teacher Joe has been wanting to make a living as a jazz musician ever since he was a kid, but when he finally gets his chance, he falls through an open manhole and lands in a coma. His soul is put on a path toward the Great Beyond, but he manages to instead find the Great Before, where unborn souls are prepared for life on Earth. He teams up with a soul called 22 (Tina Fey) and goes on an adventure to get back to his body in time to play with the famed jazz musician Dorothea Williams (Bassett). He ultimately achieves this goal, but finds that while playing piano in front of a crowd was wonderful, it doesn't suddenly make him feel fulfilled. After helping 22 get to Earth, he's then given a second chance at life and a new perspective: The life he's living is beautiful, and he should appreciate it instead of waiting for it to start.
This begs the question ... does he do it?
Angela Bassett thinks his name will be tossed around in the jazz community
Disney/Pixar
In an interview with Pop Sugar, Bassett said, "I think he probably goes back to teaching, but the word is out." She continued, saying that he might not go on the road with Dorothea but now that she knows he plays well, there's a good chance she could invite him back to the band for a night, or recommend him to someone else. Bassett, who you might recognize from Black Panther, referenced some advice she gave a young actress recently, saying that even if a particular audition didn't lead to a career-defining role, it can still lead to unexpected places. "It just didn't work out for some reason, but you're never forgotten. So, don't be forgettable in the room. You have to consume the room and give it all that you have."
So while Joe might keep teaching part time, and finding new joy in that, there's a good chance he could play many gigs on the side, as well. After all, now he's got the invaluable connection with Dorothea, who's so popular she even appeared in Pixar's Onward.