Small Details You Missed In We Can Be Heroes
This content was paid for by Netflix and created by Looper.

We Can Be Heroes isn't like any other superhero team-up you've seen. While most big superhero adventures focus on the world's mightiest heroes, Robert Rodriguez's new adventure-comedy puts the focus on their kids. Good thing, too, because a whole fleet of alien invaders arrive on Earth and capture the Heroics, the world's premiere super-team. That means Missy Moreno, Noodles, Ojo, A Capella, Facemaker, Rewind, Fast-Forward, Slo-Mo, Wild Card, and Guppy must step up to save their parents and save the world.
No matter how old you are, We Can Be Heroes offers a fresh spin on tried and true superhero tropes, and it's a lot of fun for viewers of all ages. It's also full of Easter eggs and other references for all kinds of viewers. Some of the jokes will only make sense to die-hard superhero fans. Others will only land for cinephiles, especially those who have been following Rodriguez over his long, prolific career. Basically, like We Can Be Heroes itself, there's something for everyone hidden among the movies' smallest details. If you need help looking, here are a few to get you started.
Just relax, lay about, or my fist will put you out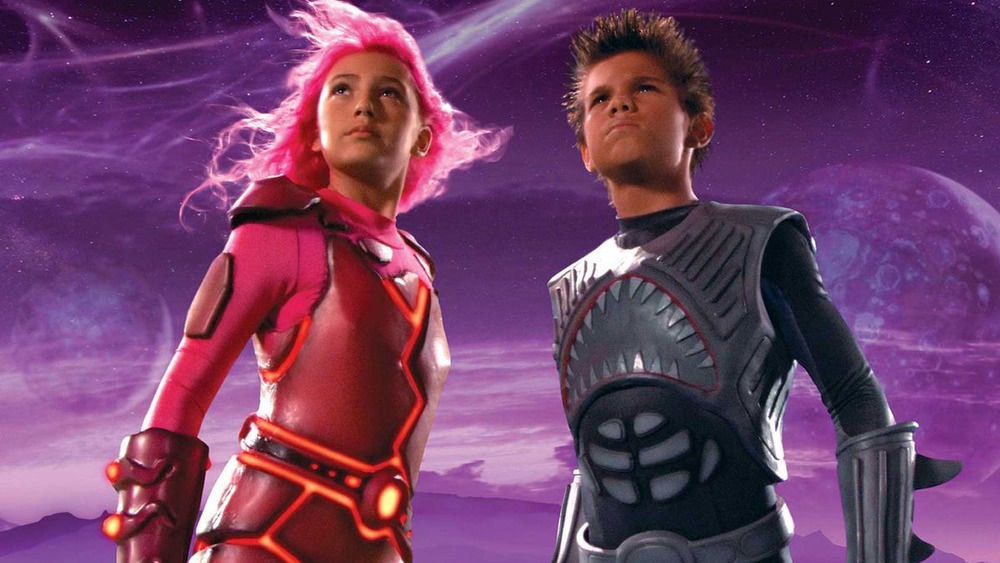 For viewers who grew up on Robert Rodriguez's kids films, We Can Be Heroes is an extra-special treat. While the tone is very different, the movie functions as another adventure that takes place in the same universe as Rodriguez's surreal 2005 fantasy escapade The Adventures of Sharkboy and Lavagirl. Both of the title characters from that movie play major roles in We Can Be Heroes — actress Taylor Dooley even returns as Lavagirl, reprising the role she originated when she was just 12 years old.
Of course, both characters look a little different now. While they were kids in their debut appearance, Sharkboy and Lavagirl are now all grown up, married (to each other), and have a daughter of their own, who goes by the name Guppy. Still, We Can Be Heroes is full of subtle nods and references to the heroes' original movie, even before they enter the story. A graphic novel called Lavagirl Adventures rests on Missy's bedside table. The cereal Missy eats for breakfast is called Great White Bites, and has a mascot that looks a lot like the CG creatures from the 2005 movie.
The best Sharkboy and Lavagirl Easter egg, however, comes about halfway through the film, after the Heroics have been captured by aliens. As the Heroics bicker, Miracle Guy quips, "Why don't you cheer us up by singing one of those little songs you sing so well, Sharkboy?" That's not just a joke about how Sharkboy remains silent throughout We Can Be Heroes. It's a direct reference to Sharkboy's unforgettable rendition of the original song "Dream, Dream" in his debut picture. If you've seen Sharkboy and Lavagirl, you know exactly what we're talking about.
A Rodriguez family production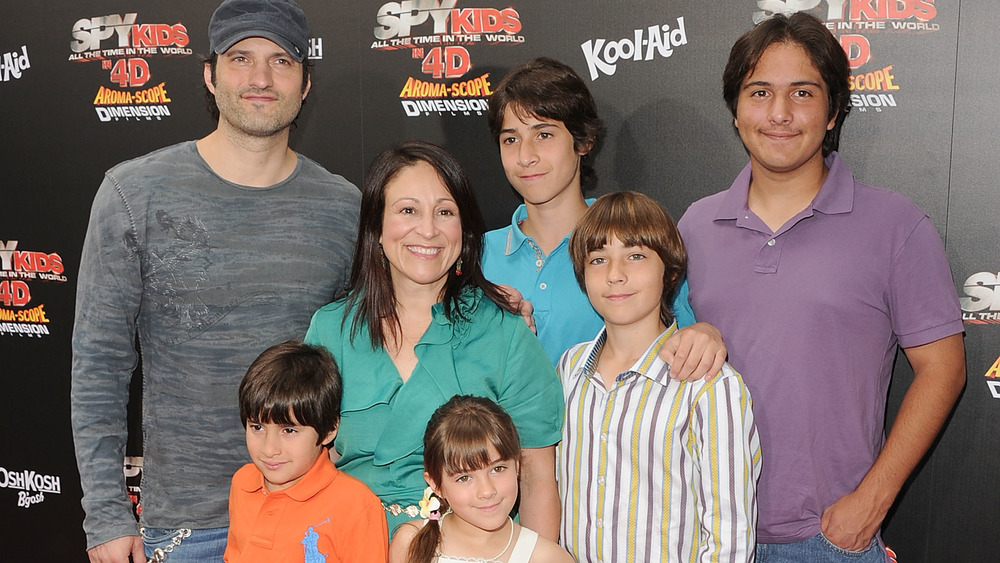 Jason Merritt/Getty Images
Robert Rodriguez isn't only a director. On most of his movies, he also serves as writer, editor, producer, special effects supervisor, cinematographer, and scorer, too. And yet, on We Can Be Heroes, Rodriguez didn't do it all alone. This time, he had some help — and much of it came from his ultra-talented family.
Most notably, We Can Be Heroes was co-produced by Rodriguez's son Racer, who goes by the name Racer Max, and who is a fundamental part of the Sharkboy and Lavagirl legacy. When Racer was just a kid, he created Sharkboy and illustrated his earliest adventures. That was enough to earn the 7-year-old a "Story By" credit on the original film, and the movie's protagonist was named Max in his honor. You can also catch him in a quick cameo in We Can Be Heroes as a helicopter pilot.
But Robert and Racer aren't the only Rodriguezes who show up in We Can Be Heroes' credits. In fact, every single one of Robert's five children contributed to the film. Rebel Rodriguez wrote its music. Raven Rodriguez performed some additional editing. Rogue Rodriguez is credited with providing some "special alien 3D ship designs," while Robert's only daughter, Rhiannon, provided Ojo's prophetic drawings and played Big Bean. That's only appropriate. We Can Be Heroes is all about family, after all.
From idol to hero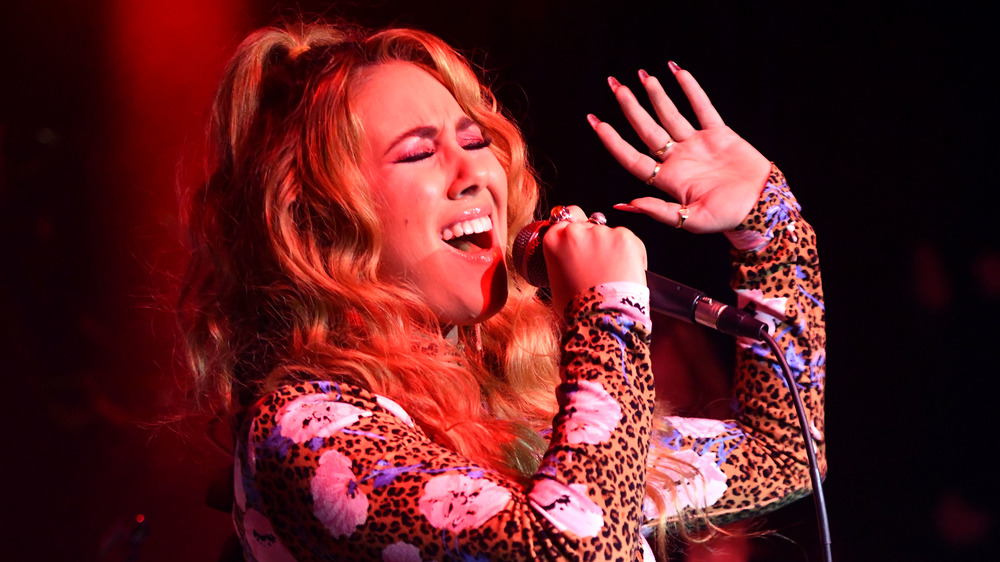 Scott Dudelson/Getty Images
A Capella, played by actress Lotus Blossom, has one of the coolest power sets in We Can Be Heroes. Like her mother, the Heroic known as Ms. Vox, A Capella can control matter by singing. High notes become ear-piercing attacks that leave enemies defenseless — or, occasionally, irresistible lures for any neighborhood pets that may be nearby. Low notes can propel people and objects through space. If she hits the right tones, A Capella can even create vibrations that make her, her friends, and inanimate objects fly.
But powers aren't the only thing that A Capella and Ms. Vox have in common. They also share a voice. While Blossom is extraordinarily charming as the young superhero, she only delivers A Capella's speaking lines. When she sings, her voice is provided by musician and F is For Family alum Haley Reinhart, who also appears in We Can Be Heroes as Ms. Vox herself.
We Can Be Heroes marks Reinhart's live-action film debut, but she's not a stranger to show business. In 2010, Reinhart placed third on the 10th season of American Idol. Since then, her star has only risen. In 2012, Reinhart's first album, Listen Up!, launched to rave reviews, while her covers of Elvis' "Can't Help Falling in Love" and Radiohead's "Creep" (the latter performed the retro-styled cover group Postmodern Jukebox) were both big hits. She's also toured, released a number of hit records, and has a recurring voice role on the animated sitcom F Is for Family. All that, and providing vocals for not one but two superheroes? Yep, it's true: Reinhart really can do it all.
You're gonna need a bigger spaceship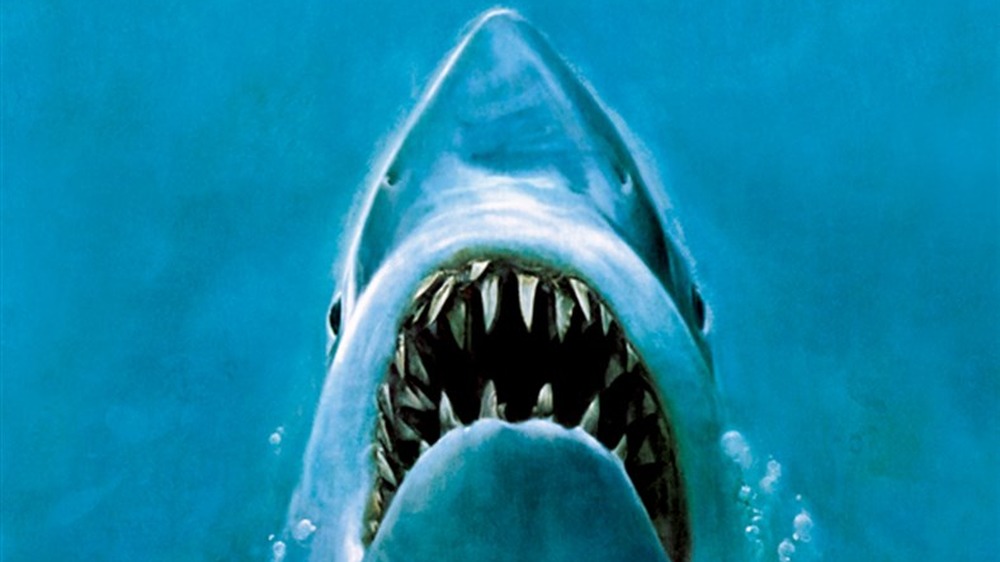 Before Marvel ruled the box office, before Jurassic Park opened its doors, and even before we took our first trip to a galaxy far, far away, there was Jaws. The aquatic thriller didn't just catapult Steven Spielberg's career into the stratosphere. It invented the now-ubiquitous summer blockbuster, forever changing how movies are both made and consumed. In fact, without Jaws, we probably wouldn't have all those big-budget superhero movies that bust records every year, nor the more experimental features like We Can Be Heroes that play with their tropes.
In addition, Jaws happens to be one of Robert Rodriguez's favorite movies. As he tells Rotten Tomatoes, the film premiered on his seventh birthday, and he couldn't have gotten a better present. Over 30 years later, he also had a great time sharing the movie with his kids, cementing the film as a Rodriguez family favorite. 
Given all that (plus the Sharkboy connection), it's not too surprising to see a subtle but very clear Jaws Easter egg pop up in We Can Be Heroes. Early in the film, when Guppy is showing off her powers, she creates the image of a clueless swimmer being hunted by a shark that just happens to look exactly like Roger Kastel's Jaws poster. If you're a film fan, there's no mistaking it. Kastel's painting is one of the most evocative and memorable one-sheets in movie history. Like Jaws itself, it's a bona fide classic.
Just for one day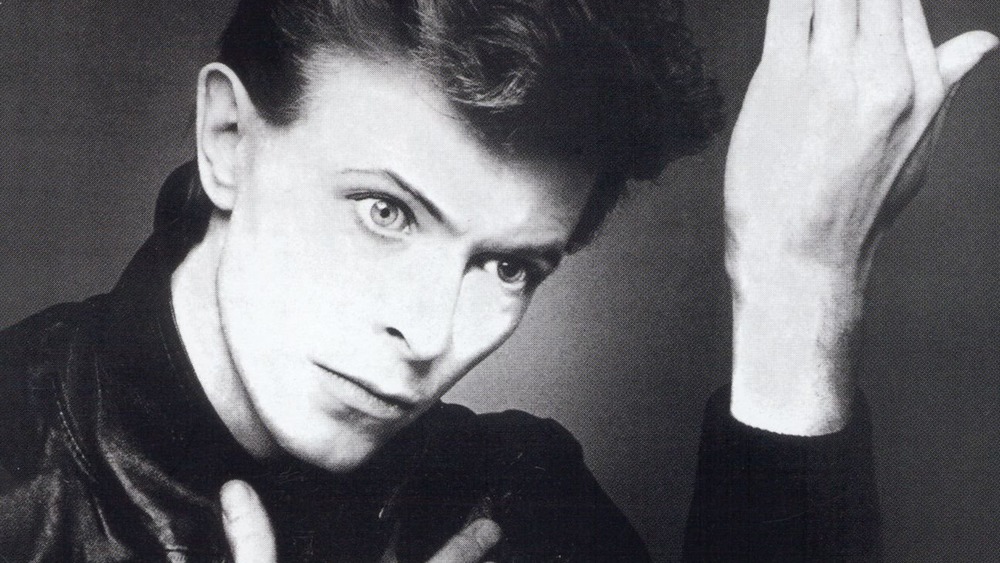 We Can Be Heroes borrows its title from the lyrics of a classic tune, but if you're in the movie's target age range, there's a very good chance that you haven't heard it before. After all, David Bowie's "Heroes," the title track on his 12th studio album, was released all the way back in 1977.
Despite the title, the song isn't about superheroics, either. When taken in full, the song tells a story about a couple who live on opposite sides of the Berlin Wall — a landmark that's ancient history to the kids in the movie — and how their love overcomes the artificial political barriers placed in their way. Still, even if you're not familiar with Bowie's original recording, you've already heard the tune. A cover of "Heroes" plays over We Can Be Heroes' super-powered training montage, while A Capella belts out another just before the movie's climax.
There are a couple more musical Easter egg hidden in We Can Be Heroes, too, and like the Bowie nod, it's something that the parents watching the film are much more likely to recognize. As they fight their way through the halls of the alien spaceship, A Capella sings, "We're gonna make it after all!" That's not a random lyric, but a line from Sonny Curtis' "Love Is All Around," which most people know best as the theme song from the '70s sitcom The Mary Tyler Moore Show. Finally, the song that A Capella sings as Slo-Mo "dashes" for the alien transport is none other than the Oscar-winning theme to the 1981 drama Chariots of Fire, which tells the story of two runners and their quest for Olympic gold.
The clothes that make the kids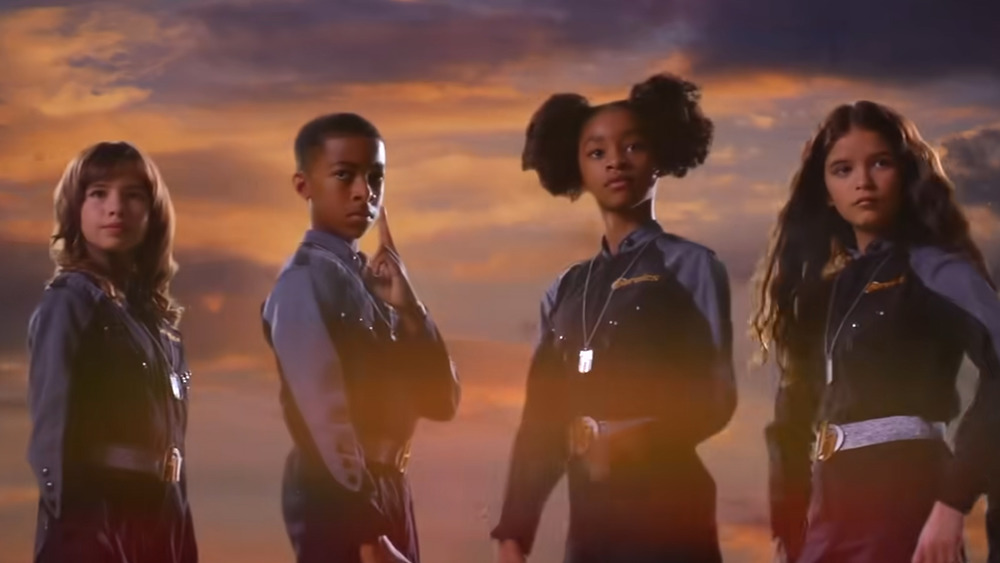 Like all the best superhero comedies, We Can Be Heroes devotes a few minutes to poking fun at old-fashioned superhero costumes. What's with all of those fake muscles, and all those useless buckles? Why do they wear their underwear on the outside? Besides, you can barely see out of those masks, and when the aliens arrived, those colorful outfits made it all too easy for the invaders to pick the Heroics out of the crowd.
Instead of donning fancy duds like their parents, the kids decide to go stealth. However, funny enough, many of them are already wearing low-key costumes, although they don't realize it. Most of the Heroics' children sport clothing with superhero-like emblems right on their chest, giving a small hint as to their powers. Fast-Forward has the TV remote icon associated with her code name on her shirt. Wheels' polo is adorned with a lightning-bolt pattern, indicating both his superior strength and his high-tech wheelchair. Noodles' tee has a picture of a steaming bowl of ramen, while Slo-Mo's says "Fully Charged," playing off of the idea that his speed powers are functioning at full capacity, which has him trapped in some kind of time warp.
Of course, at the very end of the movie, the young heroes get their own set of uniforms, and they're notable for what they don't have. No buckles. No capes. No bright colors, masks, or incorrectly worn undies. Instead, the new costumes are sleek, functional, and extremely practical — proof that, in the end, these kids really did learn something from their parents.