The Surprising Cast Member Who Trained The Dogs In John Wick: Parabellum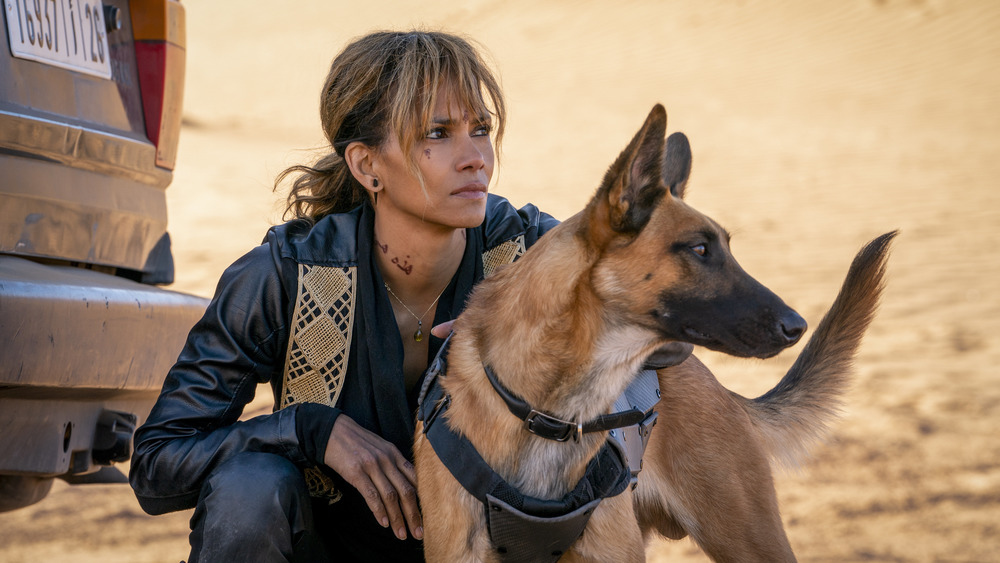 Lionsgate
When actress Halle Barry signed on to John Wick: Chapter 3, fans were excited about her potential role and chemistry with its star Keanu Reeves. But after seeing her performance opposite the film's two Belgian Malinois hounds, it became clear that their relationship had stolen much of the show. 
It was fitting, too, considering John Wick's narrative origins. The 2014 neo-noir thriller was a film kickstarted by the death of a retired hitman's puppy — a gift from his wife who recently passed from a terminal illness — by a group of thuggish home invaders. Not only was the brutality against the animal enraging, but grief-inducing. The dog was a symbol of Wick's former love and provided comfort to a lonely, grieving man. "The original John Wick has a lot to do with a puppy, a dog," director Chad Stahelski told Entertainment Weekly. "We thought it would be great to come full circle and have Halle playing to be a dog lover as well. Whereas John's puppy was symbolic of John's wife, Halle's two Belgian Malinois, the dogs that she has in the film, are symbolic of someone she's lost." 
To help bring the same level of emotionality to the screen with Berry's character as they had with Reeves', the Oscar-winner had to build a relationship with the hounds both on and off-screen. That meant that in addition to hours of stunt and fight training — which included some cracked ribs during filming — Berry not only worked with the dogs but eventually became one of their primary trainers.
"She would have to do three hours of martial arts, two hours of guns, and then, because the dogs are so sensitive, Halle had to become a trainer for the animals," Stahelski revealed. "So, she [spent] another three, four hours a day just hanging out with the dogs, and giving them commands, and telling them what to do." 
Halle Berry said the John Wick 3 set was sometimes chaotic due to the dogs and co-star Keanue Reeves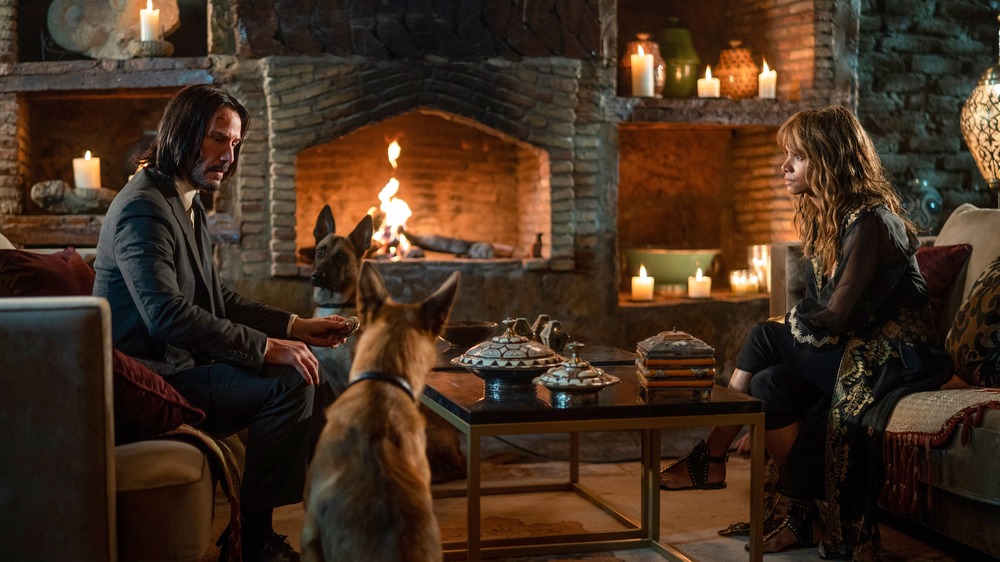 Lionsgate
Stahelski told EW that the daily hours-long commitment to those canines was a serious ask for an actress of Berry's caliber, but one she absolutely wanted to take on. "That is a massive time commitment for an actress of her caliber that could be making millions of dollars elsewhere on other jobs. She just wanted to blow up everything to make a statement, saying, 'Look at me, look what I can do,' you know, pretty much, 'F— y'all,'" he said, laughing. 
The amount of time Berry had to fork over wasn't the only big ask of the actress either. As is the case with babies on-set, working with dogs has specific challenges as the furry actors aren't always as disciplined as their human counterparts. That sometimes resulted in a filming experience that Berry described for EW as a "kind of chaos." 
"You have dogs running around, you have Keanu, we have all these guys coming from every different direction," Berry said. "It was totally chaotic, and then we had these cats running through our set. It was often hard to keep the dogs focused because they'd see a cat, and off they'd go, and sometimes that could ruin a whole great take."
The actress shared that, in the end, getting through filming with the animals to deliver believable performances was actually just about taking the time to understand them and how they operated. 
"It was about two or three hours a day helping as a dog trainer, getting to know them, having them get to know me, learning their personalities. We learned together what tricks the dogs could do," she said. "Some dogs were good at just sitting on their mark and looking pretty, and others wanted to jump off cars, through windows. So it was just about learning what each dog can do and how I could command them to do it."