Why Ma Rainey's Black Bottom Makes Us Love Viola Davis Even More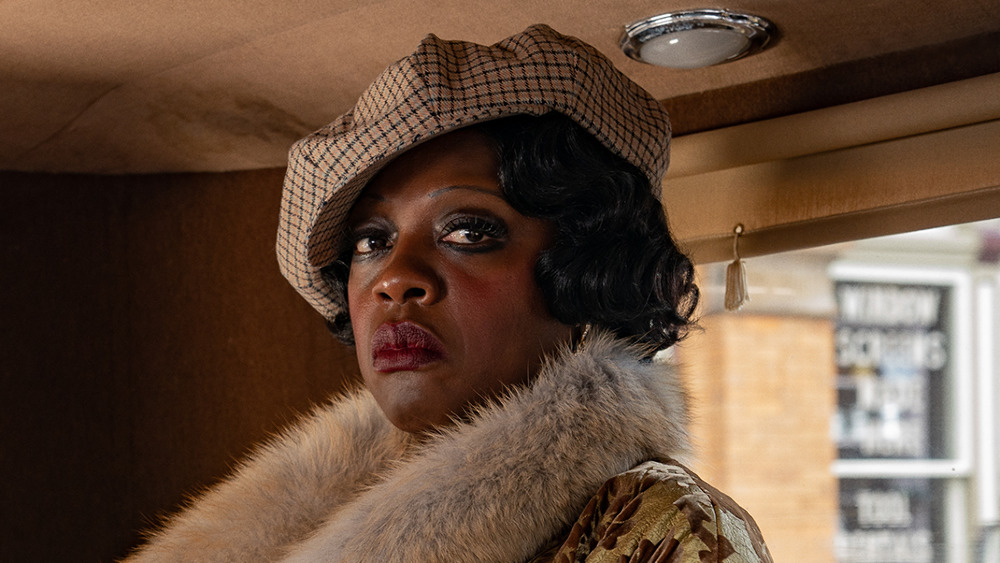 This content was paid for by Netflix and created by Looper.
Viola Davis' filmography is full of strong, capable women. With Ma Rainey's Black Bottom – in which she co-stars with the late Chadwick Boseman — she adds yet another to the list. In Ma Rainey, Davis' titular blues legend is like a force of nature. She's proud and defiant, she takes what she wants, and Heaven help you if you're unlucky enough to stand in her way.
While it's a different type of role for Davis, the actress has proven that she can tackle almost any challenge. In Ma Rainey's Black Bottom, Davis turns in another tour de force performance, creating a character that's instantly as iconic as her turns as Mrs. Miller, Rose Maxson, Veronica Rawlings, and Amanda Waller.
In fact, one of the things that makes Davis' performance in Ma Rainey's Black Bottom so special is that it's entirely different from what she's done before. While she's treading on familiar ground — like many of Davis' most memorable projects, Ma Rainey's Black Bottom is based on the work of playwright August Wilson — Ma Rainey doesn't look or act like any of Davis' past characters. It's a testament to how much range she really has and how much she's grown as an actress, and it makes us love her all the more.
A physical transformation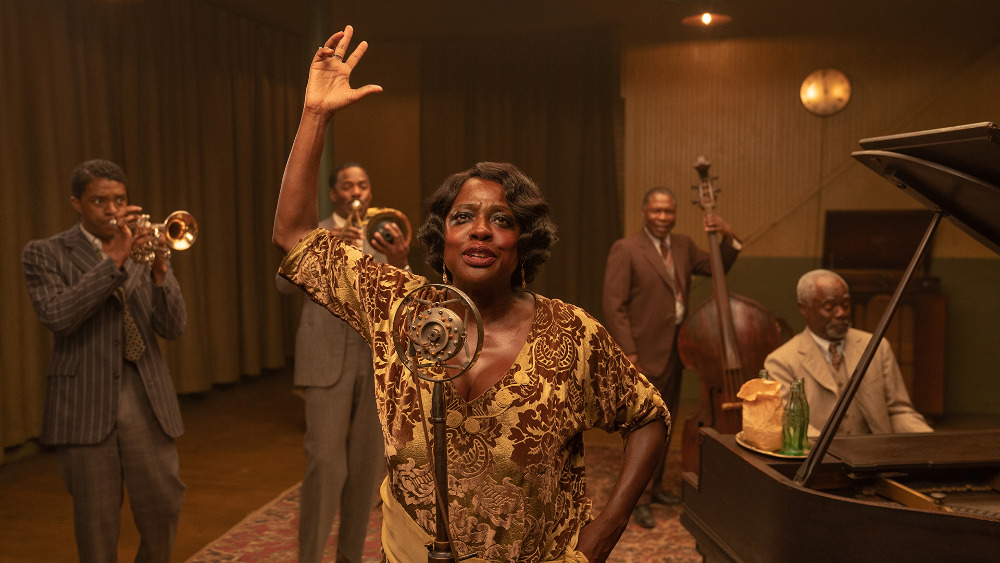 Don't be embarrassed if you don't recognize Viola Davis in Ma Rainey's Black Bottom, at least not right away. While Davis has been gracing the stage and the screen for 30 years, you've never seen her looking quite like this. Underneath Ma's gold teeth, heavy make-up, and flamboyant costumes, Davis is almost completely unrecognizable. It's the biggest physical transformation in Davis' career, and makes her a dead ringer for the real-life Ma Rainey, whose portrait can be seen during the film's end credits.
For Davis, changing her look to that degree wasn't easy. "I grew up with a lot of big women that I thought were the most beautiful women in the world," Davis tells IndieWire. With help from Ma Rainey's Black Bottom costume director Ann Roth, Davis made sure that those women, like Davis' aunt Joyce, were represented on screen. Davis gained a bunch of weight for the role, but topped out at around 200 pounds. A foam suit based on Aretha Franklin's measurements was used to add the rest.
But Davis couldn't just look the part. She had to move like Ma Rainey, too. "She's unapologetic, and that extends to her body and the way that she dresses. And trust me — as Viola, in my life, I don't do that," Davis tells the New York Times. Still, once she was in costume, Davis found the entire experience freeing. "I reveled in her, I swished my hips every day. There was such joy in that freedom of expression," Davis says. "I felt very sexy with that fat suit."
That confidence makes its way to the screen, and helps make Davis' Rainey an unforgettable character. When she's around, there's no doubt who's in charge. She owns the room simply by being there.
August Wilson's words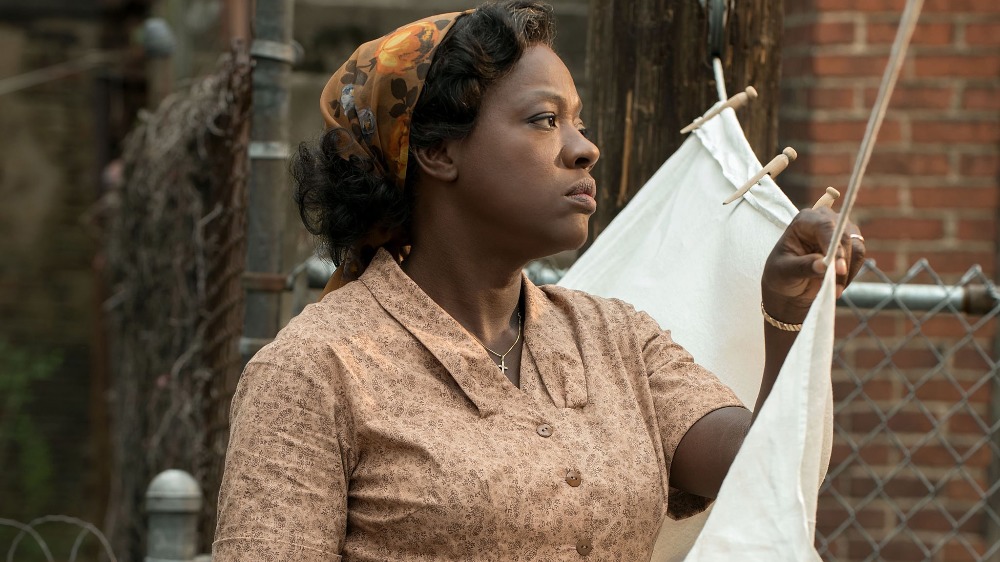 In Ma Rainey's Black Bottom, it's not just what's being said that's important. How it's being said matters, too. It's fitting that in a movie that's all about music, there's a lyrical quality to the film's dialogue, and it's up to each member of Ma Rainey's Black Bottom's talented cast to make sure they get the rhythm and cadence of the language right.
Naturally, Davis delivers all of her lines with the aplomb they deserve, but that's not a surprise. She's done this kind of thing before. As you probably know, Ma Rainey's Black Bottom is based on a play by the late, great August Wilson, who's famous for writing plays that chronicle the experiences of Black Americans during the 20th century.
Davis has appeared in many of them. In 1988, Davis made her first stage appearance in Wilson's Joe Turner's Come and Gone. And she made her Broadway debut in 1996 while playing Vera in Wilson's Seven Guitars. In 2001, she starred in the Broadway version of Wilson's King Hedley II, and in 2010, joined the revival of Wilson's Fences. She later reprised her Fences role for Denzel Washington's big-screen adaptation of the play, winning both a Tony Award and an Oscar for the part.
"August lets us talk as people of color," Davis tells Variety. "I think other people may look at it and say, 'Why do they go on and on and on?' My whole thing is why not? We have a lot to say." And in Ma Rainey's Black Bottom, she says it very, very well. Wilson would be proud.
She's learned her worth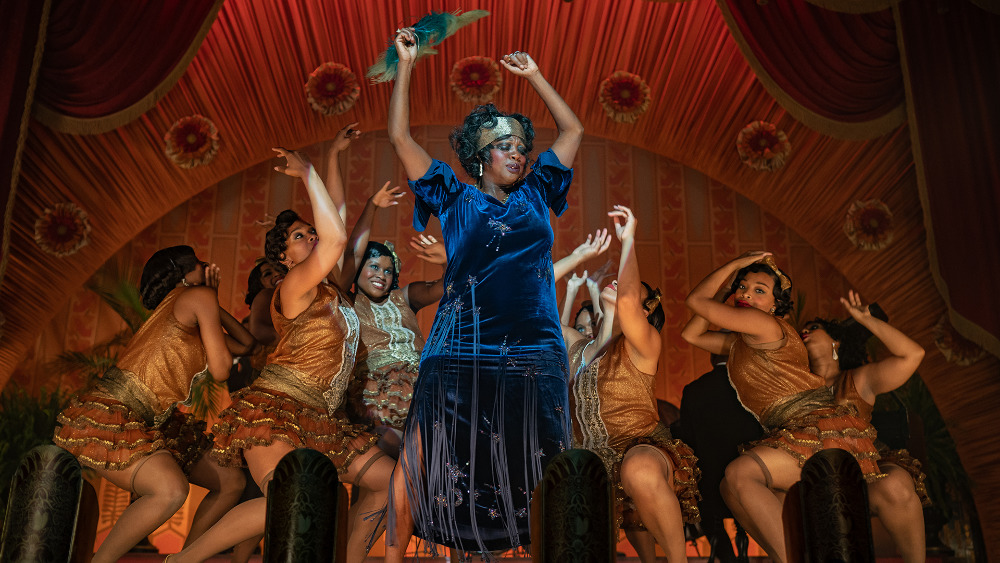 Ma Rainey and Viola Davis are very different people, but they have one thing in common: they're both trailblazers. Davis, of course, is one of the most accomplished actresses in the business. She's the first Black actor to win all three major acting awards, often referred to as the Triple Crown of Acting: an Oscar, a Primetime Emmy, and a Tony (two, actually). She's headlined everything from period dramas to crime procedurals to superhero blockbusters, and she's a tireless advocate for women of color, gender equality, and human rights.
Similarly, Ma Rainey is called "The Mother of the Blues" for a reason. Rainey wasn't the first Black blues musician to appear on a record — that would be Mamie Smith — but she was among the earliest. During the '20s, Rainey recorded over 100 songs for Paramount Records, making herself the first true blues star.
In Ma Rainey's Black Bottom, Rainey knows she's a big deal. While Rainey knows that her producers don't care much for her as a person — her monologue admitting as much is maybe Davis' best moment in the entire film — her name and her voice still sell the records, after all. And she's more than willing to use that for leverage whenever necessary. It doesn't matter if she's thirsty and wants a Coke, or if someone's trying to stiff her nephew out of a check. Rainey knows she has value, and she's willing to use whatever power she has to preserve it.
That's something that Davis learned from the character. "I have to remember that I don't have to barter for my worth," she tells IndieWire. "I was just born with it." Thankfully, the rest of us already know what Davis just realized: she's already a powerhouse. If you're in doubt, Ma Rainey's Black Bottom is all the proof you need.