The Surprising Reason Just Mercy Has So Many Visual Effects - Exclusive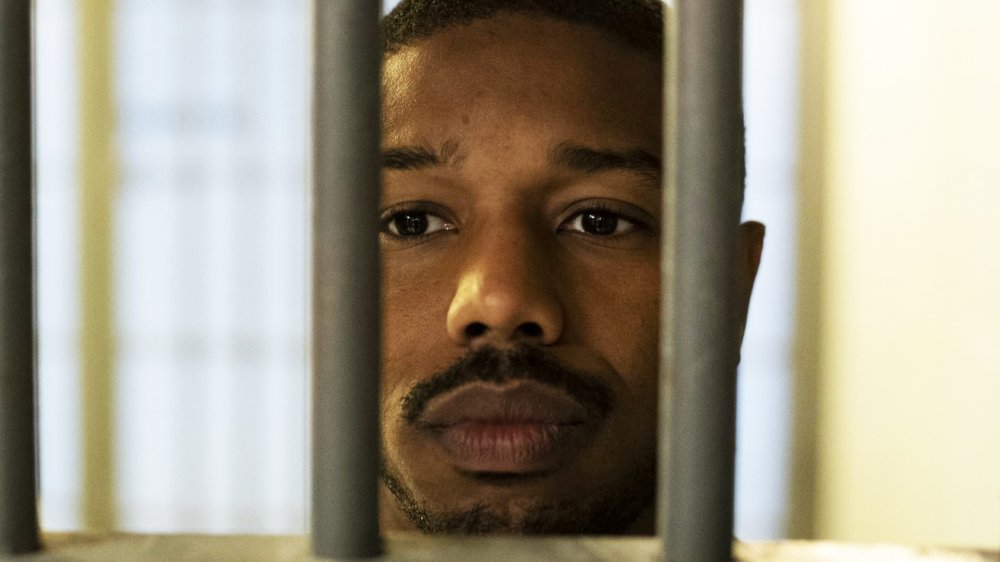 You wouldn't think that Just Mercy, the award-nominated film starring Michael B. Jordan and Jamie Foxx, would be a visual effects spectacular. It's a drama focusing on real-life attorney Bryan Stevenson's (Jordan) attempts to free Walter McMillian (Foxx), who was convicted of a murder he didn't commit, from death row. Just Mercy is an affecting and well-acted movie, but it doesn't have any superheroes, monsters, or aliens. But that doesn't mean that it doesn't have any effects. 
According to Matthew Akey — who works with Crafty Apes, the visual effects studio that worked on the Destin Daniel Cretton-directed film, and who served as Just Mercy's visual effects producer – Just Mercy contains 270 VFX shots. 
To put that in perspective, Jurassic Park had 63 VFX shots. The original Blade Runner had only 90. And Star Wars: Episode IV — A New Hope topped out at 360. Compared to modern blockbusters like Fate of the Furious and Avengers: Endgame, both of which had about 2,500 VFX shots each, 270 isn't a lot. Still, for a realistic legal drama based on a true story, it's a surprisingly high number — especially since you won't notice any of Crafty Apes' work while you watch. 
"It needs to feel like there are no VFX. It's so-called invisible effects work," Akey told Looper. "We're able to use our work to help make an environment or a story from history more authentic." 
Not noticing is the point. If you believe the world that Crafty Apes creates, then the studio has done its job.
The types of VFX shots in Just Mercy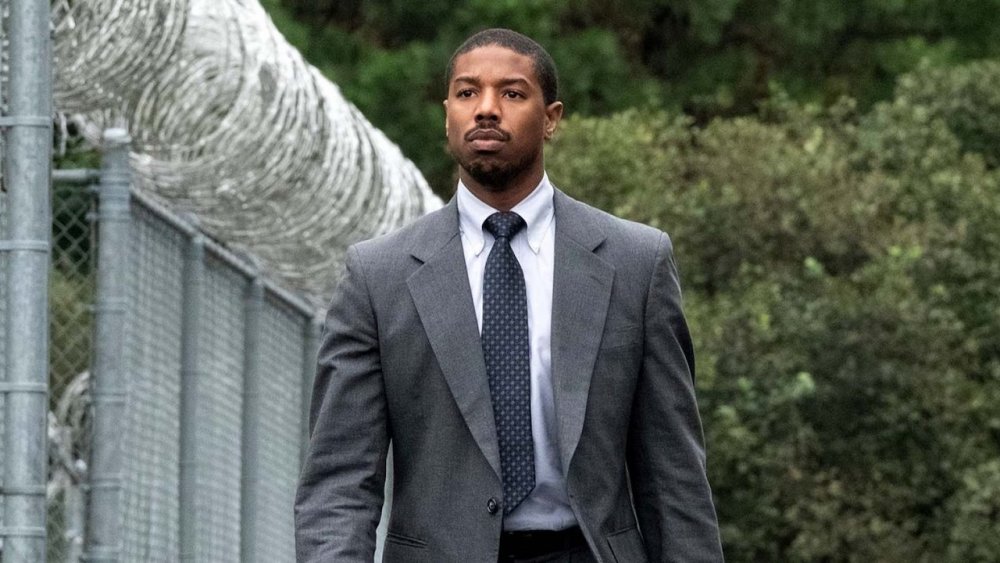 Akey went on to reveal that about half of the VFX shots on Just Mercy are small touch-ups. "We added marquees on movie theaters that were period," Akey said, referring to that fact that the film is set in the early '90s. "We had people whose heads needed to be shaved because they're on death row and a couple of the actors didn't want to do that [...] We had to blend the skin and the bald cap layers to make it not look like makeup."
But some of the effects in Just Mercy are bigger. In one scene, Jordan and Brie Larson (who plays Eva Ansley, an advocate for McMillian's release from prison) chat as a riverboat goes by. For scheduling reasons, it didn't make sense to fly the actors to a location where the right kind of boat was available, so Crafty Apes added one during post-production. In another sequence, Crafty Apes edited Foxx into Walter McMillian's actual 60 Minutes interview Forrest Gump-style, giving director Cretton the option of using as much real footage as possible.
And then, of course, there was the prison.
Rebuilding Holman State Prison for Just Mercy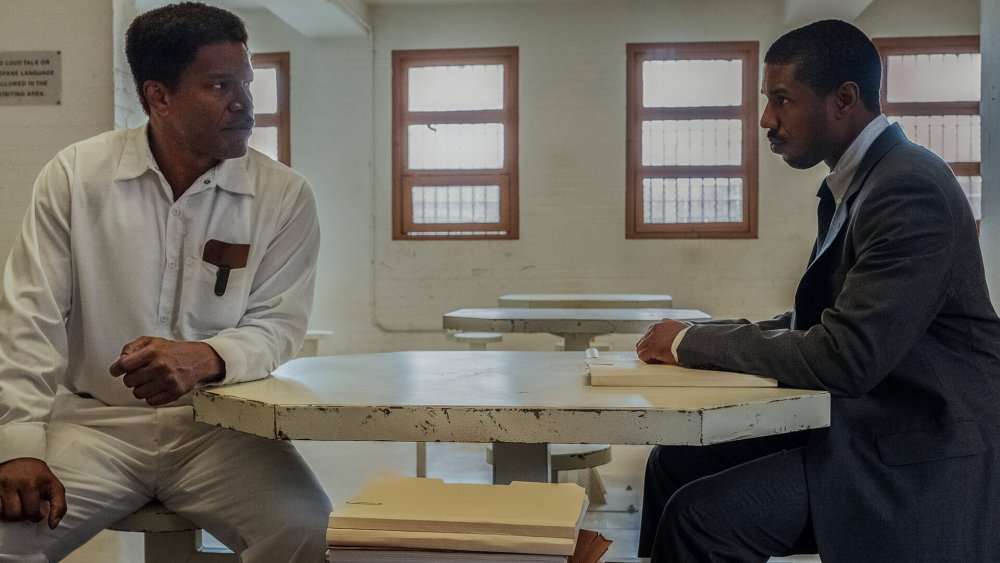 Much of Just Mercy takes place at the Holman State Prison, where McMillian was held on death row for six years. Just Mercy shot in Atlanta, while Holman is in Alabama, and Holman is actually still operating. Given that Just Mercy exposes the racial biases in Alabama's criminal justice system, shooting at the real location wasn't an option. Thus, Akey and his team rebuilt Holman State Prison digitally for Just Mercy.
"A lot of research on our side was collaborating with the production designer early to figure out what Holman's geography is," Akey said, "and then where the closest representation of the exterior could be found in Atlanta."
Crafty Apes used that building as the base for its faux-Holman. "We did a pretty significant digital alteration — adding water towers, adding guard shacks, adding an extra story, and barbed wire fences to a place that looked not much like Holman at all," explained Akey. 
Inside, it was the same thing: "Production design created about five jail cell set pieces. They all had working doors and it was really, really cool, but the penitentiary needed to feel like it was multiple stories, multiple hallways."
Using green screens, Crafty Apes duplicated the one physical set over and over and over again — giving Just Mercy's depiction of Holman multiple dimensions — then digitally changed the lighting and augmented the aging work to make everything look real. The effect is seamless. When you watch the film, you'll think that Holman State Prison is just one big set.
To that point, Akey noted that building a full-size prison set didn't make sense for a small-scale movie like Just Mercy. "It's just too much time and money for a handful of shots," Akey said. In situations like Just Mercy's, VFX are the way to go.
VFX with a message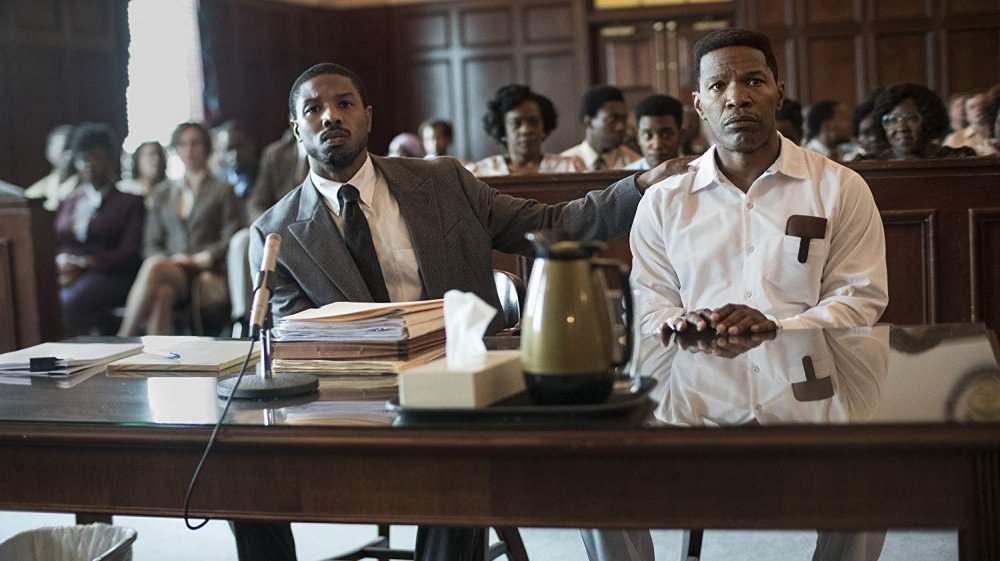 Those kinds of "invisible" effects are Crafty Apes' specialty, and while the studio is expanding into flashier 3D VFX work, 2D is still its bread and butter.
"I think it's really awesome when visual effects plays into stories that are not just sensational or fantasy, sci-fi focused," said Akey. "That's the stuff where visual effects isn't usually thought of, but it's as big a part of the process as editorial or music."
This type of work also lends itself very well to contemporary and historical dramas, which often have strong social messages. "Last year we got to do The Hate You Give. We got to do If Beale Street Could Talk with Barry Jenkins, and we're working on his Underground Railroad series now, which is amazing," Akey noted. Films like those don't just let Crafty Apes with create VFX — they also provide the opportunity to change the world with VFX.
"These are the movies that we're passionate about, not just for the creativity and the filmmakers involved, but the message and the storytelling that's going to affect change," he said. That definitely excites us as much as the Marvel stuff." 
It's a big task, but if Just Mercy proves anything, it's that Crafty Apes is up for it.
Just Mercy is in theaters now.