Get Your First Look At The Coming To America Sequel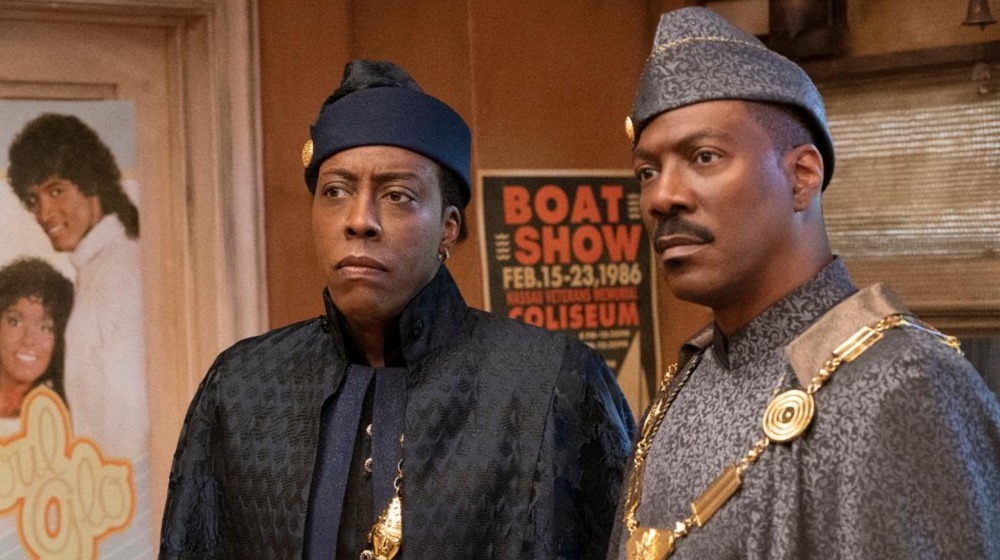 Amazon Studios
Coming 2 America, the sequel to Eddie Murphy's classic comedy Coming to America that's more than 30 years in the making, will be released on Amazon Prime Video on March 5, 2021. In anticipation of the film's debut, Amazon just released the first photos from the movie, and it looks like the Eddie Murphy renaissance is back on.
Here's how Amazon describes the film: "Set in the lush and royal country of Zamunda, newly-crowned King Akeem (Eddie Murphy) and his trusted confidante Semmi (Arsenio Hall) embark on an all-new hilarious adventure that has them traversing the globe from their great African nation to the borough of Queens, New York — where it all began." It's directed by Craig Brewer and written by Kenya Barris and Barry W. Blaustein and David Sheffield. In addition to Murphy and Hall, the Coming to America sequel's cast includes Jermaine Fowler, Leslie Jones, Tracy Morgan, KiKi Layne, and Shari Headley, with Wesley Snipes and James Earl Jones.
The barbershop's back in business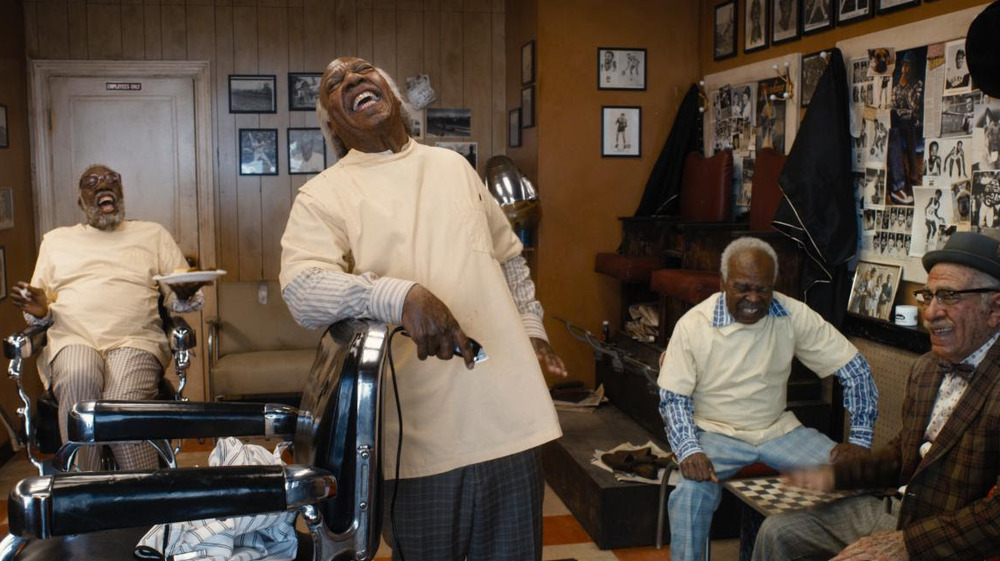 Amazon Studios
The plot of Coming 2 America will find Akeem preparing to ascend to the throne of Zamunda when he learns that he fathered a son (Fowler) with a New Yorker (Jones) during his time in Queens in the late '80s. Thus, he travels back to America to groom his long-lost son to be the crown prince. 
"He has three daughters with Lisa [Headley] and now there's this blended family that is happening," director Brewer told Entertainment Weekly. "Prince Akeem now needs to be a king and have children of his own and find out how to rule his kingdom with these old laws. He's got some problems he's got to figure out and he's got a little bit more depth in this particular one."
The photos reveal that in addition to returning as Akeem and Semmi, Murphy and Hall will also reprise their roles as cantankerous barbers Clarence and Morris. It looks like Murphy will also once again be playing the barbershop's Jewish patron Saul, who can be seen laughing with Clarence in the photo above.
The King returns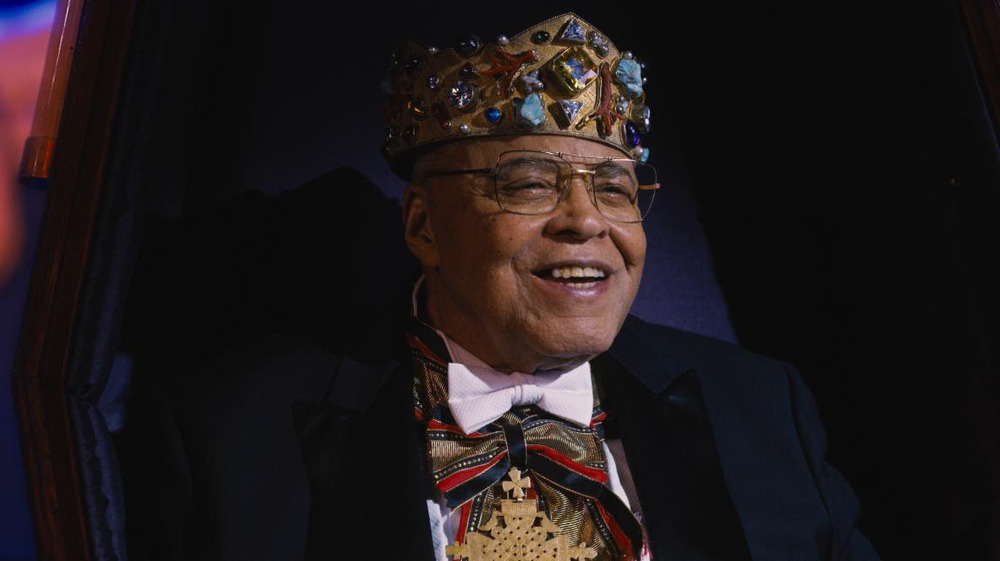 Amazon Studios
Returning cast members from the original Coming to America movie include Shari Headley as Lisa, Akeem's Queens-bred wife and the ascendant queen of Zamunda; John Amos as Cleo McDowell, Lisa's father and the owner of McDowell's, the knockoff McDonald's where Akeem and Semmi worked; and James Earl Jones as King Jaffe Joffer, Akeem's father and the retiring monarch, who can be seen in the photo above.
"When James Earl Jones came onto the set and [costume designer] Ruth Carter put that original crown on his head and said, 'Ladies and gentleman, James Earl Jones,' the crew just erupted in this applause," Brewer told Entertainment Weekly. "And he's just smiling because he gets to play this king one more time. It's emotional. I know we're making a comedy but it's bigger than a comedy. We really just were all so touched to be working on it."
Ruth Carter is a wardrobe department legend who won an Oscar for her costumes in Black Panther. More of her work in the film, including a gorgeous gown worn by Teyana Taylor, can be seen at Prime Video's Twitter account.
There aren't any photos yet of Wesley Snipes as General Izzi, the leader of a neighboring nation in conflict with Zamunda, but we're excited enough from the photos that just dropped that we can wait to see Coming 2 America in March.