Coming To America Sequel Assembles Star-Studded Cast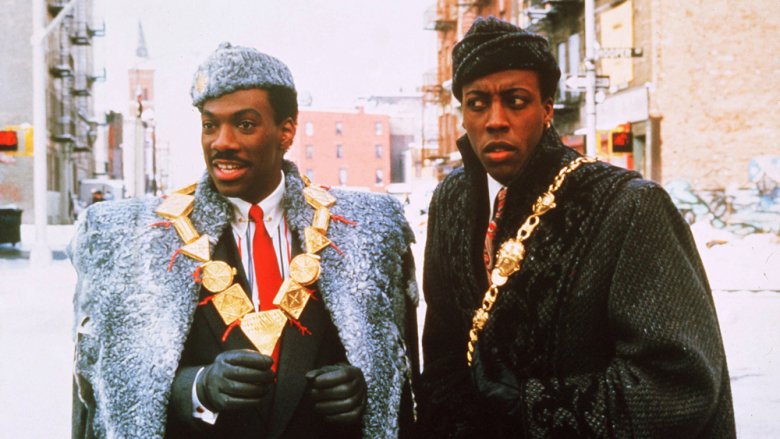 Yes, the future King of Zamunda is headed back to the mean streets of Queens, and the question on all of our minds is, "Will Akeem finally find out what dumbf*** means?"
Okay, that's probably not the question on most of your minds. The larger question may be, "Are they really making a sequel to Coming to America?" We've known for some time that the answer to that question is a definite "yes." We've also known that stars Eddie Murphy and Arsenio Hall (remember him?) are set to step back into the central roles of Prince Akeem and his right-hand man Semmi for the follow-up to the classic '80s comedy. Now, we know a few more familiar faces will be joining Murphy and Hall in the sequel, and that the likes of James Earl Jones and Wesley Snipes will be among them (via Collider).
For those of you who were not yet of age when the very hard R-rated, fish-out-of-water comedy donned back in 1988, Coming To America follows the story of an impetuous young prince (Murphy) from the fictional African nation of Zamunda who — hoping to avoid the trappings of an arranged marriage, and against the wishes of his father the king (Jones) — sets off for America with his best-pal-slash-assistant (Hall) to find a future queen of his own choosing. That search naturally leads him to the vaunted borough of Queens, New York, where the expected hi-jinks ensue. The sequel, stylishly titled Coming 2 America, will apparently pick up some years after Murphy married his Queens-born princess, and find his soon-to-be king ready to ascend to the throne. As it happens, he's also about to find out he has a son (and potential heir) he never new about back in Queens, which prompts a return trip to rough and tumble neighborhood. 
The film is penned by Black-ish creator Kenya Barris, will be directed by Craig Brewer (Hustle & Flow, Black Snake Moan, Empire), and is already slated for a December 2020 release. 
Circling back to the star-studded cast of Coming 2 America, Jones isofficially set to reprise his role as King Joffe Joffer. Paul Bates, who played Joffer's hilariously deadpan assistant-slash-bodyguard Oha, is confirmed to be rejoining his king for the sequel as well. Presumably re-entering Akeem's orbit is Shari Headley, who played Lisa McDowell — a.k.a. the heiress to the McDowell fast food franchise who fell in love and eventually married Murphy's prince in the original film.
Said union is apparently responsible for one of the new faces in the upcoming film. Per The Hollywood Reporter, If Beale Street Could Talk star Kiki Layne is set to play Akeem's daughter, who carries the burden of being pegged as the "son" Akeem never had. Obviously, that will complicate her relationship with Jermain Fowler's character, as he's set to play the actual son Akeem never knew he had (which raises the obvious question of who the boy's mother is). Though their roles are still unspecified, other new faces to the fray will be those of Snipes, Leslie Jones, and hip-hop icon Rick Ross.
Other than that broad snippet, little is known of Coming 2 America's plot, or how those new faces will ultimately factor into it. What we do know is that the sequel will apparently feature a subplot about a crazed African general out to assassinate Akeem, and it's widely speculated that Murphy will pull double-duty as the bloodthirsty leader. 
That should come as no surprise to fans of Murphy or the original Coming to America. The actor has long enjoyed donning makeup (usually courtesy of special effects guru Rick Baker) to play multiple roles in his films over the years, with him and Hall officially claiming four characters each in that film. You might remember that Baker officially retired from the movie biz a few years back, but here's hoping he can be coaxed out of retirement for some more madcap character play with Murphy and Hall — and maybe (fingers crossed) a return to the sidesplitting My-T-Sharp barbershop crew.  
Though we never imagined we'd see (or even need) a sequel to Murphy's 1988 classic, it seems the follow-up to Coming to America is really happening, and it's very much starting to take shape. Stay tuned for updates on the hows, whens, and whys surrounding Coming 2 America, which will hit theaters December 18, 2020.