The Breaking Bad Reference You Never Noticed In Amazon's The Boys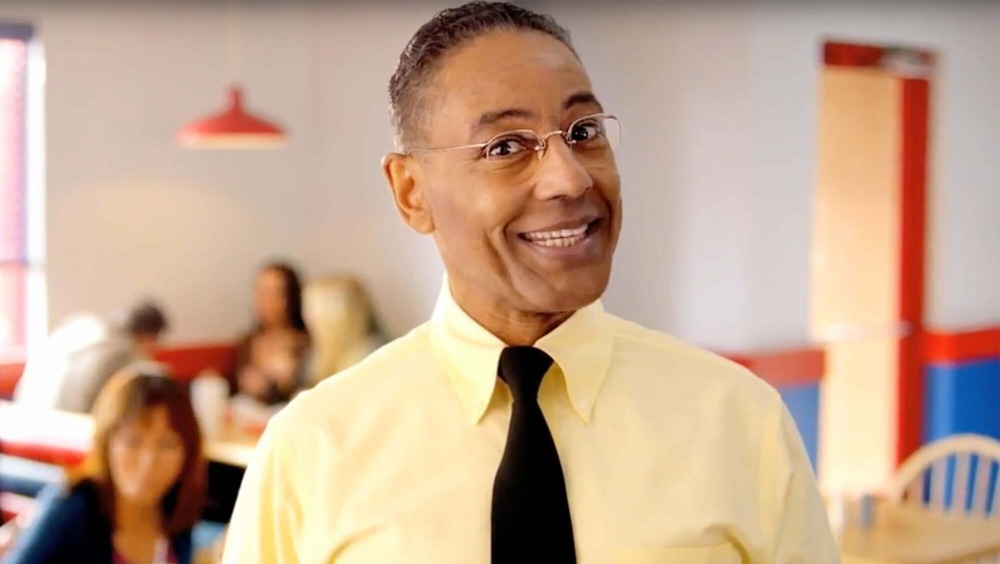 AMC
The Boys and Breaking Bad don't have all that much in common. The former is a superhero show committed to deconstructing the genre and using tropes to its advantage. The latter is a crime drama about a teacher-turned-drug maker and the destruction he leaves in his wake. You could draw a few parallels as far as certain themes go, and both could be classified as character studies, to an extent. But moment to moment, they're like apples and oranges.
One of the few blatant similarities between the two series is a shared actor: the inimitable Giancarlo Esposito. On The Boys, he plays Stan Edgar, CEO of Vought International, the corporation that produces Compound V, the drug responsible for the world's superheroes. So comfortable is he in his own power that he openly threatens Homelander (Antony Starr), whose abilities are on par with the likes of Superman. On Breaking Bad, of course, Esposito cemented himself in television history as Gus Fring: restaurant proprietor by day, drug kingpin behind the scenes. Cold and calculating, his ever-shifting partnership with Walter White (Bryan Cranston) is a highlight of the seminal series.
Different characters though they may be, it's hard to see Esposito and not immediately think "Gus!" It seems that The Boys' showrunners feel the same way, because Edgar makes a blink-and-you-miss-it Breaking Bad reference the very first time he's on screen.
Looking to retire? Edgar's got the perfect place!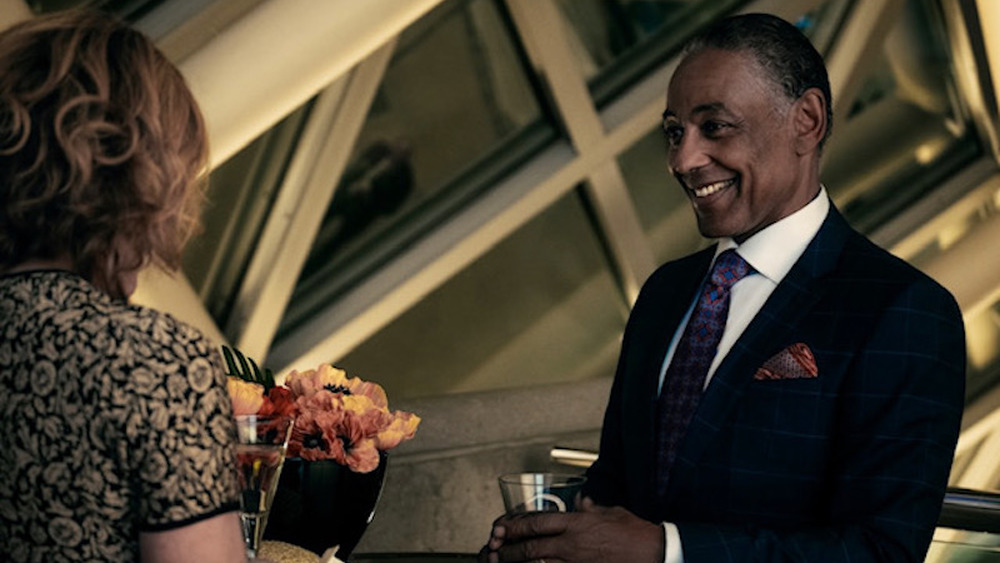 Amazon Studios
Introduced in the final episode of The Boys season 1, Edgar meets up with Madelyn Stillwell (Elizabeth Shue) — the woman who essentially manages The Seven, the world's preeminent superhero team — to congratulate her on her most recent success: linking superheroes to the military. For Edgar, however, a pat on the back is more than just a pat on the back. He gives Stillwell a, shall we say, generous bonus, and all but confirms that he wants her to succeed him at the highest levels of Vought.
With Stillwell's head in the clouds, Edgar reels her back down to Earth with a single statement: "Hey, don't go planning my retirement yet. Just saying, someone needs to run this s— show when I move to Belize."
Breaking Bad aficionados tuning into The Boys must've collectively leaped off of their couches when Esposito dropped the line. In Breaking Bad parlance, "sending someone to Belize" is a way of hinting that they're not going to last much longer. The understandable immediate reaction, then, is to think Edgar's on his way out. In actuality, however, Stillwell is the one who takes a one-way trip to Belize — courtesy of Homelander, who had a disturbing Oedipal relationship with her.
Season 2 ended in late 2020, and Edgar is still alive and kicking, but there's no telling whether he, too, will be on his way to Belize come season 3. In the meanwhile, you can catch Esposito as Moff Gideon on The Mandalorian, in the upcoming films Beauty and The Long Home, and in the 2021 video game Far Cry 6.