Star Wars: JJ Abrams Reveals Big Clue About Rey's Past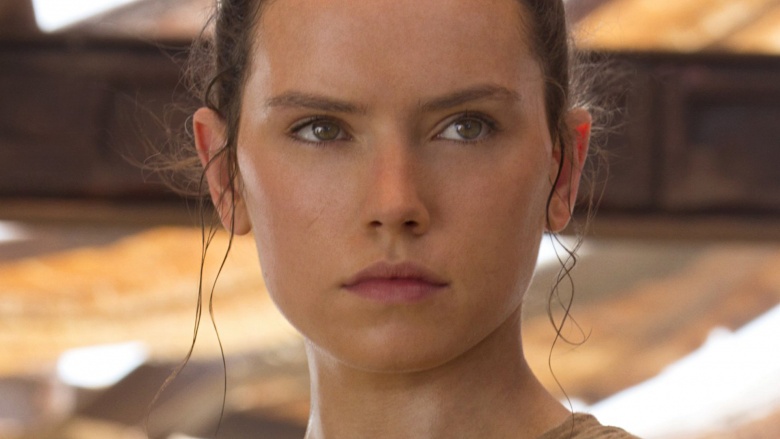 Contains spoilers for Star Wars: The Force Awakens
There are plenty of theories about who Rey (Daisy Ridley) really is in Star Wars: The Force Awakens, but director J.J. Abrams may have just torpedoed one of them.
He talks about Rey in a commentary track for the upcoming collector's edition of the Blu-Ray, and ScreenRant reports that a Tumblr user posted a transcription.
The main questions about Rey have to do with who her parents are. Some believe she could be the daughter of Han Solo (Harrison Ford) and Leia Organa (Carrie Fisher), which would make her the sister of the villainous Kylo Ren (Adam Driver). That would help explain how Ren seems to know who Rey is before they meet and the loving embrace she shares with Leia.
But, if the report is true, Abrams hints that Rey isn't related to the Solo family. Discussing the scene in which Ren chases her through the woods of Takodana, Abrams says, "They've never met, but he's heard of this girl." And when talking about that hug with Leia, he says, "This moment, I think, is actually lovely... These two women who'd never met knew of each other, and they're both Force-strong and they're both bound by their loss and their strength."
It sounds a lot like she has to be somebody else's kid. Of course, there could still be room for interpretation there. If Abrams is being sneaky (and we know he often is), it's entirely possible that Leia still could've birthed Rey, but that they were immediately separated. So Ren might never have met her before and Leia (technically) just might never have met her as an adult. But if Leia does "know of" Rey and realizes that she's her mother, you'd think she'd be a lot less willing to let her go again–especially when you consider how things are going with her son.
We probably won't know much more until Star Wars: Episode VIII is released Dec. 15, 2017. While we wait, check out another theory that ties Rey to one of the biggest villains in the galaxy.