The True Crime Mystery Series That's Dominating Netflix's Top 10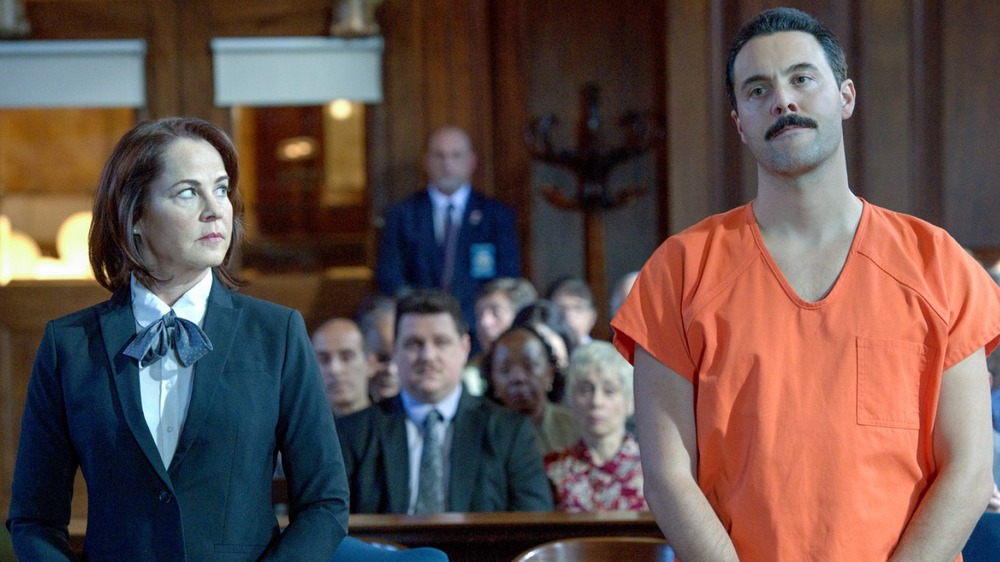 Discovery/Netflix
There's a new true crime series tearing up the Netflix Top 10 list, and it's got everything a fan of dramatized atrocity reenactments could want. Yes, Manhunt is back again, and this time, different stuff is getting blown up.
In its inaugural season, Manhunt: Unabomber gained a dedicated following thanks to its grim portrayal of the hunt for Ted Kaczynski, the convicted domestic terrorist whose decades-spanning crime spree saw three dead and 23 injured. Portrayed in the series by Paul Bettany, he was pursued by Sam Worthington's FBI agent Jim Fitzgerald, a real law enforcement officer turned amalgamation of historical figures for the sake of storytelling. Kaczynski (spoiler alert) was eventually apprehended in 1996, landing eight consecutive life sentences without the possibility of parole, and he remains incarcerated to this day. Good news for America, but severely limiting in terms of story ideas for a second season.
That's why season two of Manhunt, which is currently available to watch on Netflix, picked up with a whole different narrative — namely, that of the Olympic Park Bomber. As horrific acts of inhumanity go, his crime spree is significantly less well-known than the saga of the Unabomber, but every bit as rife with compelling drama.
Manhunt: Deadly Games brings the terror home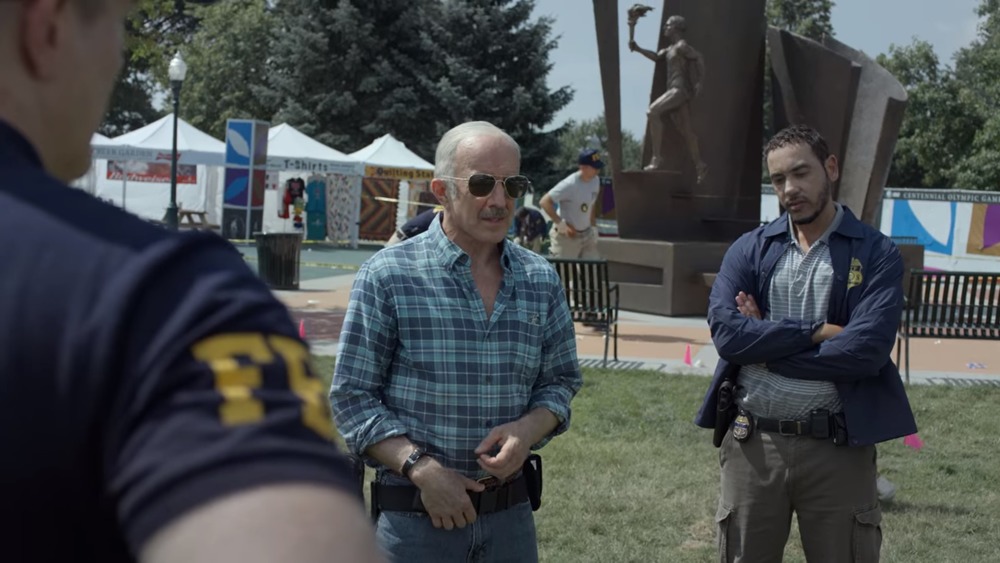 Discovery/Netflix
The anthology show's sophomore run, titled Manhunt: Deadly Games, tells the tale of "one of the largest and most complex manhunts on U.S. soil." It all starts with the Centennial Olympic Park bombing, a pipe bomb attack which directly killed one person, triggered a fatal heart attack in another, and injured more than a hundred during the Summer Olympic games. In the early hours of July 27, 1996, three explosive devices were detonated under a bench in Atlanta, propelling masonry nails into the air as law enforcement evacuated the area.
In a dramatic twist, security guard Richard Jewell, who found the explosives after a bomb threat was made to local 911 operators, was declared a suspect in the attack. Considered a "lone wolf" by the FBI, his home was searched, and media coverage of the investigation led to lawsuits that would outlive Jewell himself. Jewell, played on Manhunt by Cameron Britton of The Umbrella Academy, would be exonerated nearly three months later, but not before a grueling trial by the court of public opinion.
The actual culprit, Eric Rudolph, played by The Irishman's Jack Huston, would remain at large for more than five years, carrying out three more politically and religiously motivated bombings in 1997. Manhunt: Deadly Games tells these intertwining stories from several angles, with Rotten Tomatoes reviewers describing the season as "crisp, absorbing," and "a solid watch."