Why Nic Cage Stuck His Hand In A Fire Before A Season Of The Witch Scene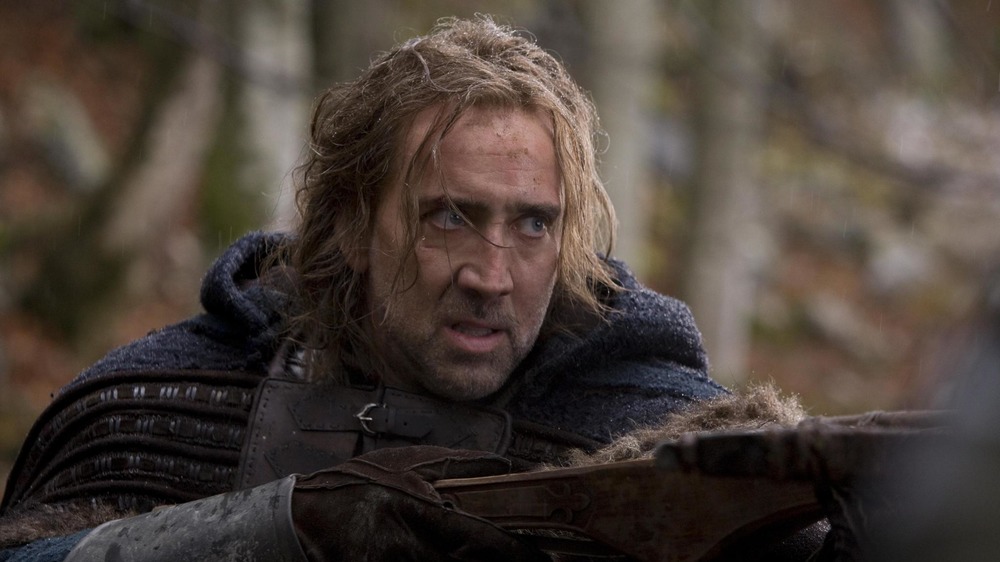 Relativity Media
Let's start by getting the obvious question out of the way. No, when Nicolas Cage intentionally stuck his mitt in a real-life fire during the filming of Season of the Witch — the 2011 supernatural action movie set during the Crusades, costarring Ron Perlman — it wasn't out of respect for his role as Ghost Rider, four years earlier. It also wasn't a high-profile stunt bid to return to the world of Ghost Rider, and it wasn't in preparation for the 2012 follow up Ghost Rider: Spirit of Vengeance, either. By all accounts, Johnny Blaze and his cursed dealings with the dark lord Mephisto never once entered into Nicolas Cage's decision to roast his own hand. 
Rather, it seems that his inspiration came from a case of what trained thespian circles refer to as "the silly giggles."
At least that's the story that The Umbrella Academy's Klaus, Robert Sheehan, told during an interview with the morning show Ireland AM this week. Sheehan was on the show discussing his quarantine project, a podcast called The Earth Locker, which he records with his Umbrella Academy co-star Tom Hopper. Over the course of the discussion, his work playing Kay in Season of the Witch came up, and he relayed a story about the extreme measures that his colleague went to in order to stay in character.
Nicolas Cage's burning need to succeed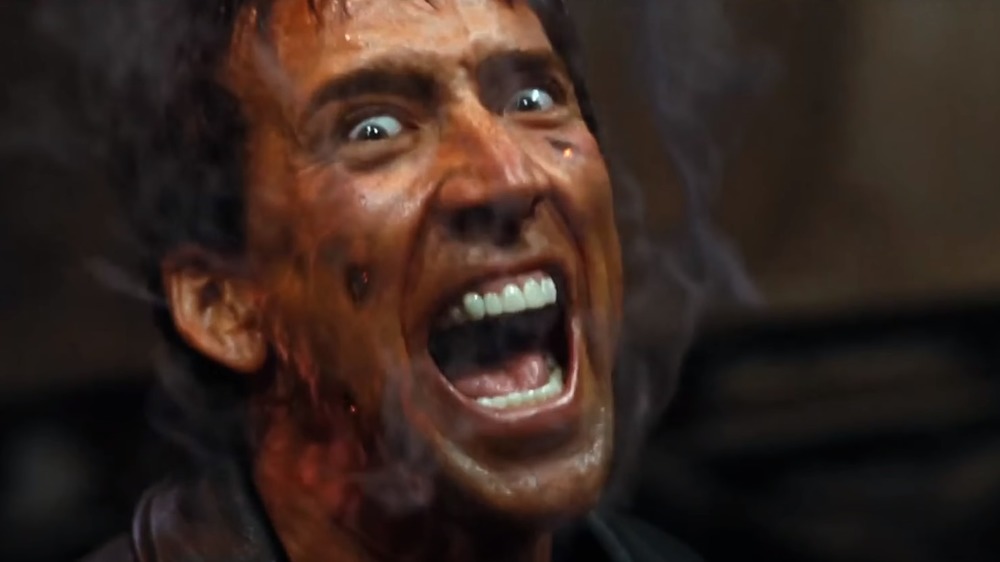 Sony Pictures
"We all sat around an artificial campfire in the forest," Sheehan recalled, about shooting the scene that led to the weirdness. "... and everybody kept laughing uncontrollably. And sometimes that can be incredibly contagious and difficult to get rid of."
He continued, "It got around to Nic's single and he got very, very nervous that he was going to be uncontrollably laughing, so he stuck his hand into the fire to try to, you know. And sears himself up. It didn't really work."
An extreme measure? Maybe for most people, but not for Nicolas Cage. And yes, there are plenty of tricks for actors who get the giggles. Maria Bakalova, who played Tutar in Borat 2, stopped herself from laughing during production by crossing her fingers and putting pressure on them. Alternatively, directors can go the Usual Suspects route, and include the footage where the actors can't keep a straight face. In general, having the star of the film set themselves on fire is considered, at best, an insurance nightmare. The fact that it apparently didn't help the Academy Award winner to keep a straight face just adds insult to, presumably, an actual injury.
It can only be hoped that Cage learned from the experience, and that next time, he'll skip all the "self-immolation" kid stuff and go straight for the bees.