Concept Art For The GoT Spin-Off House Of The Dragon Will Blow You Away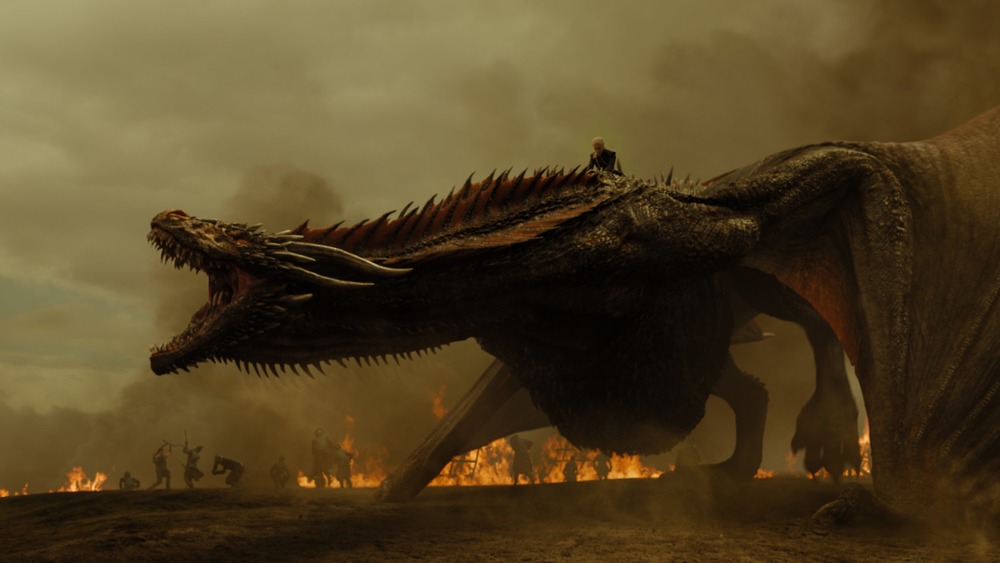 HBO
It has been a big news day for WarnerMedia and their signature streaming service, HBO Max. In a Medium post that potentially has significant implications for the entire film industry, the entertainment giant made the surprise announcement that their entire 2021 lineup of feature films will be simultaneously released in theaters and available for streaming for a limited time on HBO Max.
And yet, that's only one of the huge pieces of news included in the statement by WarnerMedia CEO Jason Kilar. In a postscript, he gave fans a look at two new pieces of concept art for the long-gestating and hotly-anticipated Game of Thrones prequel series, House of the Dragon.
The two images are drawings that depict different dragons, presumably in the style of what we can expect to see on the upcoming show. In one image, we see a closeup of a dragon's face, its ferocious jaws parted with a bit of drool dripping from its prehistoric-looking fangs. The other is a full body shot showing one of the beasts balanced on its hind legs, its wings folded at its side, and its chest out. Considering how awe-inspiring the dragon scenes from the later seasons of Game of Thrones are, these images are likely to get fans hyped for the dragon-centric prequel.
The concept art also came with a clue regarding when we can expect to see this new series.
Filming for House of the Dragon will begin soon
Okay, so the two House of the Dragon teaser images, one of which is shown above, are pretty cool on their own. But what's maybe even more juicy is the written postscript Kilar included. In it, he declared, "Principal photography starts on the next Game of Thrones series, House of the Dragon, in a few months. Look out for dragons overhead!"
While that's not exactly a proper release date, it's still a welcome update on a project that Game of Thrones fans are hoping will fill the Iron Throne-shaped hole in their hearts. And it makes determining the potential release window a little easier. If the series does indeed start filming in early 2021, there's a good chance we'll be seeing it premiere on HBO sometime in 2022.
Exact plot details of House of the Dragon have been kept mostly under wraps, but we do know the series is set around 300 years before the events of Game of Thrones. It will focus on House Targaryen, who once ruled Westeros thanks to the power of their signature beasts, and whose descendant Daenerys (Emilia Clarke) nearly succeeded in taking back control of the seven kingdoms after the family was cast out of power around the time of her birth.
Now that we've gotten a preview of the scaly good time we're in for with House of the Dragon, it should make the wait for the upcoming series a little easier to stomach.