Game Of Thrones Spoilers: Set Photos Reveal Major Alliance In Season 7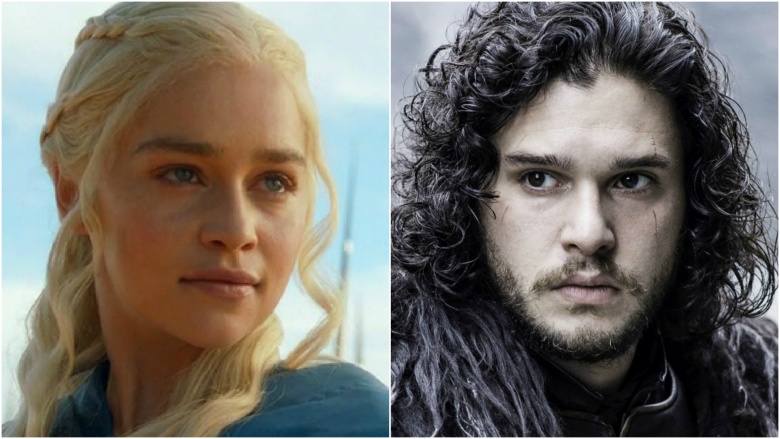 Contains spoilers for Game of Thrones 
It was bound to happen eventually, but it looks like ice and fire will finally come together in Season 7 of Game of Thrones.
The folks at Just Jared got their hands on new photos from the set in Spain, and they reveal that Daenerys Targaryen (Emilia Clarke) and Jon Snow (Kit Harington) will meet for the first time.
As Watchers on the Wall points out, it looks like they'll both arrive at a location that resembles Dragonstone, which would make sense. Daenerys is currently sailing toward Westeros, and Dragonstone–a place that would rightfully belong to her as a Targaryen–is geographically on the way to King's Landing.
This is a dragon-sized big deal. It means that Snow and his army in the North will likely form an alliance with Daenerys and her fleet to take on Queen Cersei (Lena Headey) and the White Walkers. Of course, none of this is confirmed and it's possible that the pair won't necessarily be on the same page. And if they do join forces, it's not yet clear how they would plan to defeat their very different enemies. But we think Jorah Mormont (Iain Glen) will play a role in bringing them together.Their meeting is significant for another reason, too.  In the Season 6 finale, we learned that Jon Snow is actually the child of Ned Stark's sister, Lyanna, and Rhaegar Targaryen, the son of the Mad King and brother to Daenerys. That means that Dany is Jon's aunt, although neither know it yet. Dany is looking for a potential suitor, so hopefully someone first refers to Ancestry.com.
We'll have to wait a little longer than usual to find out how this all plays out. Production on Season 7 was delayed so that winter could come to Westeros, and the premiere will be pushed to the middle of 2017. Meanwhile, another video from the set hints that we might also finally see the return of one long-lost character.