Exclusive Clip: The Movie Show's Newest Episode Features Hilarious Michael Myers Sketch
You know what they say about the Horror of Haddonfield: He never rests in peace. Or really ever, actually. Halloween's Michael Myers can die ten times and come back to life ten more, or be detained and still find a way to break free and terrorize his Illinois stomping grounds. It's a phenomenon that horror fans have discussed for years, and that Syfy's puppet-hosted public access movie review show The Movie Show now pokes fun at in its newest episode.
The network's late-night comedy series returns tonight, December 3, at 11 PM ET with its horror-centric episode "The Movie Show Does Horror." Ahead of the episode's premiere, Looper is thrilled to share an exclusive clip, shown above. 
In the clip, The Movie Show's polar-opposite hosts Deb (voiced by Adam Dubowsky) — a movie nerd, film critic, and Jurassic Park enthusiast with encyclopedic knowledge about everything film-related – tells the audience that 2018's Halloween reboot is perfect for anyone wanting more of the "creepy villain [they] love to hate," Michael Myers. Deb's co-host Wade (voiced by Alex Stone), a self-professed "artist of the highest integrity" whose taste in movies skews toward explosion-filled bonanzas that Michael Bay might direct, poses a good question: "How do they keep making these movies if they've got Michael Myers locked up?" 
To answer that question, Deb introduces a "deleted scene" from the film. In actuality, it's a sketch put together for The Movie Show — and it's pretty darn hilarious, centered on a doctor telling his nurses that they'll be transferring patient 32, Michael Myers himself, on Halloween night. A nurse smartly brings up the fact that they "do this every year" and Michael always escapes and ends up going on a killing spree, so they probably shouldn't go through with the transfer — at least not on October 31, Michael's favorite day of the year. When the doctor says they have to do it on Halloween, the nurse brings up a harrowing fact connecting the doctor to Michael Myers. 
Scream fans will also want to tune into The Movie Show's upcoming episode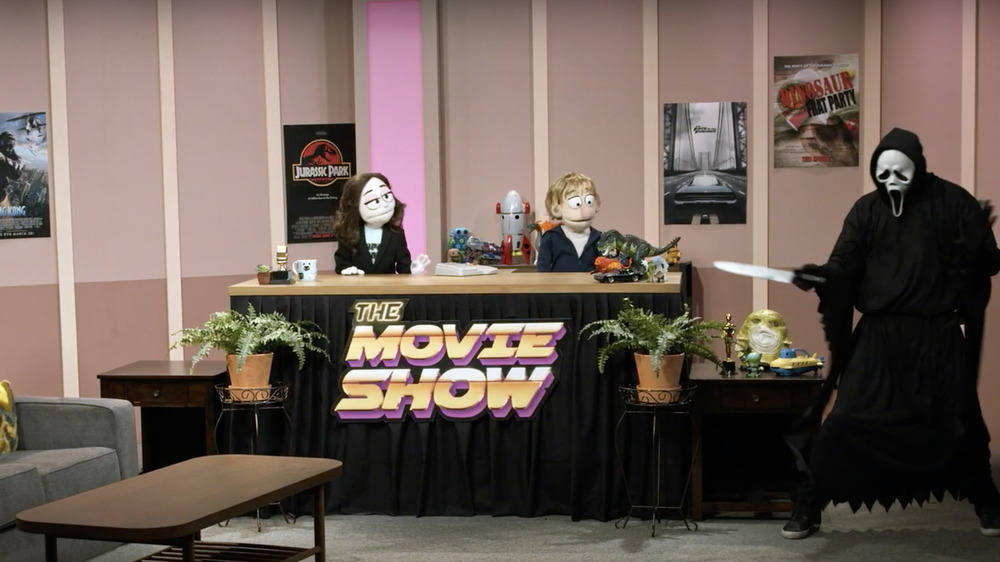 Syfy
Not only will "The Movie Show Does Horror" feature some Halloween goodness, but it will also bring Scream into Deb and Wade's studio — quite literally. Another exclusive clip from The Movie Show's upcoming episode, shared with Dread Central earlier today, sees a man dressed as Ghostface from the Scream franchise causing all sorts of chaos in the studio.
The fun of The Movie Show doesn't start and stop with episode 3, of course. Airing new episodes each Thursday, the series finds Deb and Wade providing their insightful commentary and red-hot takes on classic movies like Back to the Future as well as upcoming flicks like the super-sized Wonder Woman 1984 and Guardians of the Galaxy Vol. 3. Plus, The Movie Show episodes feature "deleted scenes" and interviews with everyone from Jaws' Bruce the shark, Teenage Mutant Ninja Turtles' Splinter, and horror maestro Stephen King ... 's laptop. Y'know, the typical interviewees you might see on late-night talk shows. 
If this sounds like your cup of pop-culture tea, tune into The Movie Show on Thursdays at 11 PM ET on Syfy. Episode 3, "The Movie Show Does Horror," premieres tonight — same time, same place.