The Untold Truth Of Hello Kitty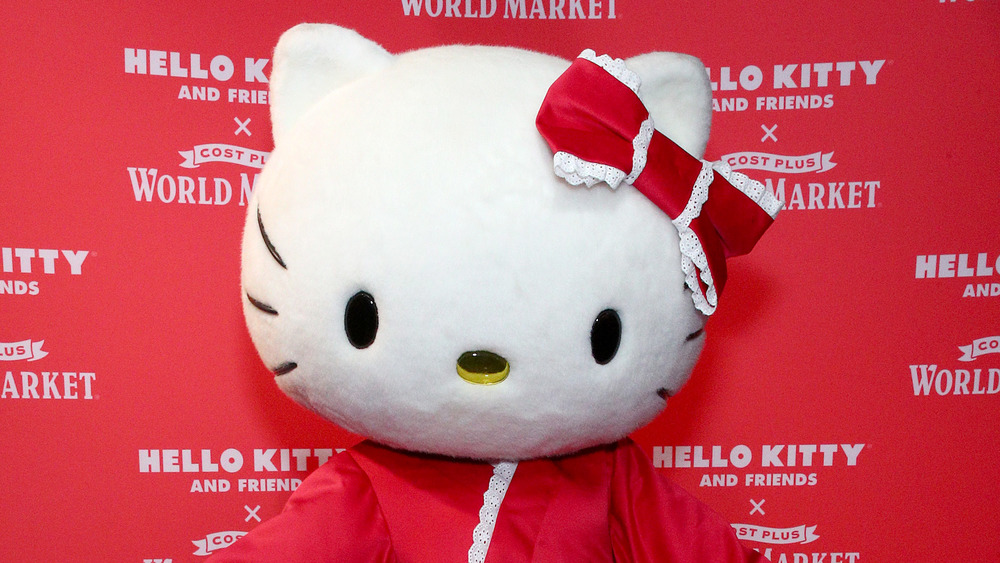 Astrid Stawiarz/Getty Images
We may receive a commission on purchases made from links.
Some pop culture icons born in the 1970s turn the world on with a smile. Not Hello Kitty. She climbed her way into worldwide recognition without even a mouth — just two eyes, six whiskers, and a little yellow spot of a nose. She needs no mouth because she speaks from the heart and "isn't bound to any particular language," according to her corporate owner, Sanrio.
As that description implies, Hello Kitty is incredibly cute, but not in a cloying way. Like her snowy white color, she's cuteness distilled to its loveable, unspoiled essence. "Hello Kitty is friendship and all things pure and sweet and cute," says Sarah Walsworth, former brand visuals manager for Sanrio North America in the Netflix documentary series The Toys That Made Us. Her simple design and abstractness are part of her enduring appeal, adds Christine Yano, Ph.D., an anthropologist at the University of Hawaii and author of Pink Globalization: Hello Kitty's Trek Across the Pacific. Consumers have embraced Hello Kitty to negotiate nostalgia, gender, and even national identity. "She could mean so many things to so many people," Yano details in The Toys That Made Us. "It's part of that blankness that allows you to fill in whatever you want Hello Kitty to be."
Hello Kitty isn't completely ambiguous, however. Let's learn more about this icon, who goes way beyond cute.
Snoopy inspired her creation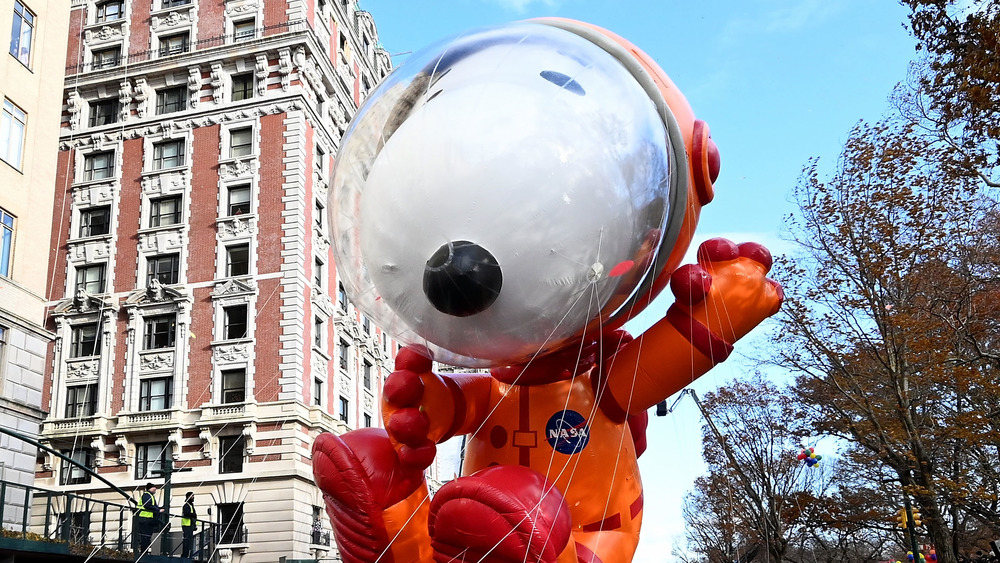 Kevin Mazur/Getty Images
Merchandising may be a dog-eat-dog world, but for Sanrio, one top dog proved key to Hello Kitty's future. In Japan in the 1960s, bureaucrat Shintaro Tsuji quit his job to found Sanrio, a company producing tiny gifts based on the cultural tradition of thanking a host or a guest with a trinket. The company's motto, "Small gift, big smile," continues to reflect this history. It was a practical time, but as Tsuji says on the company's website, Sanrio nevertheless thought people would "find joy and hope in beautiful, fanciful things."
Sanrio's first hit product was a white teapot with a pattern of tiny strawberries, a dab of cuteness and whimsy that the company soon applied to slippers and other items, as The Toys That Made Us notes. But Tsuji wanted a breakout hit beyond housewares. He noticed the popularity of Peanuts and Snoopy in the United States and obtained a license for Sanrio to produce Peanuts products in Japan. Snoopy and the gang went over big, but Tsuji grew tired of paying royalties, so his company researched other popular and cute animals. Number two on the list? A white cat. As the documentary explains, some religions don't like dogs.
A small-change debut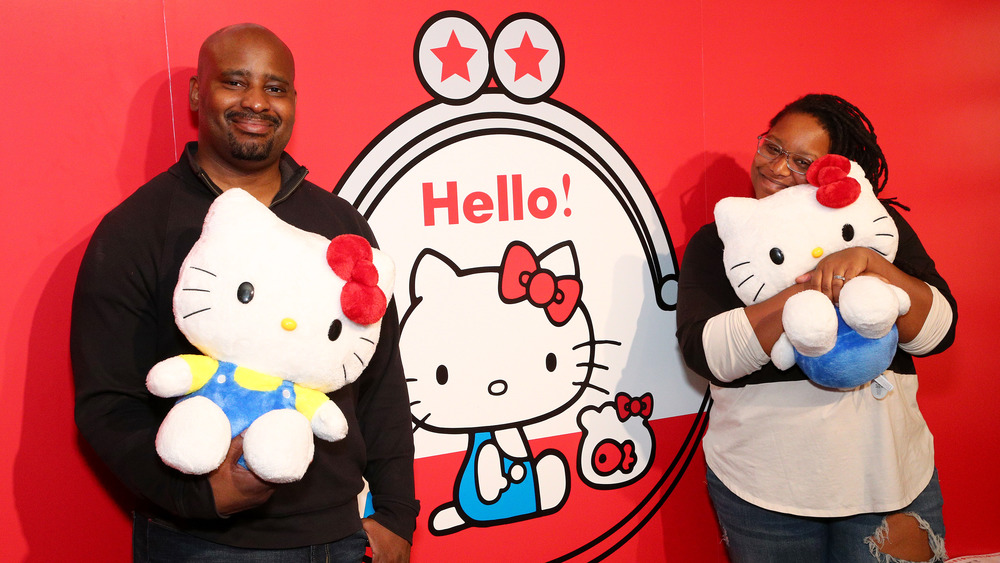 Astrid Stawiarz/Getty Images
Drawing from Japanese comics artists and illustrators of the time, Sanrio debuted Hello Kitty's first design in 1974, from artist Yuko Shimizu. She was depicted on a simple vinyl coin purse. The kitty had no name on the product, she just sat on the grass in her blue overalls with a red bow on her left ear. But the purse bore a cheerful "Hello!" in red that eventually became linked to Kitty's name. Although Hello Kitty's outfits have changed somewhat over the years, the look of the character has remained basically the same. Notably, she wore sunglasses in 2009 to reflect other celebrities who wear them to avoid being recognized.
In 2014, the company Loungefly replicated the original coin purse for Hello Kitty Con, a traveling exhibition of all things Hello Kitty in honor of her 40th birthday. The original purse, which sold for less than $1 USD at the time, would probably be worth about $3 million to $5 million nowadays, as noted in The Toys That Made Us.
She's a Japanese icon with a British backstory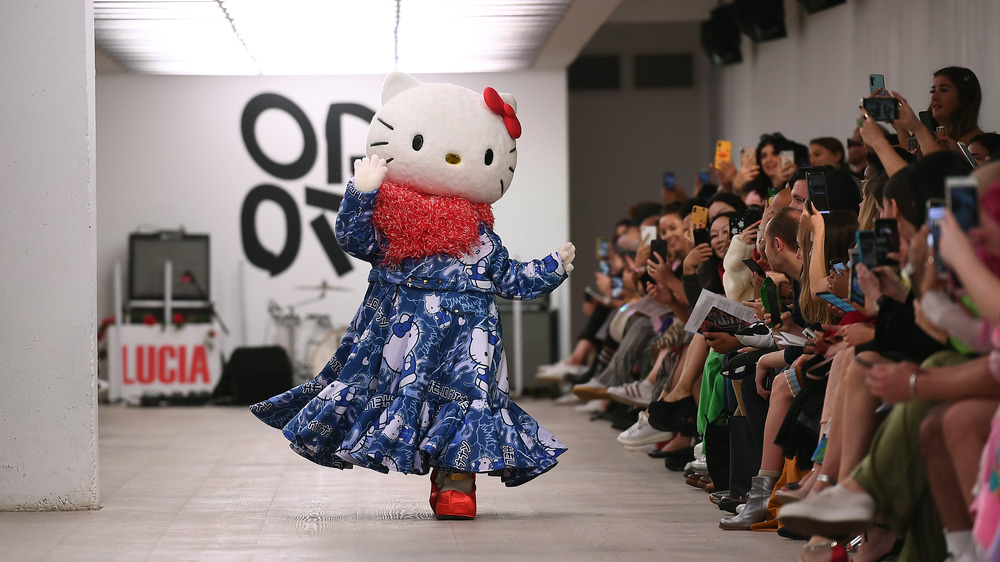 Jeff Spicer/bfc/Getty Images
This particular fact baffles a lot of people, even longtime Hello Kitty fans. "She's not even Japanese?" asks fashion designer and huge Hello Kitty fan Kimora Lee Simmons in The Toys That Made Us. After all, Sanrio started in Japan, and Asian children, especially girls, adopted her as a symbol. "It was like, the boys had Bruce Lee, we girls had Hello Kitty," Christine Yano says. What's more, the Japanese American National Museum in Los Angeles featured an exhibition, "Hello! Exploring the Supercute World of Hello Kitty," for the character's 40th birthday. So how can she be British?
Back when Hello Kitty debuted, England was the aspirational place to be. "Her life is set just above that of Japanese girls," explains Hello Kitty's head designer Yuko Yamaguchi, who started at Sanrio in 1978. "Around the time Kitty was born, England was the dream country of all the girls in Japan. So we fit her in English life." Officially, the character's full name is Kitty White. She's a Scorpio with a birthday of November 1. She lives in suburban London with her parents, George and Mary, and she has a twin sister, Mimmy, who wears a bow on the opposite ear.
She's not actually a cat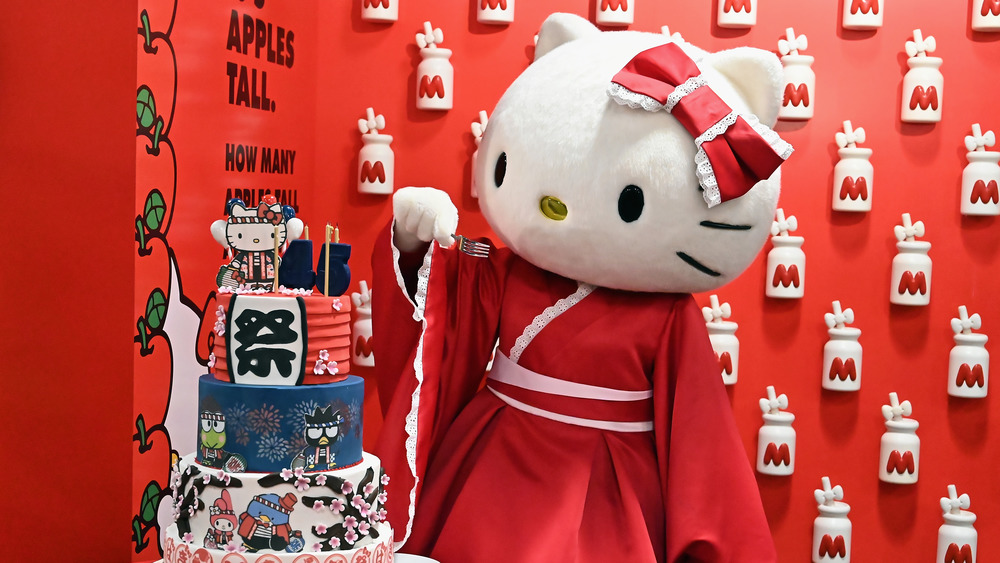 Astrid Stawiarz/Getty Images
Um, what? The Verge and Entertainment Weekly were among the many outlets in 2014 who couldn't wrap their heads around this one. But Sanrio is quite specific: Hello Kitty is a girl. She's a cartoon character and a friend, but she's definitely not a cat. The company describes her as being five apples tall, weighing three apples, and having blood type A. She loves apple pie. She also has a pet cat, a white Persian named Charmmy Kitty, introduced in 2004 during a reported pet boom in Japan. Huh? 
Jamie Rivadeneira, founder and owner of the Los Angeles pop culture boutique JapanLA and curator of the Japanese American National Museum's Hello Kitty exhibit, sheds a little more light on this in The Toys That Made Us. "Hello Kitty is a girl who happens to be a cat," Rivadeneira details, "Charmmy Kitty is more like a cat who has a cat personality." Still confused? Charmmy Kitty always walks on four paws and meows. Hello Kitty, in contrast, is bipedal.
She started through door-to-door sales and loads of tiny items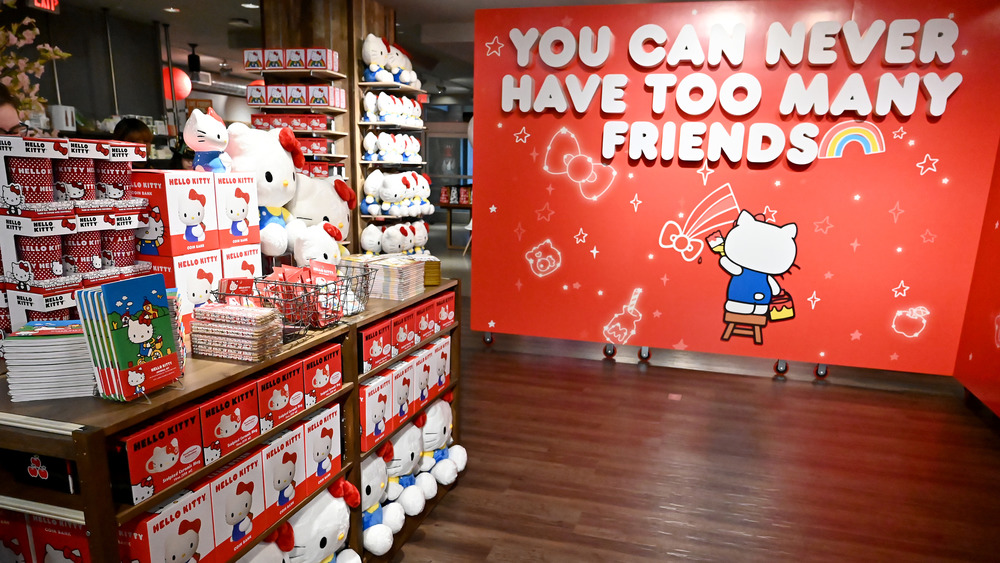 Astrid Stawiarz/Getty Images
Since her debut, Hello Kitty has branched out into video games, an album, comics, three Japanese anime movies, web shorts, and about a dozen animated TV shows. But when she arrived in California in 1976 to break into the American market, Sanrio salespeople literally went door-to-door to introduce merchants to her, showing off her many quaint and cute accessories to entice them into keeping Hello Kitty in stock. "People hadn't seen all this little stuff before," notes Bill Hensley, former marketing director of Sanrio North America in The Toys That Made Us.
Those hundreds of little items were part of Hello Kitty's charm. Sanrio promised at least 100 new items each month, all priced just right for a kid's purchasing power. It would take a while for Kitty to stand out, even among the Sanrio crowd — the company has created more than 400 characters for its products — but even now, her vast array of items is part of what Hello Kitty fans love.
A relatable makeover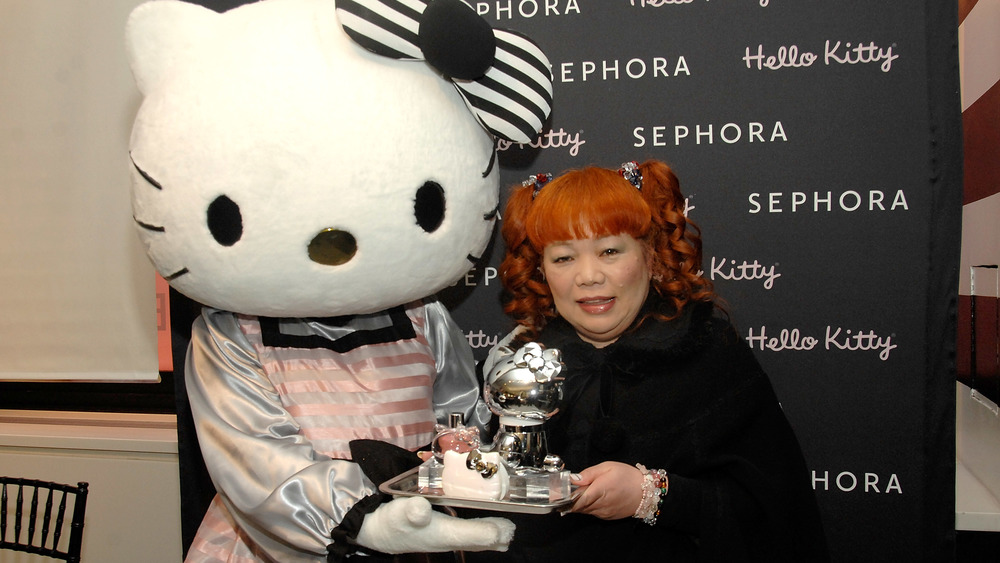 Ben Gabbe/Getty Images
Hello Kitty's basic design hasn't changed much over the years, but she clearly has a fashion sense and personality. This is all thanks to head designer Yuko Yamaguchi, who is nicknamed "Kitty Mama" at Sanrio. When she joined the company in the 1970s, Yamaguchi made what some considered groundbreaking changes to the character. The company had developed a bio for Kitty White, including that she loved to bake cookies and wanted to be a professional pianist. But none of her products or artwork depicted her with a piano. So Yamaguchi drew her with one, creating a connection with young fans who also liked music. 
Yamaguchi also changed up Kitty's outfits. "I wanted to give her a lot of clothes just like I had a lot," she says in The Toys That Made Us. She never draws Hello Kitty with a mouth, though. There's a deeper meaning behind her not having one, explains Sanrio founder Shintaro Tsuji in the documentary: "Having no mouth means we need to express with our actions, not only by words."
She speaks, but only sometimes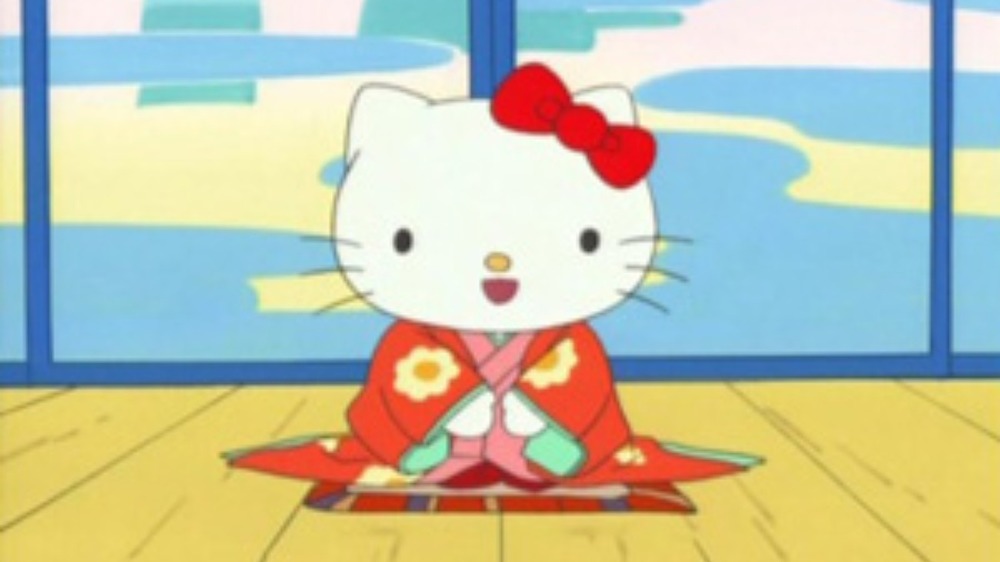 Although Sanrio stands firm in asserting that Hello Kitty has no mouth, the character had one in 1987 when she broke into animation with Hello Kitty's Furry Tale Theater. The show lasted for 13 episodes, each taking place within Hello Kitty's London theater, where she spoofs well-known stories with her friends in productions like "The Wizard of Paws." Longtime voice actor Tara Strong (Teen Titans Go!, Unikitty!, The Powerpuff Girls) gave Hello Kitty her speaking voice in Furry Tale Theater, including exclamations like, "Oh, cat-nabbit!"
A lot of fans find it weird to see Hello Kitty with a mouth, The Toys That Made Us notes, but the character has kept on chatting in animation. She speaks in Hello Kitty and Friends, which aired briefly on Toon Disney in the late 1990s, Hello Kitty's Animation Theater, the clay-animated series Hello Kitty's Stump Village, the flash-animated web series The World of Hello Kitty, and Growing Up With Hello Kitty, which focuses on Kitty and her sister Mimmy learning life skills such as cleaning up a messy room and talking on the phone. By far the character's biggest TV success is the children's variety series Hello Kitty's Paradise, which aired on Tuesday mornings in Tokyo from 1999 to 2011 and was partially adapted for US television.
She's a kawaii giant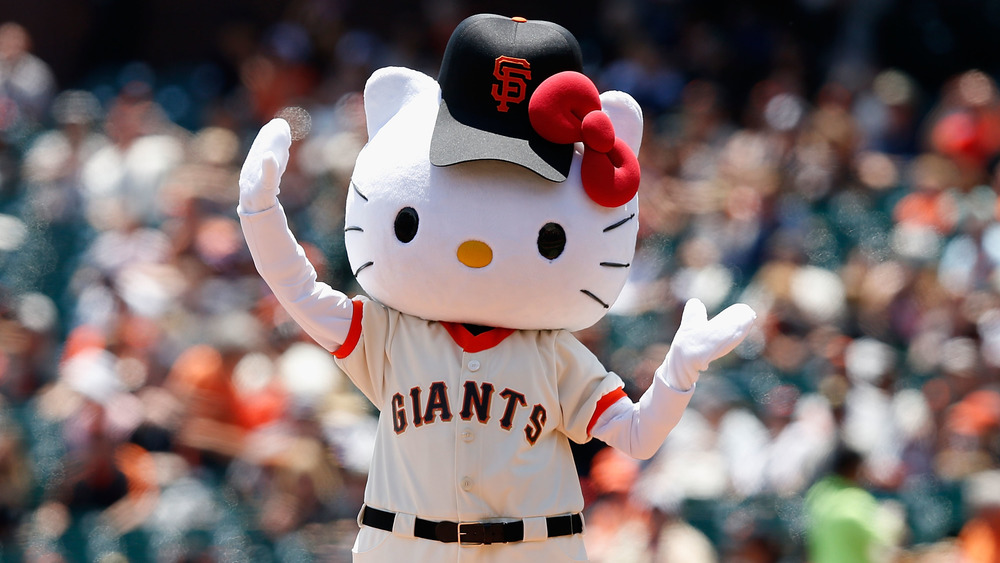 Lachlan Cunningham/Getty Images
With more than 50,000 branded products in more than 130 countries, Hello Kitty is an icon of kaiju-like proportions. Her popularity began to take off in the 1980s when Japanese culture embraced pop idols such as Seiko Matsuda, who wore frilly dresses and giggled on camera. Kitty, called "Kitty-Chan" among Japanese people, is a symbol of modern Japanese popular culture and represents kawaii, a term that refers to small children, babies, and small animals -– basically anything that's helpless and needs care, according to blogger Yumi Nakata, who moved to Southern California for college after growing up in Japan. Japanese people work long hours and are under enormous social pressure, Nakata details, and both men and women there are drawn to the comforts of youth and cuteness.
Hello Kitty also has connotations of vulnerability, "charm, openness, and naturalness." She's like Pikachu and other Pokémon in those respects, just without the Poke Ball — although you can tuck one of her plush dolls or mini notebooks in your pocket.
She has a boyfriend ... sort of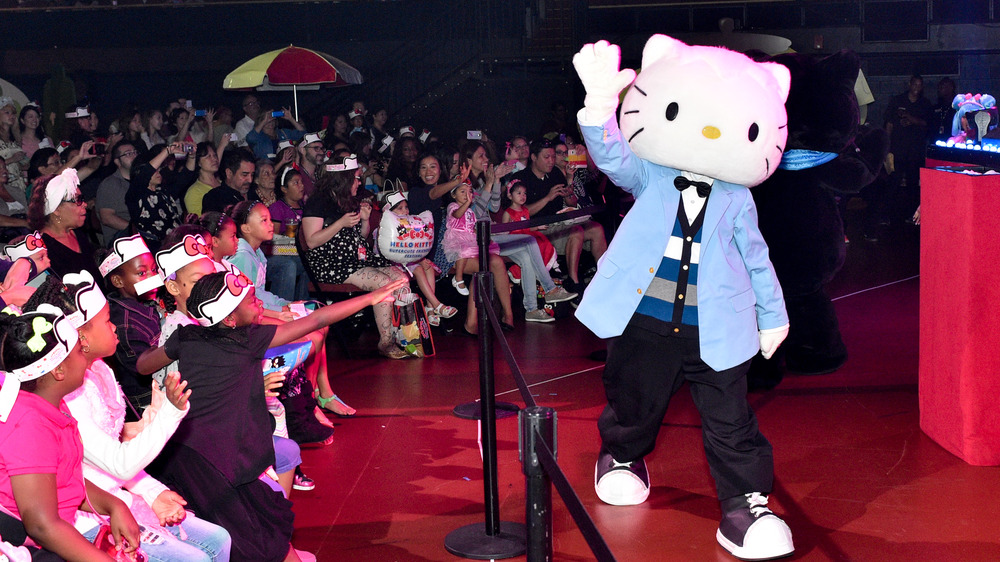 Stefanie Keenan/Getty Images
Before the late 1990s, Japanese pop idols tended to maintain a cute mystique, never revealing anything about their personal lives. But when several singers revealed they had boyfriends, Sanrio and Yuko Yamaguchi decided that Hello Kitty, who is a pop idol herself, needed one too. 
Enter Dear Daniel, AKA Daniel Starr, a sensitive boy who has known Hello Kitty since they were babies. Daniel moved to Africa with his father, who is a photographer, and traveled the globe before returning to London to reconnect with his dear friend. He has ultra-spiky hair, loves cheesecake and yogurt, and enjoys dancing and playing the piano. He also gave Hello Kitty her pet hamster, Sugar. Awww.
Merchandise depicts the fuzzy pair variously: Sometimes they're just pals, and sometimes they're a romantic couple. In 2000, McDonald's adorably promoted the two as a bride and groom in traditional Korean, Chinese, and Japanese outfits.
Going from cute to cool in a wink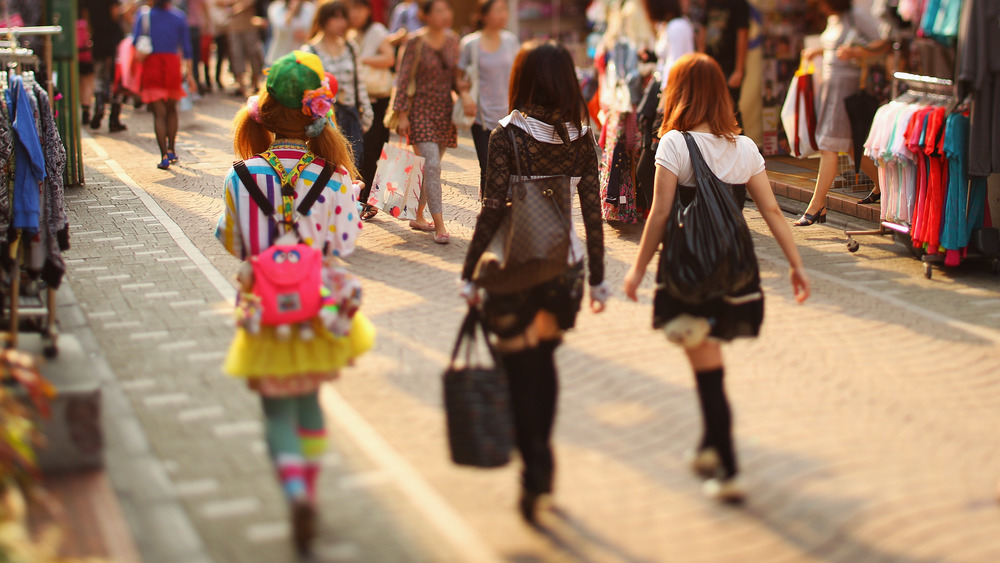 Mark Kolbe/Getty Images
Around the late 1990s and early 2000s, Hello Kitty transformed from merely cute to ironic and cool. Anthropologist Christine Yano noticed that some products of the time depict her with a wink instead of an innocent stare. This connected with fans in a new way. As Yano writes in her book, "The wink creates the possibility of two-way interactions whereby cute might be cool and vice versa, kitsch might be art and vice versa, Hello Kitty might become anything at all and vice versa."
This era also saw the rise of the Harajuku fashion scene, which embraced all things cute and colorful, including Hello Kitty. Noticing the character's popularity, Sanrio decided to rebrand and relaunch Kitty as a celebrity and not just part of Sanrio's entourage, which includes Chococat, Keroppi, My Melody, Badtz-Maru, and Kuromi, the skull-loving impish member of a tricycle gang. Hello Kitty popped up not just on posters, pencils, keychains, and other kid fare, but on adult items such as travel bags, cosmetic brushes, bras, consumer electronics, and duct tape as well, signaling to adults that it was okay to flaunt the cute.
As more celebs love her, Hello Kitty goes glam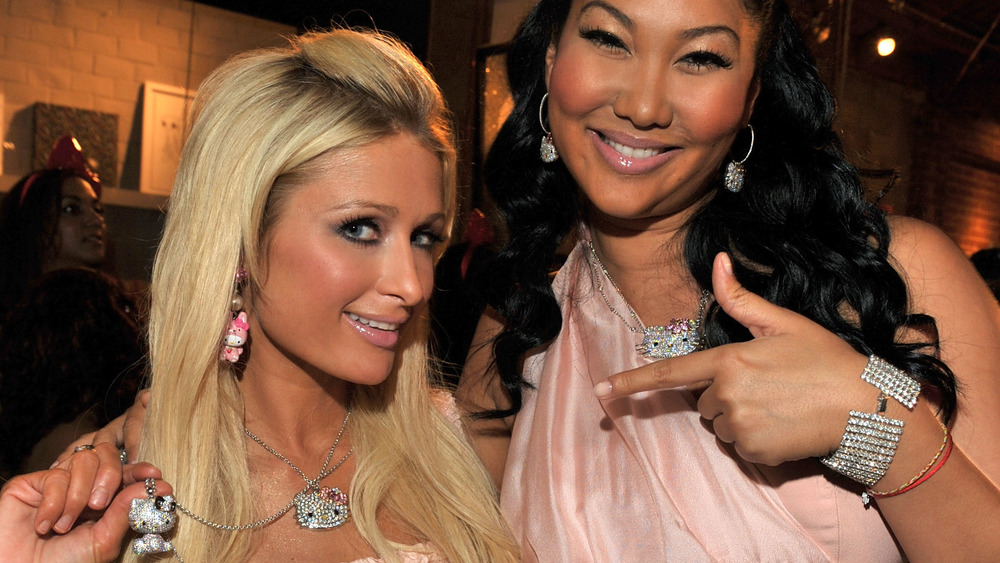 Lester Cohen/Getty Images
Sanrio doesn't have paid relationships with celebrities, according to its marketing officials. So anytime that a celebrity wears something emblazoned with Hello Kitty, as everyone from singer Mariah Carey to hotel heiress Paris Hilton has done, the affection is genuine.
That said, when high-rolling celebrities want to express their love of Hello Kitty, it's not hard to find something bearing her adorable image in a higher price range. Sanrio has teamed up with collaborators such as NYLON magazine to offer fashion for grownup fans, including items like red-and-white Hello Kitty bomber jackets and Badtz-Maru-printed dresses. Kimora Lee Simmons, long dazzled by Hello Kitty, made the character downright sparkly with a Hello Kitty jewelry line that includes an 18-karat white gold pendant with diamonds embedded in Hello Kitty's face. Jewelry and accessory company Swarovski has also jumped onto the haute Hello Kitty train and crafted crystal figurines like Hello Kitty Traveler, a depiction of the character on the move with a purple suitcase.
In space or with coffee, she's sweetly down to earth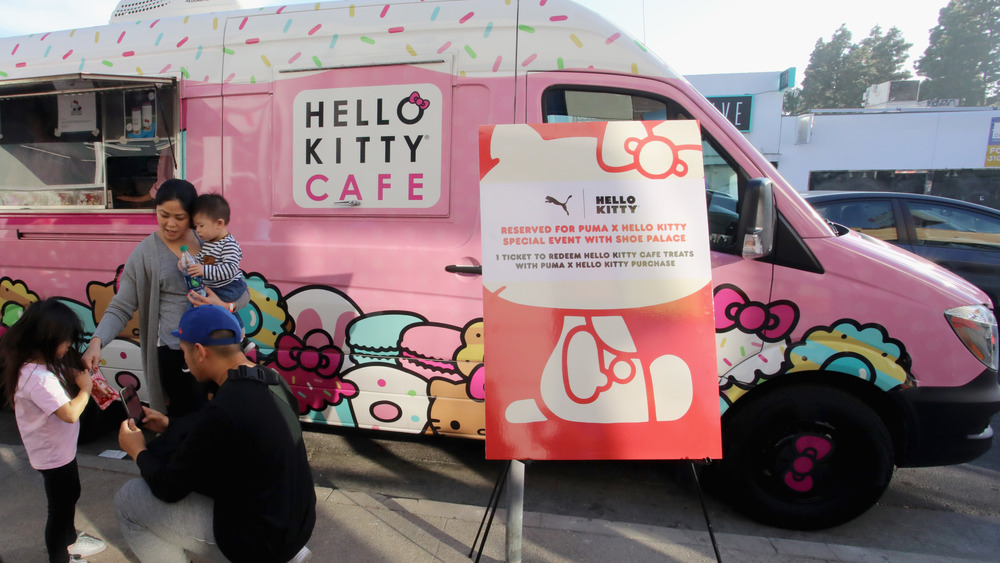 Rachel Murray/Getty Images
Hello Kitty has amassed a vast empire since she debuted more than 40 years ago. In 2019, Sanrio recorded a net income of 190 million Japanese yen (about $1.8 million U.S.). Even as the company branches into edgier characters, such as the angry red panda Aggretsuko and the lazy egg yolk Gudetama, Hello Kitty remains its favorite ambassador. Japan even launched a tiny Hello Kitty figure (about 1.6 inches tall) aboard a satellite in 2014, to promote the country's "high-tech industry and economic growth."
Back on Earth, Sanrio offers many creative ways to say hello to the sweet sensation, such as enjoying cookies, cakes, donuts, and hot and iced drinks at Hello Kitty cafes in Irvine, California, and Las Vegas, Nevada, and their traveling café trucks. For all this expansion, Hello Kitty's success hearkens back to simplicity. "The world is getting complex and hi-tech. Something as simple and low-tech as Hello Kitty seems to speak to a nostalgic impulse to get back to simpler things, simpler times," Christine Yano once said. "She becomes that cute, mute object that accepts you no matter what you do."