Why This Stranger Things Newbie Looks So Familiar To Netflix Fans
It may be some time yet before we're blessed with a fourth season of Stranger Things, but fans of the uber-popular Netflix series already have plenty to look forward to: the highly possible return of a fan-favorite character previously presumed dead, and (at least) eight new characters.
The announcement of new characters joining the Stranger Things fold in season 4 was shared on the show's official Facebook page in late November 2020. Among the names on the list of actors joining the cast is Eduardo Franco, who will be portraying Argyle, a "fun-loving stoner, pizza delivery boy, and Jonathan's new best friend."
For now, the plot of Stranger Things season 4 remains largely a mystery; a teaser released earlier this year showed a — SPOILER ALERT — hardened Jim Hopper (David Harbour) very much alive but toiling away at what appears to be a Russian railroad. Unfortunately for viewers, the clip, which clocked in at under one minute, made no mention of any other characters, which is even more frustrating when you consider how the previous season came to a close. At the end of Stranger Things season 3, the core group seemed to be splitting off, but at least we know one detail so far: In Franco's character, Jonathan (Charlie Heaton) will finally have someone to hang out with besides his girlfriend and a gang of kids.
Wondering why Franco looks strangely familiar? You're probably not alone there. Here's where you've seen this Stranger Things newbie before.
Eduardo Franco from Stranger Things season 4 starred in other streaming projects, plus a handful of movies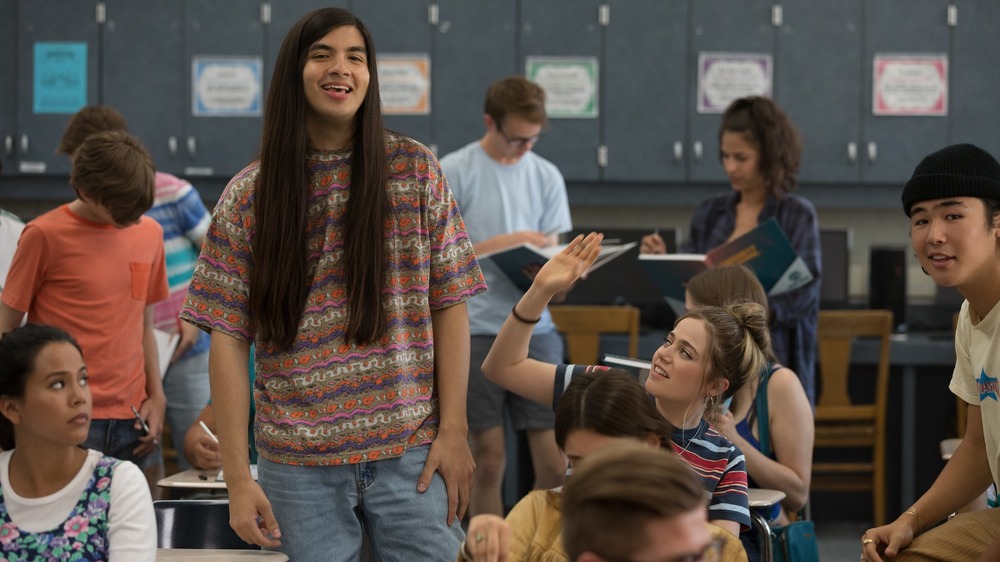 United Artists Releasing
Before landing the role of Argyle in Stranger Things, Franco, who's known for his signature waist-length hair, appeared in a number of other streaming productions. He can be seen as Spencer Diaz in the first season of Netflix's mockumentary series American Vandal, as well as in Netflix raunchy coming-of-age comedy The Package, in which he played Jeremy Abelar. Franco then starred opposite Vince Vaughn in the Hulu stoner comedy The Binge, which hit the streamer in August 2020.
Some may also recognize Franco from his role in Booksmart, the 2019 teen comedy that marked actress Olivia Wilde's feature film directorial debut. In it, Franco plays Theo, a side character who's infatuated with one of his teachers, portrayed by the ever-lovable Jessica Williams. Surprisingly enough, Franco's memorable appearance in Booksmart almost didn't happen; he originally auditioned for another role, but Wilde and the casting director liked him so much that they created a part just for him (via Remezcla).
Most recently, Franco popped up in the romantic action-comedy film Superintelligence, playing a character named Todd alongside lead actress Melissa McCarthy as Carol Peters, an average woman selected to be observed by the first-ever superintelligence that might destroy the world.
These days, Franco is grateful for the success he's seen so far, he explained to Remezcla in 2019. "My parents are happy for me. And they're proud of me. I can't believe a lot of the things that happened in my life right now. You know, I'm just working toward a better future. That's it," he said. "Trying to get to a point in life where you sit down and realize, 'Wow, you know? I made all that!' I'm not there yet. But I'm working toward it."
Catch Franco and the rest of the beloved Stranger Things cast on your screen when the fourth season premieres.