Why The Cast Of American Vandal Looks So Familiar
Netflix's American Vandal was a delightful surprise, an extended dick joke that showed that it could be far more than just what it showed on the surface through a compelling mystery and a deeply honest portrayal of what it means to be an American teenager in the social media age. Those who have binge-watched the series already (and if you haven't, you most definitely should) probably noticed how familiar some of the show's talented young cast looked. Here's where you've seen the cast of American Vandal before.
Tyler Alvarez - Peter Maldonado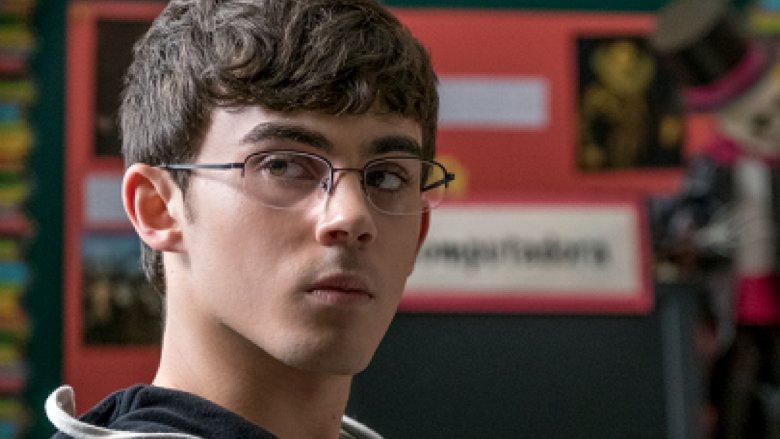 Tyler Alvarez leads the Netflix series, although you won't see him very often—his Peter is usually the man behind the camera. However, as Peter begins to get deeper into the case and begins to pop up on screen more, viewers may start to realize that they've seen Alvarez somewhere. 
The young actor's most notable appearance was on another Netflix series, Orange is the New Black, where he played Gloria's son Benny. Although Benny spent most of season five in a coma, he did have memorable appearances earlier on in the series as he dealt with own troubles outside of Litchfield.
Younger viewers may recognize Alvarez from his role on the Nickelodeon telenovela Every Witch Way, on which he starred for four seasons. His character, Diego Rueda, crossed over to the fellow Nick series Talia in the Kitchen, and he has also booked appearances in the Lifetime movie High School Lover and the short film Brothers in Arms. Alvarez has already capitalized on his breakout moment, too—he is next set to appear in the James Franco-directed The Pretenders, opposite Juno Temple and Jane Levy. 
Jimmy Tatro - Dylan Maxwell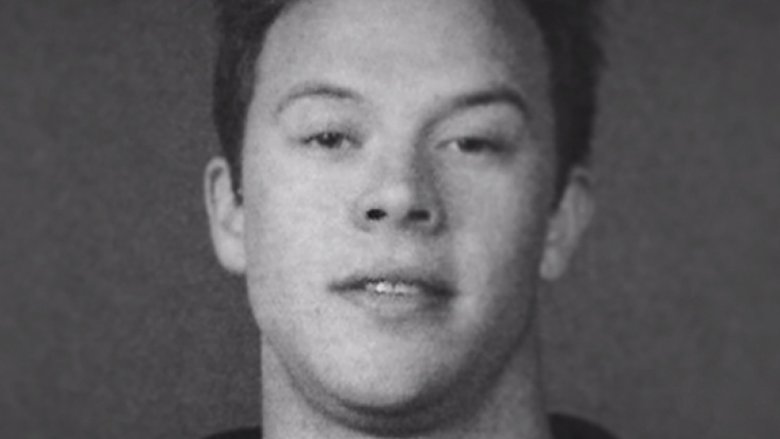 Jimmy Tatro has something major in common with his on screen counterpart Dylan Maxwell—he is also a YouTube star. Tatro's videos don't include anything about farting on babies, but his successful channel LifeAccordingtoJimmy, launched in 2011, has more than two million subscribers thanks to his hilarious, often star-studded videos. His popular videos include "S*** Frat Guys Say," "Breaking Up With Overly Attached Girlfriend," and "How To Have Sex on a Plane." 
It was Tatro's YouTube popularity that first launched him into acting with a cameo role in Grown ups 2. From there, he had small roles in films like 22 Jump Street, Blue Mountain State: The Rise of Thadland, FML, and Boo! A Madeo Halloween. Tatro has also done sketch work for Funny or Die. While American Vandal marks his first non-YouTube starring role, there seem to be some incredible things ahead for this actor, writer, and director. 
Griffin Gluck - Sam Ecklund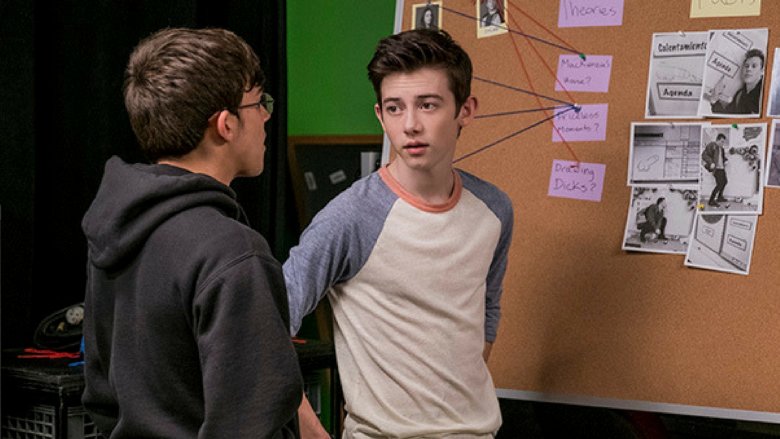 As Peter's partner Sam, Griffin Gluck sometimes got the short end of the stick on American Vandal, with his friend exposing some of his deepest secrets for the sake of journalistic integrity. Luckily, Gluck had an extensive acting resume to help prove his dramatic chops before he landed the tough role.
The actor kicked off his career in 2003 with a short, and after a few years off, returned to make a big splash in well-known movies and TV shows, beginning with an appearance on The Office in 2010 and a role opposite Adam Sandler and Jennifer Aniston in 2011's Just Go With It. That film earned him a Young Artist Award nomination. 
He then booked appearances on TV shows like United States of Tara, Private Practice, Back in the Game, and Silicon Valley, as well as big screen roles in Trust Me and Just Before I Go. He landed a starring role in the short-lived Fox series Red Band Society, opposite Octavia Spencer. The show only survived for one season, but Gluck had a big part as his comatose character served as the show's narrator.
After Red Band Society went off the air, Gluck continued to book film and TV roles. Younger fans will recognize him from Middle School: The Worst Years of My Life, while fans of Bryan Cranston may have seen him pop up in the comedy Why Him? in 2016. He has also popped up in About a Boy, Life in Pieces, Impastor, and The Mick.
Camille Hyde - Gabi Granger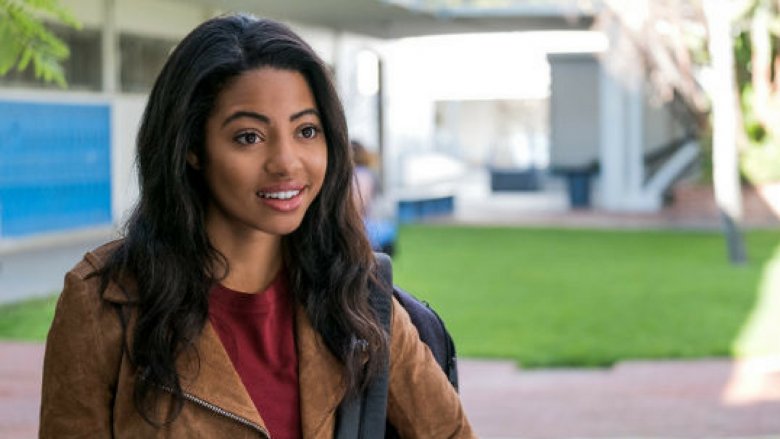 Transpo expert Gabi Granger was played by Camille Hyde, an up and coming actress who Power Rangers fans will recognize as Shelby Watkins, aka the Pink Dino Charge Ranger, in Dino Charge. Hyde was the first black woman to take on the role of the Pink Ranger, and her casting garnered a lot of positive attention online. Hyde hasn't just limited herself to Power Rangers, though. She has also appeared in guest roles in TV series like The Thundermans, 2 Broke Girls, and The Night Shift. 
Calum Worthy - Alex Trimboli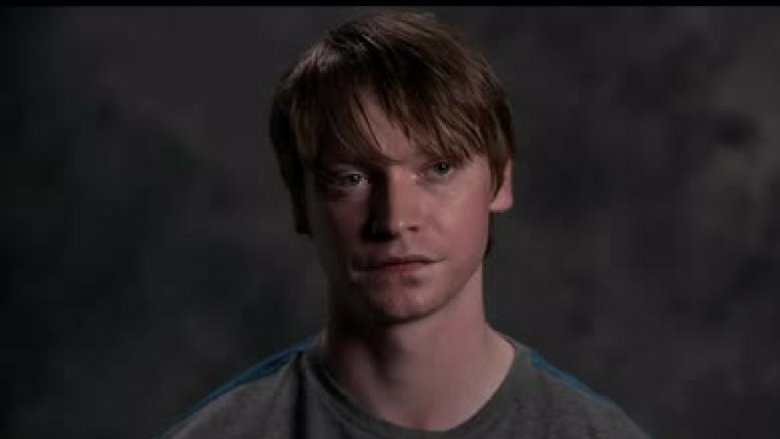 Alex Trimboli may be kind of the worst, but Calum Worthy was actually one of American Vandal's most popular stars headed into the series. The experienced Canadian actor began acting all the way back in 2001 with appearances in Mysterious Ways, Night Visions, and I was a Rat. He continued to book small roles throughout his childhood, appearing in Stargate: Atlantis, Dr. Dolittle 3, Klye XY, The Last Mimzy, Psych, Supernatural, and Smallville. He has earned numerous Young Artist Award nominations for his guest appearances. 
In 2009, he booked a starring role on the Nine Network series Stormworld. The show ran for one season, after which Worthy appeared on Caprica, R.L. Stine's The Haunting Hour, Backstrom, and The Big Year. His career really kicked off, though, in 2011, when he landed a starring role in the Disney Channel series Austin and Ally. His Dez, the best friend of title character Austin, appeared in all of the show's 87 episodes.
During his time on the show, Worthy fostered a strong relationship with Disney Channel, also appearing in their shows Jessie, Zeke and Luther, and Good Luck Charlie. After the show ended, he booked roles in Aquarius, The Thinning, Lost Generation, and Cassandra French's Finishing School. You may also recognize him from his upcoming role as Robbie Baldwin, aka Speedball, on Freeform's Marvel comedy series New Warriors.
Camille Ramsey - Mackenzie Wagner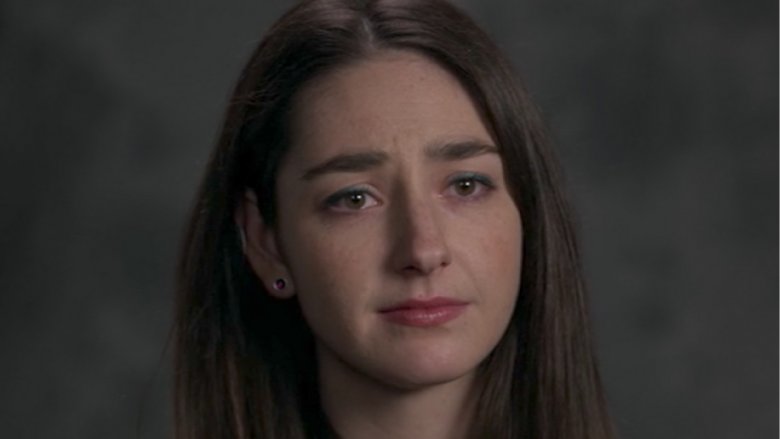 Mackenzie Wagner seems like a one-dimensional character at the start of American Vandal, but like all of the show's characters, she ultimately becomes a very layered teen. Camille Ramsey's performance as Wagner was impressive, but it becomes even more impressive when you learn how little acting experience she had before the series. Before the show, Ramsey was best known for her appearance on the miniseries My Sister and I, and she had also had an appearance in the short Groupie. Something tells us that there are going to be a lot more big projects in the future for Ramsey.  
Genevieve Hannelius - Christa Carlyle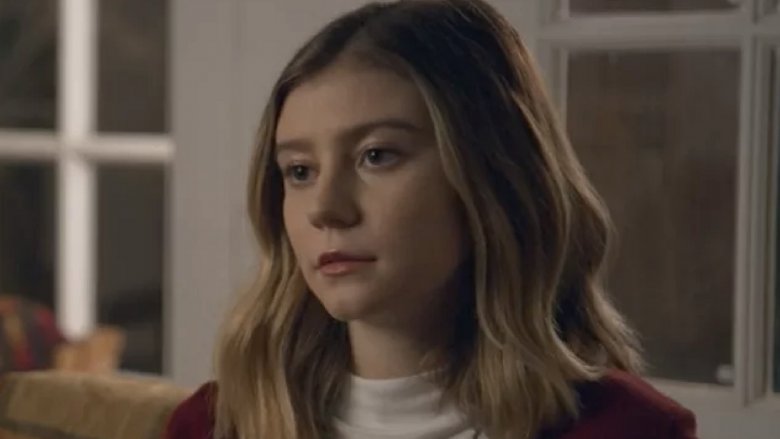 Christa Carlyle may or may not have drawn the dicks (the cast switched legs!), but we're not here to talk about that. We're talking about actress Genevieve Hannelius, who usually goes by G. Like her costar Calum Worthy, Hannelius is mostly known to young fans for her starring role on the Disney Channel series Dog With a Blog.
While Dog with a Blog was her first lead, Hannelius had already booked a number of appearances on Disney Channel series. After kicking off her career with a role on the short-lived ABC series Surviving Suburbia with Bob Saget, Hannelius guest starred on Hannah Montana and later landed recurring roles on Sonny with a Chance and Good Luck Charlie. She has also appeared on the network's Jessie and in their Disney Channel original movie Den Brother. Her most serious role to date was an appearance in History's miniseries Roots.
Hannelius is also a singer, and she has had a number of songs featured on Radio Disney. She is an active YouTuber on her channel GbyGNailArt, which has more than 40,000 subscribers, and in 2014, she launched a nail art app called Make Me Nails.  
Saxon Sharbino - Sarah Pearson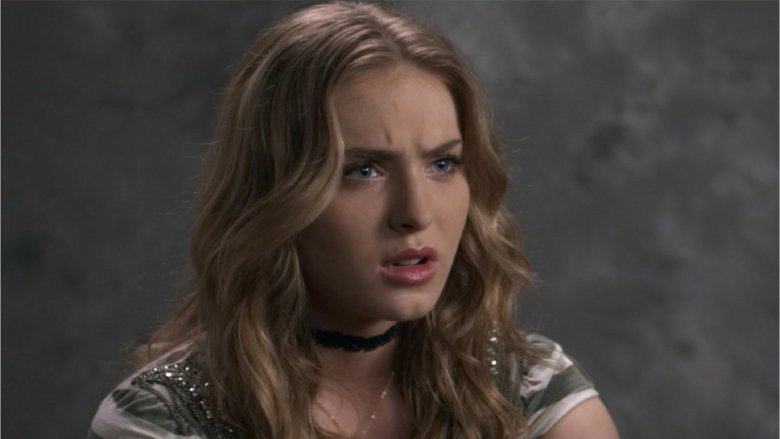 Things did not go well for Saxon Sharbino's Sarah Pearson in American Vandal, but luckily for Sharbino, her career seems to be on a much better track. Sharbino started acting in 2008 with an appearance on Friday Night Lights, but she first hit the big time when she landed a role in the 2013 film Trust Me, written and directed by The Avengers' Clark Gregg. (And also featuring an appearance from her future American Vandal co-star Griffin Gluck.) 
After that film, Sharbino booked a role in the Fox series Touch, playing the gifted daughter of Maria Bello's Lucy. Although the series was canceled after Sharbino's debut season, she was able to bounce back, booking appearances in Poltergeist, Bedeviled, Hunter's Cove, and the Netflix series Love. She also has a role in the Hulu horror series Freak-ish.
Karly Rothenberg - Ms. Shapiro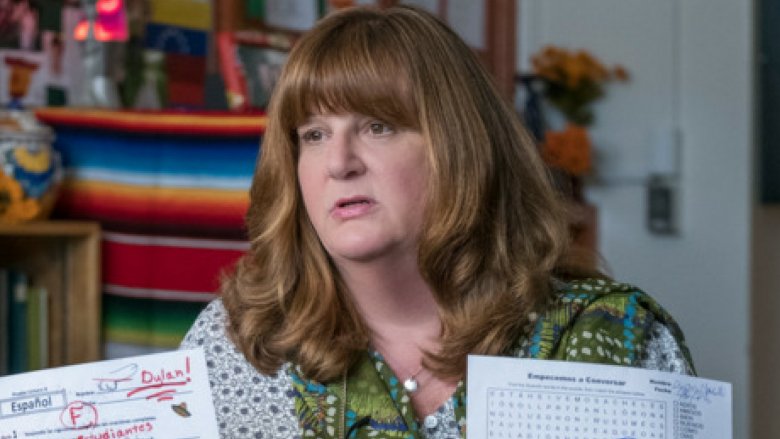 Ms. Shapiro wasn't entirely innocent on American Vandal, but she did end up being mostly cleared for her role in the dick drawing scandal. (Although she still ended up with a vandalized driveway thanks to her targeting of Dylan.) Actress Karly Rothenberg already had experience playing an educator when she signed onto the series, having played Mrs. Valentine on Disney Channel's That's So Raven. 
Rothenberg would go on to have small roles on a bunch of big TV series, including 7th Heaven, Arrested Development, Curb Your Enthusiasm, Weeds, Pushing Daisies, It's Always Sunny in Philadelphia, Desperate Housewives, Grey's Anatomy, NCIS, and The Middle. She has also appeared in films like Kicking and Screaming. 
In 2005, Rothenberg kicked off a recurring role as the dock worker Madge on NBC's The Office. She was able to translate that show into further roles on big comedies, including The Middle, Go On, Bad Teacher, Speechless, and Superstore. Although most of the parts were small, something tells us her not so nice performance in American Vandal could be her breakout. 
Ryan O'Flanagan - Mr. Kraz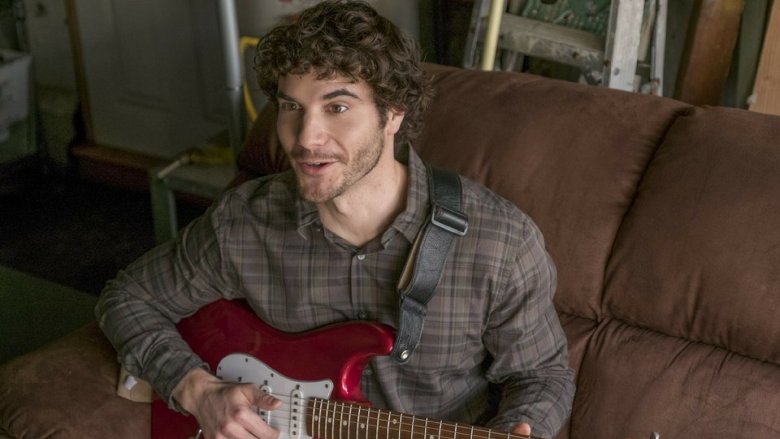 Ryan O'Flanagan's Mr. Kraz provided some much needed comic relief among the show's adult cast, and O'Flanagan seems to sell that hilarity in real life as well, working as a successful stand-up comedian and appearing in Funny or Die sketches, just like his costar Tatro. O'Flanagan's sketch group Dead Kevin has also been featured on Comedy Central's Tosh.0. 
O'Flanagan's stand-up has brought him all over the country, but it's also put him on TV as well, with the comic popping up on Adam Devine's House Party and Last Call with Carson Daly. He has also had acting roles on New Girl, Nuclear Family, and a voiceover role on American Dad!.
Sean Carrigan - Coach Rafferty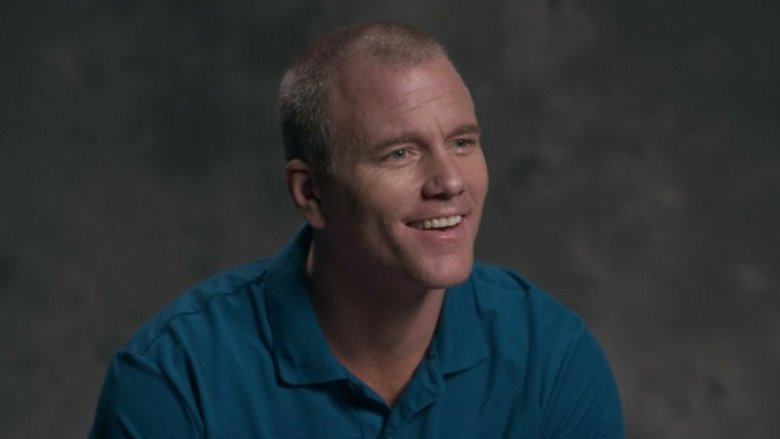 Soap fans will definitely recognize American Vandal's scandalous coach, with Sean Carrigan appearing in hundreds of episodes of CBS' The Young and the Restless as Dr. Ben "Stitch" Rayburn. Carrigan started the role in 2013, but he already had quite a lot of acting experience under his belt, appearing on Scrubs, Cold Case, Heroes, House, Grey's Anatomy, and in the NBC series The Event.
Carrigan hasn't just limited himself to the small screen, either. He had a role in the notable 2012 big budget flop John Carter, and also played parts in the 2014 Tyler Perry comedy The Single Moms Club and the 2012 comedy Strangely in Love. More recently, he appeared in the thriller Small Town Crime and in a guest role on NCIS.
Matt Miller - Vice Principal Keene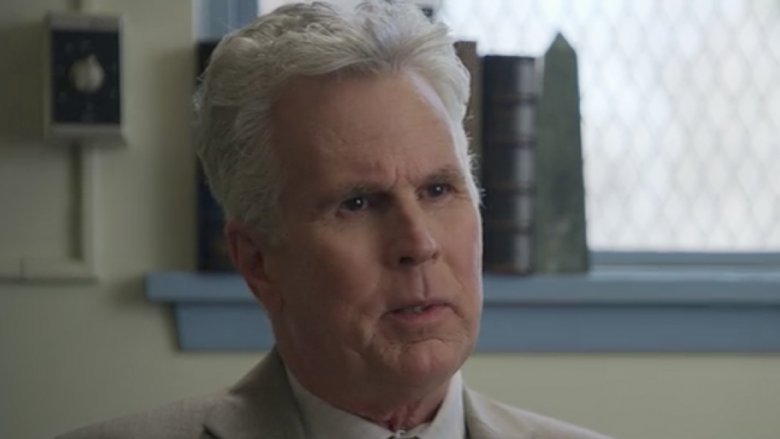 Vice Principal Keene may not have been the most fun American Vandal character, but he was very important to the show's plot. Actor Matt Miller, who took on the tough role, has a lot of experience in front of the camera, appearing small roles in big movies like Batman Begins and Yes Man. 
Miller started acting in 1997 with a role in Telling Lies in America, and he would go on to book appearances in The Dream Catcher, Seabiscuit, and Jimmy Kimmel Live! Sketches. He has also had roles in TV series like Sons of Anarchy, Better Off Ted, Bones, Breaking In, Ray Donovan, The Grinder, Angie Tribeca, General Hospital, and The Young and the Restless. 
Shortly before American Vandal, he also had a role in another Netflix series, appearing in Dear White People. You may also recognize him from the memorable Geico commercial he starred in with Dikembe Mutombo.