Taika Waititi's Latest Instagram Post Has Fans Speculating About Thor: Love And Thunder
2020 has been haunted by the lingering presence of the deadly COVID-19 pandemic. It was declared a public health emergency back in January, and it's gone on to impact pretty much every country on the planet, with some being hit harder than others. 
Numerous television and film productions had to go on hiatus in the midst of the outbreak, and U.S.-based shoots still have many precautions they need to take in order to film safely. While Americans hope to avoid a bleak winter, some countries have already gotten a better hold of the virus, as evidenced by New Zealand. The island nation has gotten everything pretty much back to normal, with sports resuming and people able to gather in large groups without worrying about spreading a contagion to friends and family. 
There's definitely a bit of culture shock for anyone checking out the Instagram page for actor-writer-director Taika Waititi. The hilarious filmmaker behind Thor: Ragnarok and Jojo Rabbit recently posted an image of himself hanging out with the All Blacks rugby team in New Zealand, and there's one face in the crowd that may get fans wondering if a fan-favorite character from the Marvel Cinematic Universe is set to make a reappearance in Waititi's next directorial project, Thor: Love and Thunder. 
Taika Waititi's post has fans thinking Idris Elba's Heimdall could return in Thor: Love and Thunder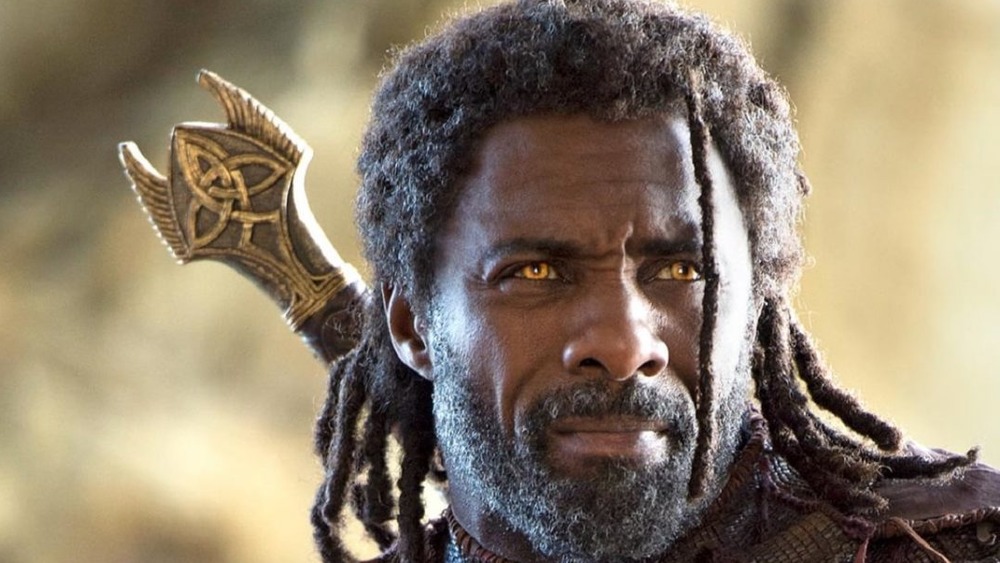 Disney/Marvel Studios
In the picture, you can see actor Idris Elba sitting right next to Waititi hidden amongst all the rugby players. Waititi writes, "Me and @idriselba visited the @allblacks last week and I think we can all agree that's what inspired last night's win. Caught up with the uso @ardiesavea while Drisco tried to steal the Bleddy." While production hasn't begun yet on Thor: Love and Thunder, it's easy to think that Elba's presence in the photo is a good indicator that his MCU character, Heimdall, will return in the forthcoming Thor film.
Granted, Heimdall was killed by Thanos in the opening scene to Avengers: Infinity War, but death isn't always permanent in the MCU. Plus, if Waititi did want to bring the character back, then it can always be accomplished through a flashback or vision. There are countless possibilities for how Heimdall could return to the mix, and fans would no doubt welcome the character back with open arms. As of right now, the only thing we really know about Love and Thunder is that it will be a romance with Natalie Portman's Jane Foster returning to claim the title of the Mighty Thor, so it's certainly possible for a Heimdall cameo to factor in to some degree. 
Of course, it's also possible Elba isn't coming back for Thor: Love and Thunder, and this was just a photo involving two friends. After all, the actors have worked together in Thor: Ragnarok and James Gunn's upcoming The Suicide Squad. They both could happen to be rugby fans who wanted to spend some time together. 
As of right now, it's best to take the photo with a grain of salt and hold off on theories until an official announcement arrives. Thor: Love and Thunder is set to go into production in early 2021 with a projected February 11, 2022 release date.